Thanks to Louis and Shafini for letting us know,there is a new No Doubt article in today's edition of Malaysia's Star 2 newspaper;we hope to have the rest of the article scans soon.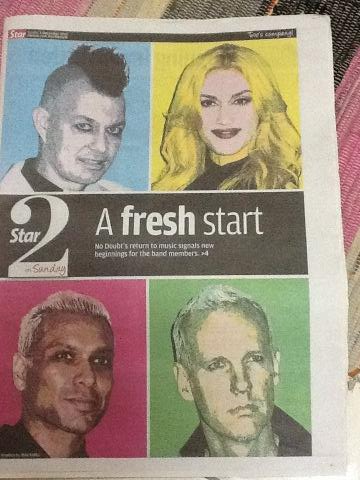 UPDATE: Thanks to Shafini for sending us pictures!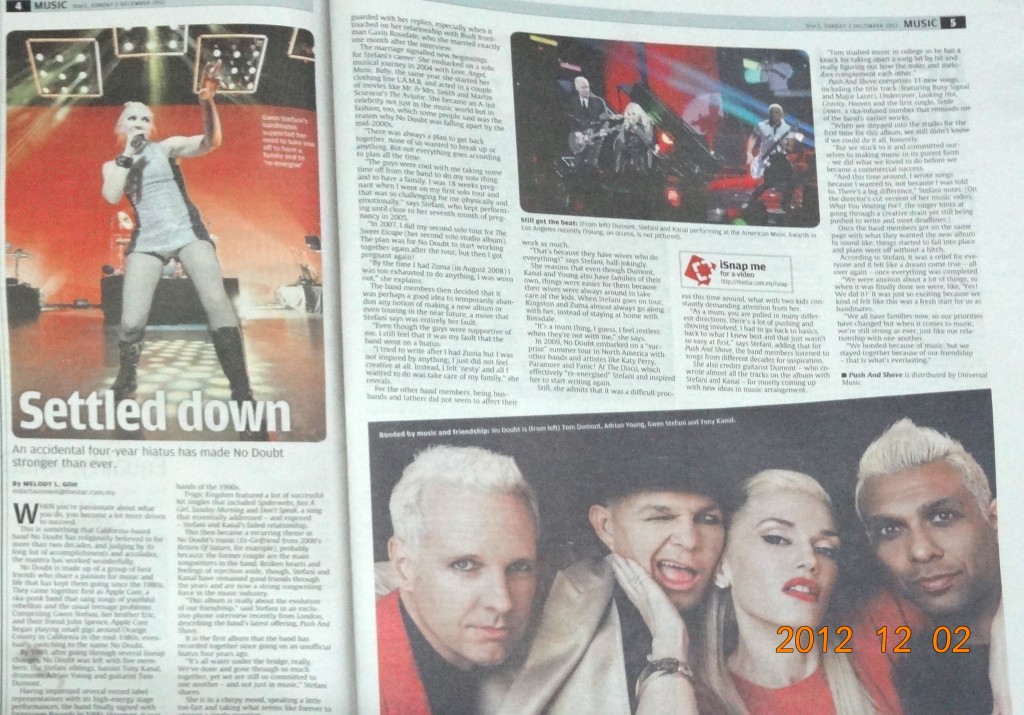 UPDATE: Here is the full article,which features an exclusive phone interview with Gwen that took place while No Doubt was in London recently.
An accidental four-year hiatus has made No Doubt stronger than ever.
WHEN you're passionate about what you do, you become a lot more driven to succeed.
This is something that California-based band No Doubt has religiously believed in for more than two decades, and judging by its long list of accomplishments and accolades, the mantra has worked wonderfully.
No Doubt is made up of a group of best friends who share a passion for music and life that has kept them going since the 1980s. They came together first as Apple Core, a ska-punk band that sang songs of youthful rebellion and the usual teenage problems. Comprising Gwen Stefani, her brother Eric, and their friend John Spence, Apple Core began playing small gigs around Orange County in California in the mid-1980s, eventually switching to the name No Doubt.
By 1989, after going through several lineup changes, No Doubt was left with five members: the Stefani siblings, bassist Tony Kanal, drummer Adrian Young and guitarist Tom Dumont.
Having impressed several record label representatives with its high-energy stage performances, the band finally signed with Interscope Records in 1990. However, it was only in 1995 (Eric had left the group by then) that the band truly got its big break with the release of its third studio album, Tragic Kingdom.
The album – certified diamond by the Recording Industry Association of America with more than 16 million copies sold worldwide – pretty much put No Doubt on the map as one of the biggest and most influential bands of the 1990s.
Tragic Kingdom featured a list of successful hit singles that included Spiderwebs, Just A Girl, Sunday Morning and Don't Speak, a song that essentially addressed – and exposed – Stefani and Kanal's failed relationship.
This then became a recurring theme in No Doubt's music (Ex-Girlfriend from 2000's Return Of Saturn, for example), probably because the former couple are the main songwriters in the band. Broken hearts and feelings of rejection aside, though, Stefani and Kanal have remained good friends through the years and are now a strong songwriting force in the music industry.
"This album is really about the evolution of our friendship," said Stefani in an exclusive phone interview recently from London, describing the band's latest offering, Push And Shove.
It is the first album that the band has recorded together since going on an unofficial hiatus four years ago.
"It's all water under the bridge, really. We've done and gone through so much together, yet we are still so committed to one another – and not just in music," Stefani shares.
She is in a chirpy mood, speaking a little too fast and taking what seems like forever to answer a single question.
"I don't know why I'm talking so much today. I actually just woke up!" she says, giggling.
This is a far cry from the Stefani that this writer met in person about 10 years ago, prior to a double-bill concert in Singapore (with The Cranberries) as part of the band's promotional world tour for its 2001 album, Rock Steady. Back then, the singer was a little guarded with her replies, especially when it touched on her relationship with Bush frontman Gavin Rossdale, who she married exactly one month after the interview.
The marriage signalled new beginnings for Stefani's career: She embarked on a solo musical journey in 2004 with Love. Angel. Music. Baby, the same year she started her clothing line L.A.M.B. and acted in a couple of movies like Mr. & Mrs. Smith and Martin Scorsese's The Aviator. She became an A-list celebrity not just in the music world but in fashion, too, which some people said was the reason why No Doubt was falling apart by the mid-2000s.
"There was always a plan to get back together, none of us wanted to break up or anything. But not everything goes according to plan all the time.
"The guys were cool with me taking some time off from the band to do my solo thing and to have a family. I was 18 weeks pregnant when I went on my first solo tour and that was so challenging for me physically and emotionally," says Stefani, who kept performing until close to her seventh month of pregnancy in 2005.
"In 2007, I did my second solo tour for The Sweet Escape (her second solo studio album). The plan was for No Doubt to start working together again after the tour, but then I got pregnant again!
"By the time I had Zuma (in August 2008) I was too exhausted to do anything, I was worn out," she explains.
The band members then decided that it was perhaps a good idea to temporarily abandon any notion of making a new album or even touring in the near future, a move that Stefani says was entirely her fault.
"Even though the guys were supportive of me, I still feel that it was my fault that the band went on a hiatus.
"I tried to write after I had Zuma but I was not inspired by anything; I just did not feel creative at all. Instead, I felt 'nesty' and all I wanted to do was take care of my family," she reveals.
For the other band members, being husbands and fathers did not seem to affect their work as much.
"That's because they have wives who do everything!" says Stefani, half-jokingly.
She reasons that even though Dumont, Kanal and Young also have families of their own, things were easier for them because their wives were always around to take care of the kids. When Stefani goes on tour, Kingston and Zuma almost always go along with her, instead of staying at home with Rossdale.
"It's a mum thing, I guess, I feel restless when they're not with me," she says.
In 2009, No Doubt embarked on a "surprise" summer tour in North America with other bands and artistes like Katy Perry, Paramore and Panic! At The Disco, which effectively "re-energised" Stefani and inspired her to start writing again.
Still, she admits that it was a difficult process this time around, what with two kids constantly demanding attention from her.
"As a mum, you are pulled in many different directions, there's a lot of pushing and shoving involved. I had to go back to basics, back to what I knew best and that just wasn't so easy at first," says Stefani, adding that for Push And Shove, the band members listened to songs from different decades for inspiration.
She also credits guitarist Dumont – who co-wrote almost all the tracks on the album with Stefani and Kanal – for mostly coming up with new ideas in music arrangement.
"Tom studied music in college so he has a knack for taking apart a song bit by bit and really figuring out how the notes and melodies complement each other."
Push And Shove comprises 11 new songs, including the title track (featuring Busy Signal and Major Lazer), Undercover, Looking Hot, Gravity, Heaven and the first single, Settle Down, a ska-infused number that reminds me of the band's earlier works.
"When we stepped into the studio for the first time for this album, we still didn't know if we could do it all, honestly.
"But we stuck to it and committed ourselves to making music in its purest form – we did what we loved to do before we became a commercial success.
"And this time around, I wrote songs because I wanted to, not because I was told to. There's a big difference," Stefani notes. (On the director's cut version of her music video, What You Waiting For?, the singer hints at going through a creative drain yet still being pushed to write and meet deadlines.)
Once the band members got on the same page with what they wanted the new album to sound like, things started to fall into place and plans went off without a hitch.
According to Stefani, it was a relief for everyone and it felt like a dream come true – all over again – once everything was completed.
"We were anxious about a lot of things, so when it was finally done we were, like, 'Yes! We did it!' It was just so exciting because we kind of felt like this was a fresh start for us as bandmates.
"We all have families now, so our priorities have changed but when it comes to music, we're still strong as ever, just like our relationship with one another.
"We bonded because of music, but we stayed together because of our friendship – that is what's everlasting."
> Push And Shove is distributed by Universal Music.