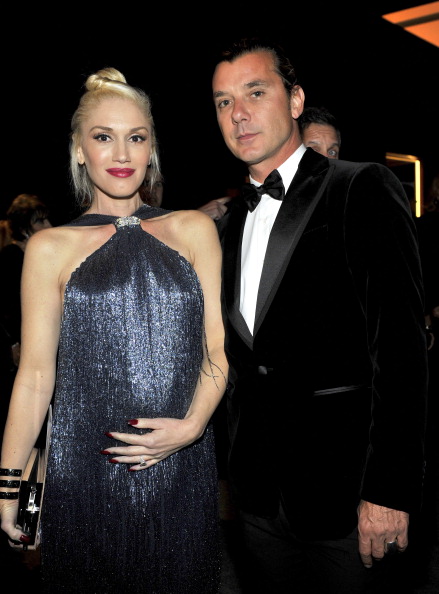 MUCH congratulations to Gwen and Gavin!!!! US Weekly is reporting that Gwen gave birth to her third son yesterday, February 28, and Gavin just confirmed the happy news on Twitter, revealing that the baby's name is Apollo Bowie Flynn Rossdale!!!! Gavin explained that "Bowie" and "Flynn" are the maiden names of he and Gwen's mothers. What an awesome name! We are absolutely overjoyed for Gwen,Gavin and their entire family and wish them all the best! It's so wonderful how the No Doubt family continues to grow!

@gwenstefani welcome APOLLO BOWIE FLYNN ROSSDALE ❤️❤️❤️ 2/28/14 ❤️❤️❤️ (bowie and Flynn =mothers' maiden names )

— GAVIN ROSSDALE (@GavinRossdale) March 1, 2014
Queen Gwen Stefani has a new heir to her throne. The No Doubt singer and husband Gavin Rossdale welcomed a baby boy, their third son, on Friday, Feb. 28, two sources confirm exclusively to Us Weekly.
Stefani, 44, and Bush frontman Rossdale, 48, have been married for 11 years, and are already parents to sons Kingston, 7, and Zuma, 5.
On Jan. 17, the "Sweet Escape" singer revealed in an adorable Instagram photo that she was expecting another boy. Wearing a blue shirt and crown, she captioned the snapshot: "I was ready to hand over the crown. But I guess I am still queen of the house. #itsaboy #surroundedbyboys."
Stefani revealed back in October 2012 that she had nearly given up hope on having a third child, and hinted at a recent traumatic experience. "I really, really, really wanted one about two years ago. And it didn't really work out," she explained to Marie Claire, without going into specifics. "So. . . I feel good with what we've got. Everything works out how it should. You can't plan anything, right? You can try."
To celebrate the impending arrival of her third son, Stefani celebrated with a star-studded baby shower on Feb. 8. The L.A.M.B designer was joined by Gwyneth Paltrow, Jessica Alba, Nicole Richie, Chelsea Handler, Rachel Zoe, and Kate Beckinsale, and the ladies enjoyed blue-colored treats. Sharing a photo of the dessert table on Instagram, Stefani wrote: "Baby shower!!! #can't believe im pregs thanku Shelli Azoff for a beautiful #girlyday = blessed."