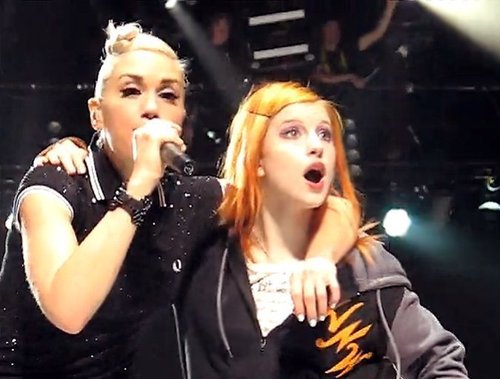 In a new interview with AbsolutePunk,Paramore frontwoman Hayley Williams is asked what she learned from Gwen while Paramore was touring with No Doubt back in 2009,and Hayley praises Gwen for being so down to earth and such a hard worker. We couldn't agree more!
You toured with No Doubt a few years, who have been one of the most iconic female fronted rock bands of all time. Did Gwen have any tricks of the trade or knowledge to share with you?
Gwen is amazing. She's down to earth and she works her ass off. I can't even stress how much she does on one single tour day. There was never one thing she said that stuck but there was always plenty to be encouraged by. The fact alone that that band is still together is motivation enough, right? I'm not sure if this will come off the right way, but by seeing her life and everything she does, I can say that I wish fame and success weren't things that go hand in hand with each other in the music business. The "fame" part of music is bogus anyway. I will be ecstatic if our album does well and people love it… but I'll still feel dumb every time we go to LA and some paparazzi guy – who doesn't even have a clue who I am – starts taking pictures of me and calling me "Kayley". I'll still be embarrassed if we're walking down a red carpet, all dressed up, and someone asks me what I think of Miley Cyrus' new haircut. Are you kidding me? That's really what it means to be called "famous" in this country and that stuff is meaningless. I like the work part, the creative part, and the connection I get to make with real people because of music. So when people tell me that I'm the next Gwen Stefani, I don't think about the Gwen that I see on the cover of a magazine. I think about the girl who wrote "Simple Kind Of Life" and now, years later, smiles every night on stage when she sings the line, "I always thought I'd be a mom". She has personal goals and dreams and she's reached a lot of them. I think she'd still want all of those things even if there was no one watching.