I didn't ever know she dyed her hair red! I thought this was pretty interesting…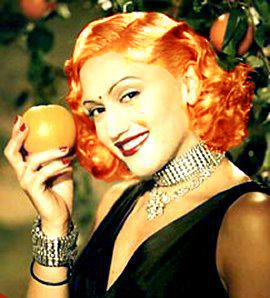 Gwen Stefani has joked that dying her hair red several years ago was a bad decision.

The No Doubt singer explained that she decided to change her hair color after a particularly grueling world tour.

Stefani told In Style: "You know, I was a redhead once. Right after we came home from the first No Doubt tour I felt like I might get recognized, so I colored my hair red. And I hated it."

Stefani went on to say that she and husband Gavin Rossdale had made a conscious choice to spend as much time with their children as they can, even if it comes at the expense of their careers.

"The thing I'd like to do is enjoy these boys while they're young – so I don't regret I was working too much when they're big and don't want to cuddle with me anymore," she said.

No Doubt recently revealed that their sixth studio album will not be released until next year.

The LP is a follow-up to 2001's Rock Steady, which included the US Top 10 hits 'Hey Baby' and 'Underneath It All'.