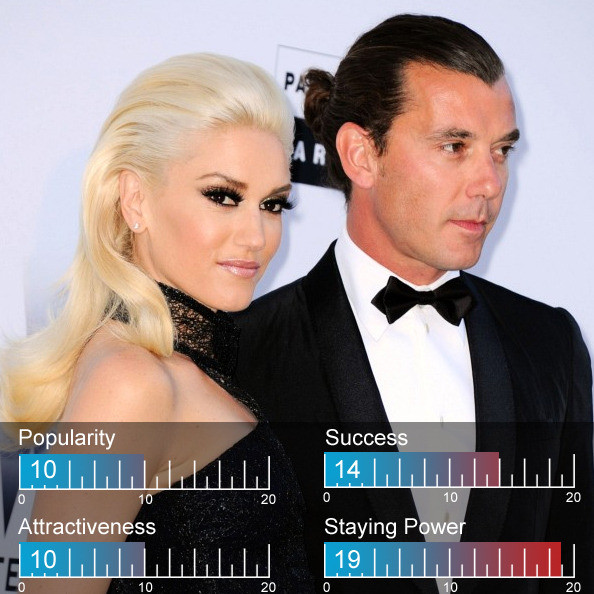 How sweet: Gwen and Gavin have been ranked at #22 on Zimbio's 100 Hottest Couples of 2012 list! (Just wish the site's article wasn't so rude.) We adore them and their dedication to their family and wish them nothing but the best as they celebrate their 10th wedding anniversary this year.
Even after 14 years together, rock's most famous power couple is still pretty darn hot! Gwen Stefani and Gavin Rossdale nabbed the #22 spot in Zimbio's 100 Hottest Couples of 2012 list.
The musical couple fell from nine spots their 2011 #13 position. So what was the reason for the mini-tumble? Well, it seems that even though Gwen's perfect red lipstick has held up over the years, interest in the couple has tapered off. They spend much of their time hanging out with their adorable sons at the park, and, frankly, it's kind of boring. While it makes them awesome parents, the lack of drama and excitement led to the drop off in their Popularity and Success scores. But we have a feeling they'll pop right back into the headlines when the new No Doubt album is released (hopefully this year). Also, we think their Attractiveness score would shoot up significantly if Mr. Rossdale would just cut and wash his hair.