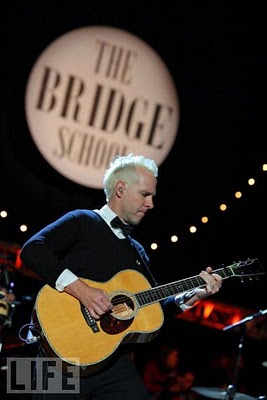 Last night we posted HQ audio of No Doubt's awesome acoustic performance of "Magic's In the Makeup" from the 2009 Bridge School Concert that is included on The Bridge School Concerts 25th Anniversary Edition boxset. Now we have learned that No Doubt's "Spiderwebs" performance from the Bridge School Concert is featured on "'The Bridge School Collection: Volume 5 (Live)",which is available exclusively on iTunes here. We will try to have an mp3 of it up as soon as possible-in the meantime,please consider buying the album since all the proceeds go to The Bridge School and all the wonderful work they do helping children with physical handicaps.
From PureGrainAudio:
Reprise Records will release a very special collection titled 'The Bridge School Benefit Concerts 25th Anniversary Edition' in two different configurations: A three-DVD set and a two-CD collection features unique live performances from many of the phenomenal artists who've performed at the beloved Annual Bridge School Benefit Concerts over the past 25 years, including Bruce Springsteen, Patti Smith, Pearl Jam, David Bowie, Bob Dylan, Paul McCartney, The Who, Tom Petty, Simon and Garfunkel, Neil Young and Crazy Horse, and much more.

In addition to 'The Bridge School Benefit Concerts' – 25th Anniversary Edition packages, fans can also purchase 25 additional previously unreleased and exclusive audio performances from the iTunes Store now. 'The Bridge School Collection: Volume 5 (Live),' contains never-before-released performances that include tracks from Chris Martin, Crosby Stills Nash & Young, Fleet Foxes, Gavin Rossdale, Jimmy Buffett, No Doubt, Sheryl Crow, Elvis Costello & Emmylou Harris, Lucinda Williams, Buffalo Springfield, and Elton John, Leon Russell & SCR, plus much more.
This collection features the artists performing rare, acoustic versions of songs, never heard anywhere else, to benefit The Bridge School, a non-profit, innovative organization educating children with severe speech and physical impairments through the use of augmentative and alternative communication systems and assistive technology.
UPDATE: We bought the song from iTunes and uploaded an mp3 of it HERE.