This is fascinating! Thanks to I♥ND from the official forum for the heads up,Eric Stefani recently shared on his music blog the inspiration behind the famous old-school No Doubt logo used for the self-titled album cover. He created the logo in 1990,inspired by the lettering of the Pitcairn Motel in Anaheim;it was Gwen's idea to set the logo in flames. It's sad that Eric was disappointed by the carelessness of the art director who used the logo for the self-titled cover,but many thanks to Eric for sharing!
The "Pitcairn Motel " in Anaheim
It was twenty years ago today . . .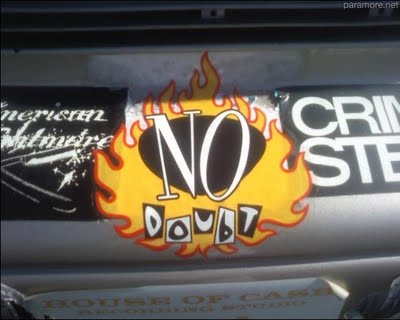 I used a Motel in Anaheim to get the right lettering for my bands logo. It's got two themes of letter to give a cartoon flavor. Gwen the singer of the band want the logo set in flames. I thought it made it more Heavy Metal but I tried to make the flames "flat" and "stylize" to work with the logo from the album.

I was very disappointed that after spending so much time on it to find out after handing the artwork over to the person in charge of the art that they carelessly retraced my artwork in the computer. It came out wobbly and was not accurate to my hand inked artwork.
It still makes me sad that this was the best they could come up with.
This logo I created for the band was made in 1990 for the album released on March 17, 1992.