August 6, 2016 – Tinley Park, IL (Chicago) – Hollywood Casino Amphitheater by Amy
Setlist:
Red Flag
Wind It Up
Baby Don't Lie
Obsessed
Where Would I Be?
Cool
Make Me Like You
Underneath It All
Misery
Luxurious
Harajuku Girls
Let Me Blow Ya Mind (with Eve)
Rich Girl (with Eve)
Hella Good
What You Waiting For?
Rare
It's My Life
Asking 4 It
Don't Speak
Naughty
Used To Love You
Hollaback Girl
—encore—
Truth
Just a Girl
The Sweet Escape
Here's a quick review of the Chicago show 🙂 I got this insane idea that I should take the 1 1/2 year old with me to Chicago to see Gwen. I really wanted his first concert to be Gwen/ND and this was my opportunity. My mom is also a massive fan and her birthday was coming up – so perfect birthday gift! We drove from Cincinnati to Chicago the day of the concert. This was the first long drive for the baby, but he did really good!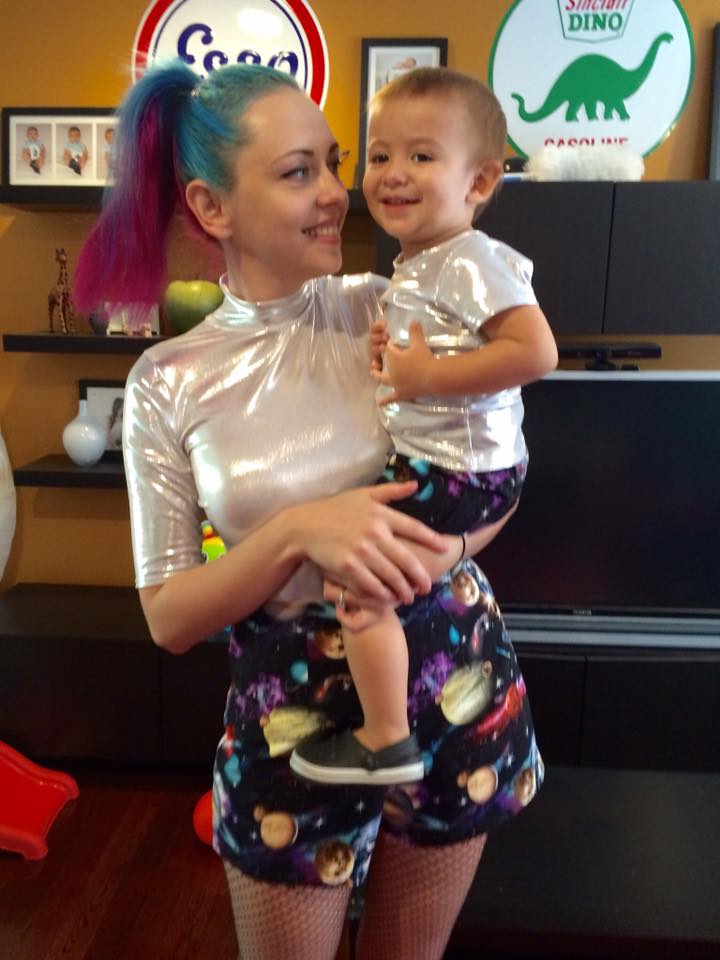 Being the insane fan that I am, I had to make myself an outfit and the baby one to match. Enter space shorts! If you don't know the reference, here ya go:
I tweeted Gwen our outfits when we got to the venue and she actually retweeted us – I was super hyped!!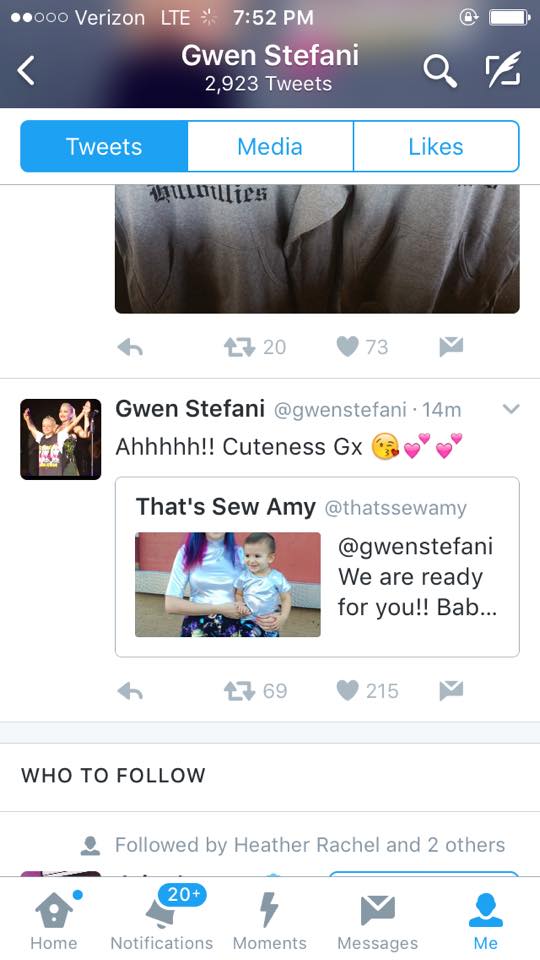 Our seats were to the far left of the stage and 4th row. Once we sat down Eve's DJ was already on and Eve came out a few minutes later. Her set is good but her sound wasn't nearly as good as Gwen's. I feel like her set was super short too. I like her songs but she only played a couple that I knew. The baby seemed to enjoy her music. I really just wanted Gwen to come on because I was so excited to see her. Once the lights went down and she came on the baby was mesmerized. I kept trying to get him to look at me for a selfie and he didn't want to take his eyes off her!
The baby kept clapping and bouncing his head. When someone would block his view he would wiggle around to see her better. I'm sure he recognized her from all the stuff at home I have. We made a sign tshirt hoping to grab Gwen's attention and get him a selfie with her – because how awesome would that be?!?!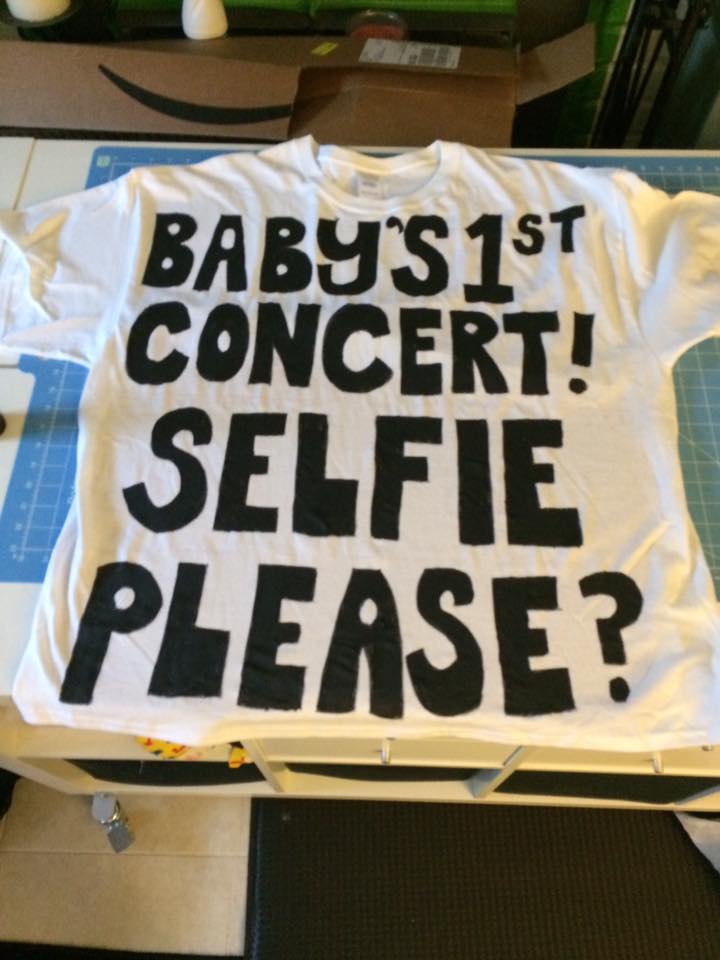 During Underneath It All she came right in front of us and read it, pointed and smiled but then 3 minutes later the baby fell asleep! Granted, Chicago is an hour behind us, so it was 1 1/2 hours past his bedtime. She came over again a couple songs later and saw him passed out in the baby sling. She smiled at us. So maybe the sign would have worked if he stayed awake?! I don't know! I'd like to think so 😉
Gwen killed it in Chicago. The week before I had seen her in Indy and she did great but honestly the crowd was lame. I don't think they could have been anymore boring. No one got pulled up onstage during that show. In Chicago I think 3 or 4 people did? It was insane and the energy was so high. Gwen's a true performer. She interacts with the audience like we are all old friends. I can't stand seeing an artist and they act like the audience isn't even there. Gwen was running around, singing her heart out. One of the highlights was when Eve came out. Seeing Let Me Blow Ya Mind live was incredible!
If anyone ever says that she puts on a bad show or isn't into it – they are lying. She was on fire! Watching her run around like that while singing wore me out! HA! She mentioned how she loved to read people's signs and how she forgets lyrics because she's looking at people's faces 🙂 I think her goal was to become BFF with everyone by the end of the show.
The baby's favorite song is Naughty. That boy loves it and if you ask him if he's been naughty he will sing "Oh Oh Oh!" I love it! Since he fell asleep before Naughty came on I recorded it for him. I showed him the following night and he was so excited and singing along to the Oh Oh Oh's. I'm trying to teach him good music early LOL
Overall – great show! I met some awesome people and we had a blast. I don't think I've seen my Mom that excited in years! Sorry the review is all over the place, but trying to write something up with a crazy baby all over you is a task! Here are some of the pictures. Cell phone quality, but better than nothing!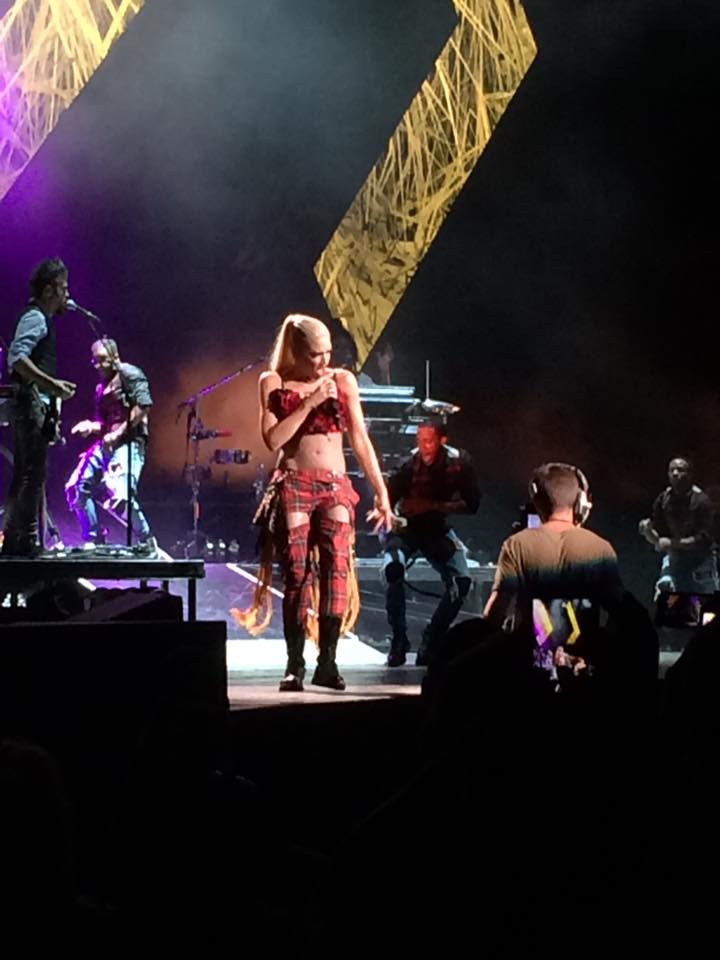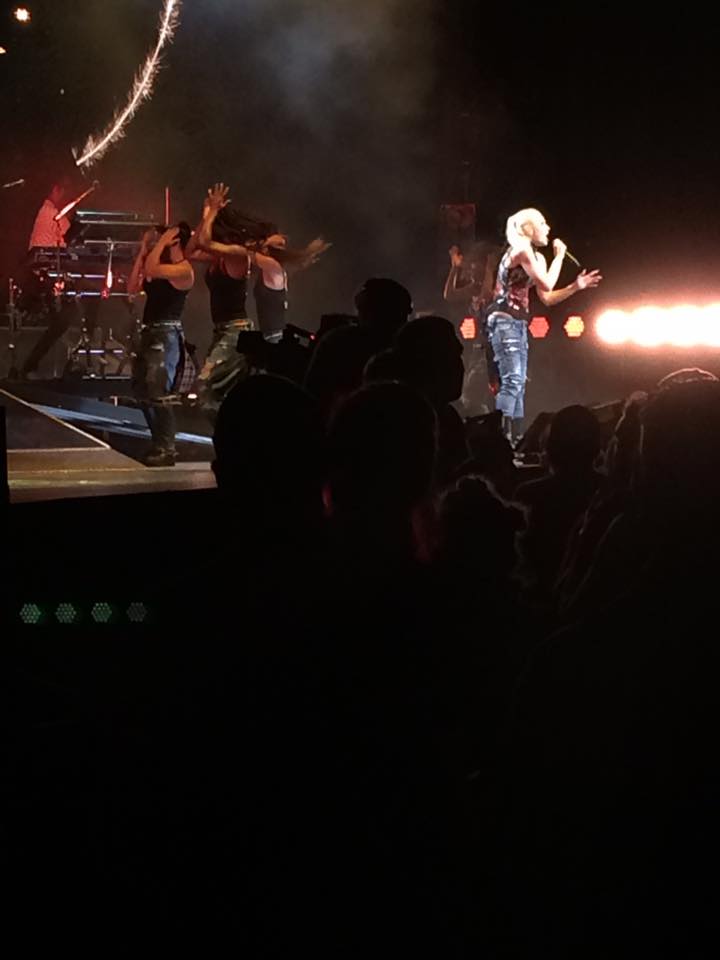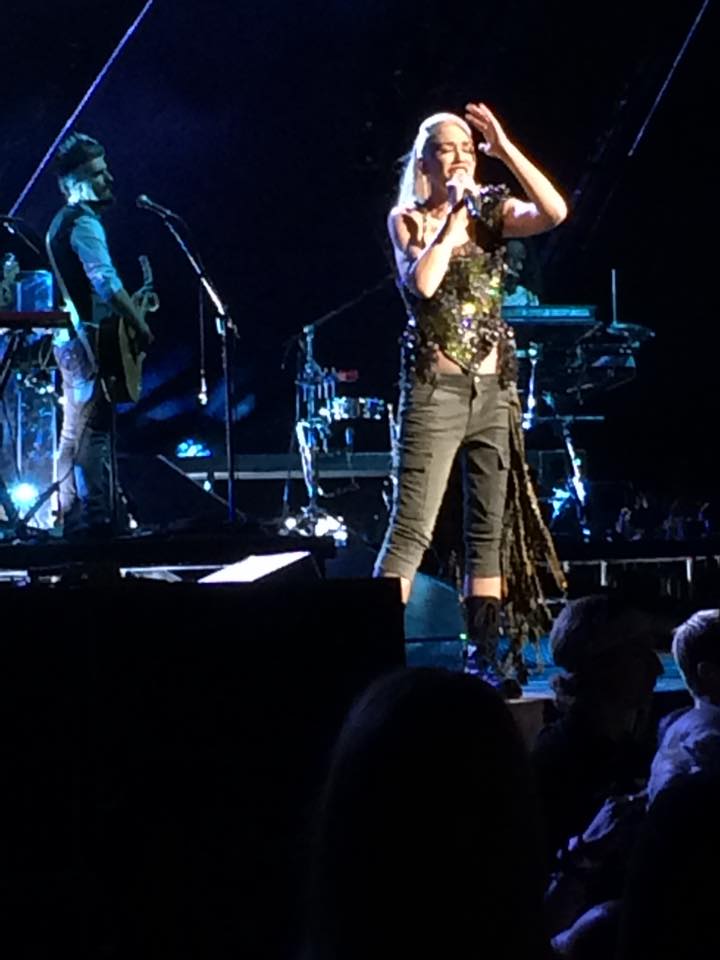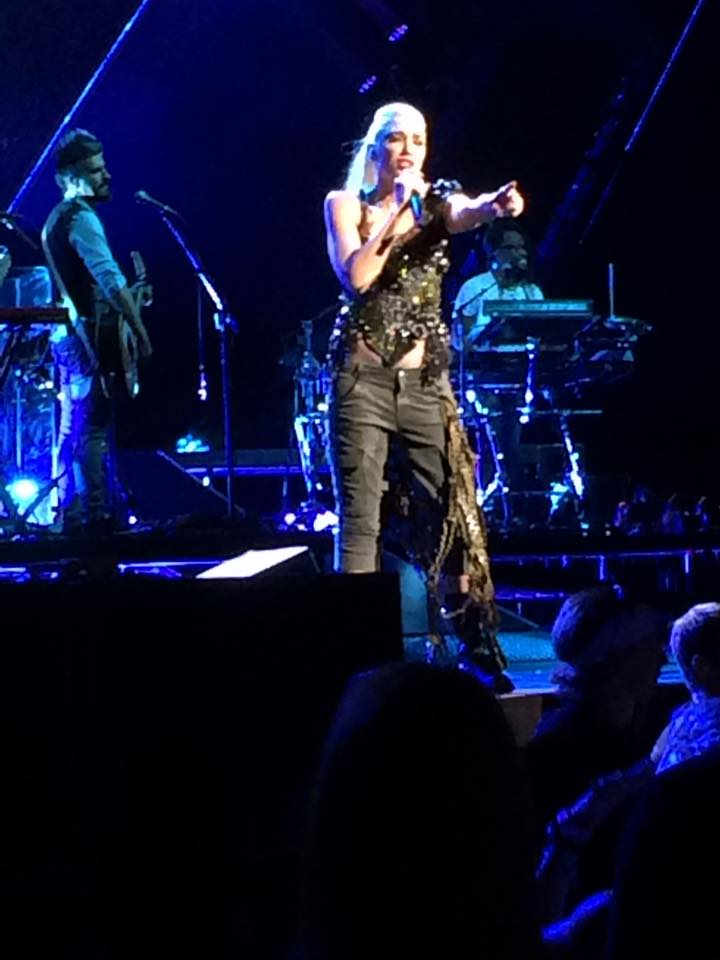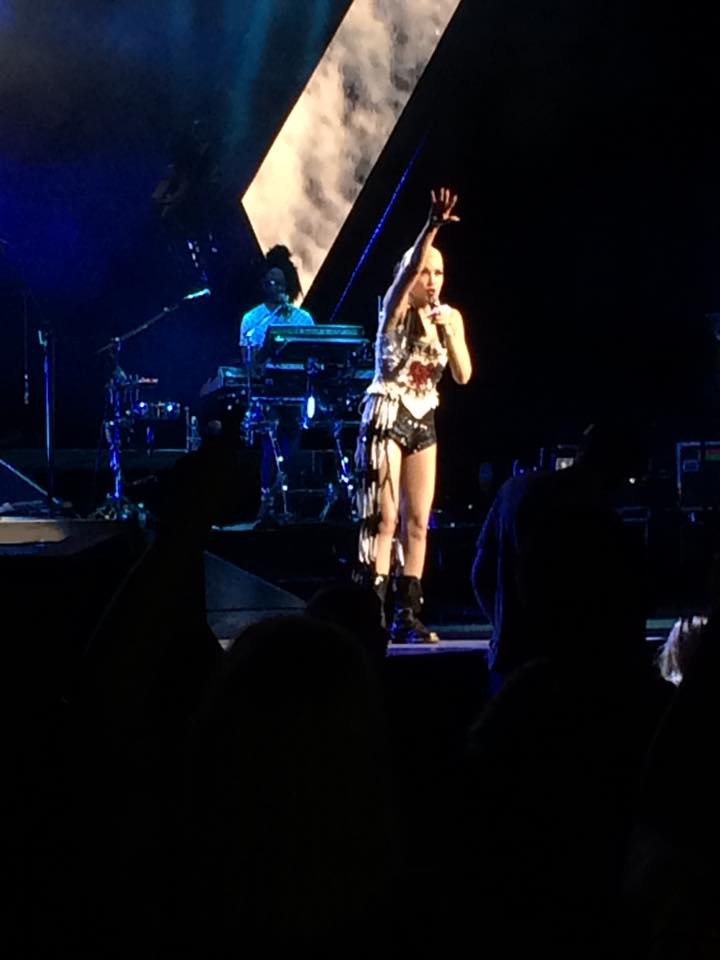 Tonight is my last concert – in Cincinnati – I can't wait!!