Just in time for Gwen and Gavin's 9th wedding anniversary tomorrow,check out another photo of Gwen's breathtaking Galliano wedding gown on display at the Bendigo Art Gallery in Victoria,Australia! As most fans know,Gwen donated her wedding gown to London's V & A Musuem as part of its White Wedding Dress exhibit,which is currently on display at Bendigo. Thanks so much to Tamara from A New Ball of String blog for sharing her pic and sharing that the pink heels Gwen wore at her wedding,also designed by Galliano,are included in the display. We had posted more photos from the display HERE.
Yesterday I ventured to Bendigo to see the 'The White Wedding Dress' exhibition, held at the Bendigo Art Gallery. This exhibition is billed as "the most romantic, glamorous and extravagant wedding dresses from the Victoria & Albert Museum's superb collection" but I have to say I was a bit underwhelmed. I guess it's because there were only a couple of dresses from the 30s & 40s and not much from the 50s either, well nothing that really made me go "Wow!" anyway.
Sadly the gallery does not allow photography and despite disapproving looks from many of the older women in the room, I couldn't help myself. The low lighting was a bit of an issue, plus I had to be subtle and sneaky so as not to get caught, but here are some of the better photos I managed to snap.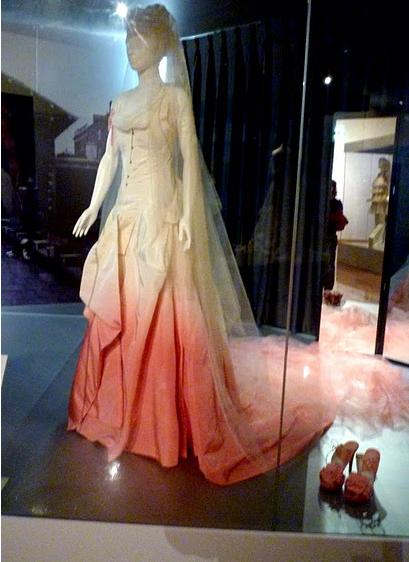 Gwen Stefani's John Galliano designed wedding dress was so pretty with its spray painted blush, but it wasn't anywhere near as poofy as it appeared in the photos. And to be honest, I have no interest what so ever in the suit worn by the groom, Gavin Rossdale, I was there to see the dresses. One random thing I noticed about this piece: the Dior label on the inside sole of Gwen's shoes was worn and a little grotty, they looked as though she may actually have had them on her feet. Unlike the pair Dita Von Teese 'wore' for her wedding to Marilyn Manson.