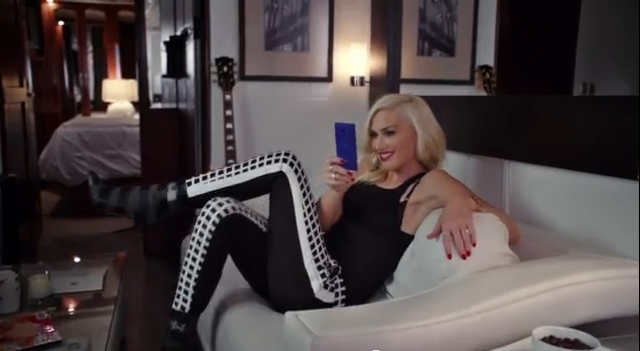 Windows has posted another commercial for its Windows 8 Phone featuring Gwen! This ad is 30 seconds long and according to Windows the campaign launches today-Gwen looks gorgeous in the ad and we love that "Looking Hot" is playing in the background-we can't wait to see it on TV! We had posted two shorter ads for the Windows phone featuring Gwen here.
The Windows Phone 8 ad campaign kicks off today with spots featuring actress Jessica Alba and singer Gwen Stefani. Take a look and tell me what you think.
Personally, I thought the 30-second ads—which will appear on both web and TV—were fun and do a nice job of showing how personal and unique Windows Phone is. Jessica Alba, a mother of two, talks about how she uses the new Kid's Corner feature. Gwen Stefani is a Skype and Office fan. (It's also fun to check out celeb Start screens.)
The campaign is just getting underway. There are more ads—with comedian Andy Samberg and football quarterback Cam Newton—and surprises to come. So stay tuned.
UPDATE: According to AdAge,the Windows 8 Phone commercials featuring Gwen and Jessica Alba will start airing on TV tonight during the shows "Modern Family" on ABC,"The Voice" on NBC, and "Jimmy Kimmel Live" on ABC. The ads will also appear on Hulu, SheKnows.com and the Better Homes and Garden website. And @LAMBFashion confirmed that it's Spring 2013 L.A.M.B. seen on the phone's screen in the ad!
Windows is calling on four celebrities in its new Windows Phone 8 ad campaign. Starting tonight, 30-second spots featuring No Doubt singer Gwen Stefani and actress Jessica Alba will air during "Modern Family," "The Voice" and "Jimmy Kimmel Live."
Windows will release its spots with Carolina Panthers quarterback Cam Newton and comedic actor Andy Samberg later this month.
The ads are meant to give viewers a glimpse into each celebrity's life by way of how they navigate the Windows 8 Phone start screen, and will also appear on Hulu, SheKnows.com and the Better Homes and Garden website.
The ads — specifically, the ones featuring Ms. Alba and Ms. Stefani — were created to appeal to women. Smartphones used to be for early adopters, many of whom mere male, Matt Donovan, Microsoft's brand general manager, said. "Now, everyone uses them," he added.