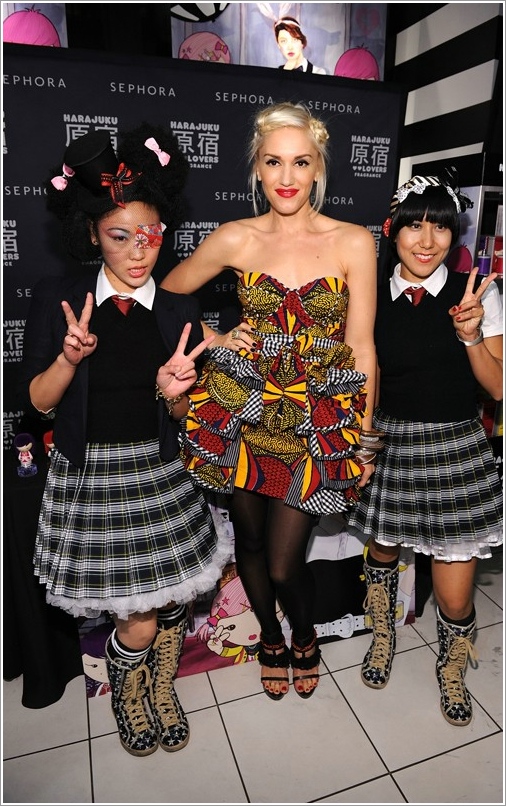 Today is Gwen's Harajuku-themed tea party at Royal-T Cafe in LA! As most fans know,tickets to the tea party(including ticket packages to sit next to the Harajuku Girls,who will also be attending)were auctioned off back in April as part of Gwen's hugely successful ebay auction to raise money for Save the Children's Japan Emergency Fund. If any fans attending the party would like to share their photos and experiences,please feel free to send them in! Endless thanks again to Gwen for helping Japan and giving the fans such an amazing opportunity to meet her,and much congratulations to all the lucky fans who placed a winning bid to go to the party-hope they all have fun!!!
**UPDATE** How exciting!! Thanks to our friends at Beacon Street Online,according to someone attending the tea party who spoke to an employee at Royal/T Cafe,the ENTIRE NO DOUBT BAND will be at the tea party today!!
**UPDATE 2** WOW,what an awesome surprise! Thanks again to BSO and fan Paul,apparantly No Doubt was overheard sound-checking "Simple Kind of Life" today! How thrilling would it be if they performed at the tea party?! Hopefully more details more come soon!
**UPDATE 3** The party is almost starting! Thanks to AJ for sharing,check out pics from outside the Royal/T Cafe-Gwen's mom Patty is there,and it looks like Gwen's niece Stella and her mom Jen Stefani are,as well!
Apparantly Nina Young is there,as well-it's nice that the tea party is a family affair!! 😀
Thanks to Paul,apparantly Gavin has arrived with Kingston and Zuma!!
**UPDATE 4** Tom just tweeted from the party!!
Getting ready for Gwen's Charity event, super excited… -Tom
Thanks to AJ for sharing photos of the exquisitely-set table and the gift bag from the party-look like this explained Momiji's involvement!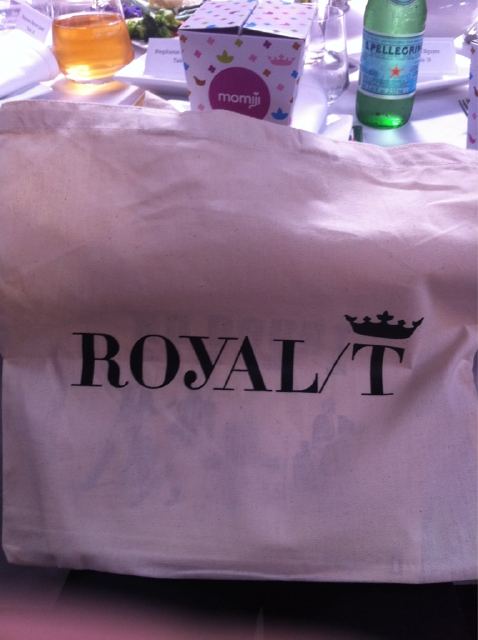 Woo-hoo,No Doubt just tweeted again-the guys look dapper in their suits!!
Guys in suits… ready! twitpic.com/58fvc4
Hmm,Adrian just tweeted this photo of himself relaxing in Cabo,Mexico-since he was just pictued being at Gwen's tea party,we think this must have been taken in the recent past:
Kicking back in Cabo. It is so nice down here this time of year. Adrian twitpic.com/58fzm8
Thanks to AJ for tweeting,Nina Young just told him at the tea party that she & Adrian's baby girl should arrive in 13 days-awww!
@ndfanatic10 Just talked to Nina… Baby should be here in 13 more days!
Thanks to @NODOUBTNEWS for tweeting a pic of the yummy food arriving at the tables!!
Gwen is tweeting photos of herself with the Harajuku Girls-she looks GORGEOUS!!!!! Looks like the Girls are wearing the limited-edition HL shirt!
twitpic.com/58geak
twitpic.com/58geae
twitpic.com/58geek
twitpic.com/58geg8
twitpic.com/58gen7
Save the children tea party just about to happen! Gx
Gwen tweeted a pic of herself with the guys of No Doubt,including Steve!!
Look who's w me! Gx twitpic.com/58gg97
Gwen just gave a speech at the tea party-AJ taped it & promised to upload it later!
ndfanatic10 Have a video of gwens speech.. Will upload later

Thanks again so much to AJ for tweeting from the tea party,he just talked to Tom-apparantly,not much new info will be revealed in the Entertainment Weekly article out Friday;Tom did say though that the article will mention that the new album WILL be out sometime this year.
@ndfanatic10 Just talked to Tom about the album…not much of a surprise in EW article… But talks it's coming this year… With not actual date though
Thanks to AJ and BSO for sharing this interesting photo that was posted outside the cafe-wonder if this means parts of the party will be shown on TV??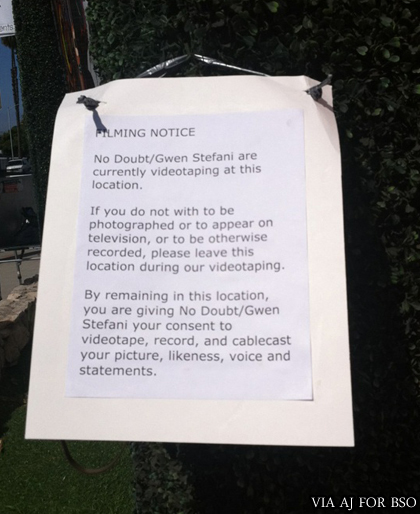 Thanks to @stargirrl7 for sharing a photo of Gwen at the tea party:



Thanks to our friends at Beacon Street Online and Donna for sharing details of Gwen's stunning outfit-she designed it herself!!
EXCLUSIVE INFO ON WHAT GWEN IS WEARING! She designed it herself!
Gwen also revealed to Donna that she is wearing gorgeous brooch in her hair (on the right side) that was made as L.A.M.B. jewelry (!!!) but was never produced! Gwen also designed her beautiful romper herself that she's wearing and it was made out of three kimonos. And her headpiece is from Japan town.
Thanks again to @stargirrl7 for sharing,she tweeted a photo of herself posing with the Harajuku Girls!

@stargirrl7 has now shared a photo of Gwen speaking to the crowd at the tea party:
LA-based Eric Buterbaugh Flower Design just posted this on their facebook page-apparantly they were the florist hired for the tea party and used beautiful salmon peonies to decorate the tables!
Salmon Peonies we did on Gwen Stefani's Harajuku Tea Party LOVE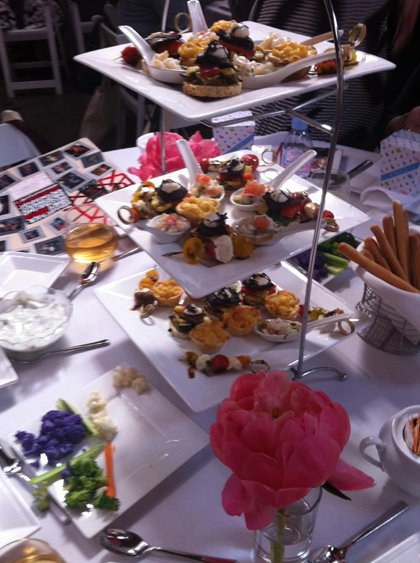 Thanks again to our friends at BSO and Donna for the info,it's been confirmed that No Doubt WILL be performing at the tea party soon! Right now the raffle of some of Gwen's clothing and other items is happening.
Attendees are now walking around the tables for the auction and bidding on things such as Gwen's personal items (!!!), clothing, fragrances and more!
7:40 PM
Donna texted me and said that she spoke to a server at the party and said that the band WILL BE performing soon as well as an auction taking place right now!
There is a stage covered at the event that has guitars on it!
Aww,much congrats to AJ and Donna on getting a photo with Gwen!!!
Holy Moly!! Thanks to AJ for sharing,No Doubt performed It's My Life,Underneath It All and-incredibly!- The Sweet Escape at the tea party!Here's a photo thanks to Melissa: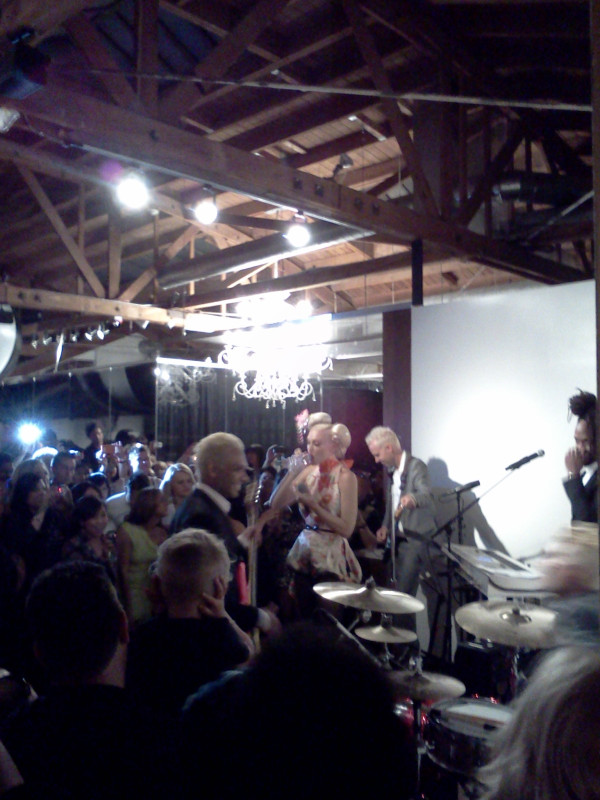 Thanks SO much to Jackie,check out a clip of ND performing Underneath It All at the party HERE!!!
Thanks to AJ, a short clip of ND performing The Sweet Escape is HERE!!
Thanks yet again to AJ,here is another photo of ND performing-love that Tony used the pink bass from the 2009 tour!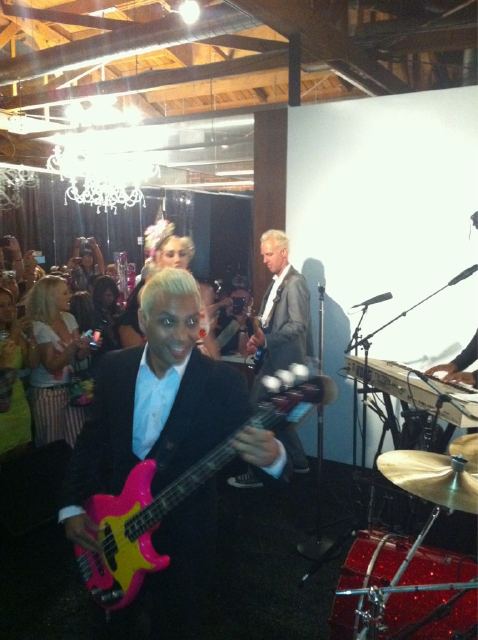 Awesome! Steve Bradley just posted on his personal twitter to say he had an awesome time playing with ND and helping such a great cause!
@BaxterBeezy Had a great time performing with the guys tonight,especially for such a great cause.The people in the house were rocking out.Thanx guys!!
THANK YOU AGAIN,AJ! Here is a clip of Gwen's speech from tonight's tea party!! Gwen revealed that over $125,000 was raised for Save the Chidren's Japan Fund-how wonderful!!!
Thanks to AJ for sharing yet another great pic from ND's performance: