Here are some photos of Gwen onstage at the amfAR Cinema Against AIDS Gala tonight at Hotel Du Cap in Cannes. She looked absolutely radiant-hopefully more photos from the event will surface online soon!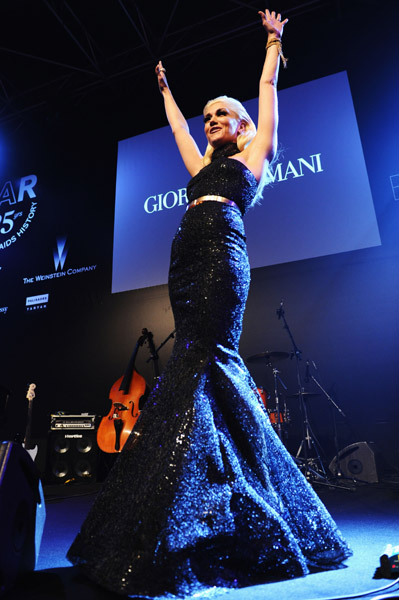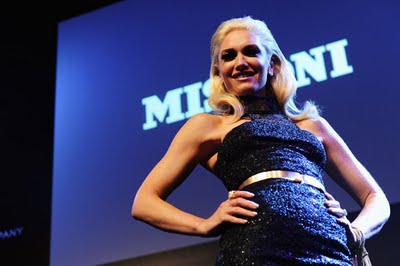 Credit: AllEyesOnWho
EDIT-Here is another photo from Yahoo! Gwen took part in the gala's auction with Jude Law and athlete Aimee Mullins. According to Women's Wear Daily,the auction raised a record-breaking $10 million!!

EDIT 2- Here are more photos of Gwen onstage-more are at Zimbio HERE.

EDIT-More photos of Gwen with celebs like Jude Law,Brooke Shields and Milla Jovovich at the gala dinner and auction-HQs are here thanks to our friends at justnodoubt.net.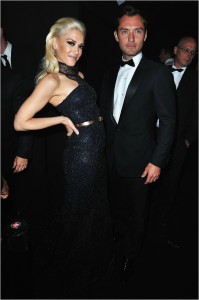 **UPDATE** This is awesome!! The Associated Press is reporting that at last night's amfAR auction Gwen auctioned off the gorgeous custom L.A.M.B. gown she was wearing the amfAR Cinema Against AIDS Gala;the auction netted a record-breaking $10 million.Gwen had mentioned in her recent interview with ELLE that she wanted to wear a L.A.M.B. item to the gala so that she could auction it later,and she certainly did! Gwen never fails to inspire with her charitableness.Congrats to the lucky winning bidder!
CAP D'ANTIBES, France – Vertiginous fuchsia heels bedazzled with 360 carats'-worth of precious stones, a tennis match with Monaco's Prince Albert and the rubberized second-skin dress right off Gwen Stefani's back were among the extravagant lots that helped a star-studded charity auction raise a record-breaking $10 million ((EURO)7 million) for AIDS research.
A-listers turned up by the herd, with Sean Penn, Karl Lagerfeld, Janet Jackson, Freida Pinto and Patrick Dempsey in attendance Thursday's amfAR charity dinner-cum-auction, held at the exclusive seaside Hotel du Cap. Robert De Niro, who heads the jury at the Cannes Film Festival — which runs through Sunday in the next town over — and jury members Jude Law and Uma Thurman also attended.
Stars in their evening finest and those fabulous enough to call them their friends — and spring for a seat at the several-thousand-dollar-a-plate gala — mingled over cocktails before the start of the three-course dinner that stretched out over four long hours.
In past years, Sharon Stone has emceed the evening's festivities, but she was absent Thursday, so dozens of heavy-hitters took turns cajoling the well-heeled audience to splurge on artwork, trips, fine wine and a pair of stiletto heels billed as the world's "most precious shoes."
Proceeds from the event go to the American Foundation for AIDS Research (amfAR), a nonprofit organization that supports HIV/AIDS research.
Draped with 500 diamonds, sapphires, and other stones, the heels were a one-of-a-kind collaboration between Italian shoemaker Giuseppe Zanotti and French luxury jeweler Chopard.
"I'm wearing them, and my bodyguard is my shadow," said Polish-born model Anja Rubik, who paired sparking stilettos with a strapless Pucci dress in blue feathers.
Asked whether she was happy with the (EURO)140,000 ($200,000) the shoes — and a pair of matching earrings — ended up fetching, she demurred. "I was hoping for more. I'm very ambitious."
The evening's highest-fetching lot was chance to play a match of tennis with His Serene Highness Prince Albert of Monaco and take a dip with his fiancee, South African-born Olympic swimmer Charlene Wittstock. The tete-a-tete was sold to two different bidders for (EURO)500,000 apiece.
Wittstock placed the winning (EURO)60,000 bid on Moet & Chandon's Nebuchadnezzar Champagne, in a gold-leafed bottle.
A ten-day-long trip for eight aboard a private jet fetched (EURO)180,000, and a week in an exclusive chalet in the chic French ski station of Courcheval was sold twice for (EURO)250,000 a piece.
A Herb Ritz photo of Elizabeth Taylor fetched (EURO)150,000, a print by Robert Rauschenberg, (EURO)130,000, and Jean Pigozzi's 1981 photograph of Mick Jagger went for (EURO)300,000.
**UPDATE 2** WOW!! According to L'Oreal's Cannes website(which Gwen and other L'oreal spokespersons have been on the mainpage of all week),Gwen's L.A.M.B. gown raised a record 90000€ at the auction,which is about $127,845!!! Much congratulations to Gwen on helping to raise so much money for amfAR!!
EDIT- L'Oreal has uploaded a video featuring highlights of the auction-Gwen can be seen at around the :50 mark: