Gwen and Gavin attended the premiere of Brad Pitt's new movie "Tree of Life" May 16 at the Cannes Film Festival,and also were at the 'Snow Flower and the Secret Fan' cocktail party! Here are some first photos-Gwen looks absolutely stunning!!!
@LaineyGossip Gwen and Gavin just arrived to support the Brange! #Cannes2011
@LaineyGossip Gwen Stefani in a low cut sequin pantsuit. Looks amazing #Cannes2011
@cassianelwes: The beautiful gwen stefani goes hollywood at tree of life http://yfrog.com/hsyvcxij
@EntNewsCannes The Tree Of Life gala's a big one! Brad, Angelina, Gwen Stefani, Gavin Rossdale and Sean Penn #Cannes
Arrived at "Tree of Life" premiere just after Gwen Stefani & Gavin Rossdale. Red carpet DJ playing "Hollaback Girl" naturally. #Cannes
**UPDATE** More photos from Celebuzz-Gwen looks SO gorgeous!!!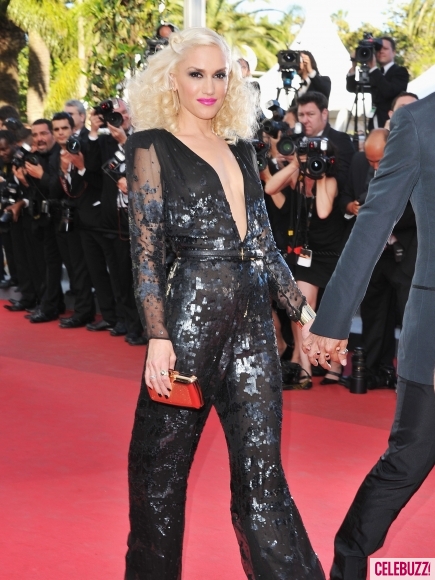 This couple knows how to work the red carpet! Gwen Stefani and Gavin Rossdale showed up in style for Brad Pitt's Tree of Life premiere at the Cannes Film Festival.
Gwen joins a slew of celebs who have been sporting the plummeting neckline trend, while her rock star husband perfectly matched his wife in a dark suit. Prior to hitting the red carpet, the two enjoyed some downtime with their kids.
The No Doubt singer flaunted her bikini body on a luxurious yacht near the Cannes Film Festival on the French Rivera. Gwen was dressed a leopard print bikini top and striped maxi skirt, and enjoying her time with her three boys as they looked out at the sea from a yacht owned by Russian businessman Roman Abramovich. Later, Gavin got his adrenaline rushing by zooming around on a jet ski out on the Mediterranean Sea.
From A Girl and Her Garms:
I'm not sure why she was there, but Gwen Stefani and her equally stylish accessory of a husband Gavin Rossdale, stole the limelight at the premiere of upcoming movie "The Tree of Life".
Even superstar Angelina Jolie, whose hubby Brad Pitt stars in the movie, couldn't compete with glamorous Gwen.
The singer combined her usually quirky sense of style with just enough sophistication to befit the event, wearing a vintage style black sequined gown, with sheer sleeves and a plunging neckline. A very daring look!
She tied the look together with her retro blonde curls, teamed with dark eye make-up and bubble gum pink lips.
But I just have to ask, is this woman really 41?! She actually seems to be turning the clock back every year and yet has still retained the ability to move her facial muscles, unlike many of her Hollywood peers!
Check out even MORE HQ photos of Gwen and Gavin on the "Tree of Life" red carpet at Zimbio.
**UPDATE 3** According to RedCarpetFashionReport,Gwen was wearing a Stella McCartney jumpsuit.
**UPDATE 4** More rave reviews for Gwen from The Daily Mail!
With the red carpet awash with floor-length designer gowns straight off the catwalks, necks laden with diamonds, it's hard to stand out from the crowd at Cannes.
But Gwen Stefani broke the mould in her sequinned jumpsuit at the Cannes Film Festival tonight, bringing her Hollywood sensibilities to one of the world's most glamorous events.
The belted jumpsuit featured a daring plunging neckline and layers of lace over a black lining.Gwen teamed her modern take on the Seventies look with bright pink lipstick, her hair curled and pinned back.
Her husband, Bush singer, Gavin Rossdale, 45, looked equally dashing in a black on black suit and tie, with satin lapel.
From JustJared:
Gwen Stefani sparkles in a black Stella McCartney jumpsuit at the premiere of The Tree of Life on Monday (May 16) at the Palais des Festivals in Cannes, France.
The 41-year-old singer and fashion designer walked the red carpet with husband Gavin Rossdale at the event, which was held during the 2011 Cannes Film Festival.
On Sunday, a bikini-clad Gwen and Gavin enjoyed some R&R on a yacht with their two boys, Kingston and Zuma.
FYI: Gwen is carrying Roger Vivier's Boite de Nuit clutch.
25+ pictures inside of Gwen Stefani and Gavin Rossdale at the Tree of Life premiere
EDIT- Here's an Entertainment Tonight video of the "Tree of Life" red carpet premiere-Gwen and Gavin can be seen in the first 20 seconds of the video.
The rave reviews just keep pouring in for Gwen's gorgeous look at Cannes!!!
From Entertainment Wise:
We look forward to the Cannes Film festival every year as it's guaranteed to bring with it a host of amazing outfits.
And the 64th festival this year hasn't disappointed, with the likes of Angelina Jolie, Rachel McAdams and even Cheryl Cole, wowing on the red carpet.
But at last night's première of The Tree of Life, the show was stolen by Gwen Stefani who attended with her husband, Gavin Rossdale.
The gorgeous singer looked magnificent in a glittering black jumpsuit with a plunging neckline and lace detailing.
Gwen being Gwen, accessorised the amazing garment with bright pink lipstick and voluminous, curly hair.
A strong, yet totally spot on look which is, without a doubt, our favourite of this year's festival so far.
From Glamour:
When you're hitting the red carpet alongside Angelina Jolie–as Gwen Stefani did at last night's "Tree of Life" premiere in Cannes–I suppose you put a little extra oomph into your appearance so as not to be upstaged. Want to see what Gwen came up with?
Pow! Leave it to Gwen–she's got the dramatic hair, eyes and lips going all at once.
So, just for fun, what's your immediate visceral reaction to Gwen's look–share it with the group in 5 words or less! Fill in the blank: Gwen Stefani Looks _____ With This Hair and Makeup!
From LOOK:
Angelina Jolie wasn't the only A-lister pulling out all the stops at The Tree of Life premiere in Cannes last night. Zoe Saldana looked utterly ravishing in a red-and-white Armani striped bandeau dress and Nicholas Kirkwood two-tone platform heels – check out those toned pins! Fan Bing Bing continued her run of knockout frocks in a lime green ruched number – totally loving the Heidi-esque plait. And we barely recognised Gwen Stefani in a black sequin Stella McCartney jumpsuit and '70s pinned-backed curls – well she was never going to turn up in a LBD! But a special mention goes out to Gavin Rossdale who looked particularly dapper in his navy and black dinner jacket, skinny trousers and slicked-back hair, giving Brad Pitt a run for his money we think!

EDIT- For all you Gwenabees out there,Teen Vogue Editor Eva Chen Bannister just tweeted that Gwen was wearing L'Oreal Infalliable Le Rouge lipstick in the shade of Forever Fuschia on the Cannes red carpet!
@evachen212 this lipstick that Gwen Stefani is wearing is my new fave: @lorealparisUSA Infallible LeRouge in ForeverFuchsia! http://twitpic.com/4zg221
EDIT-Here's a longer video of Gwen and Gavin at the screening-"Hollaback Girl" was played as they walked the red carpet!