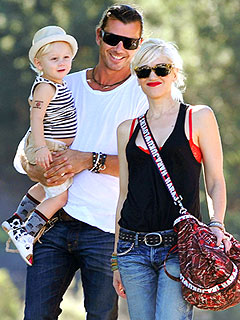 There had been rumors this week that Gwen and Gavin's son Zuma had accidently broken his arm after a fall in their Beverly Hills home-we didn't want to post about it since the story had originated from The National Enquirer,which is typically an unreliable source,and because we felt that even it was true,that it was nobody's business but Gwen and her family's.But now Gavin has spoken to People's CelebrityBabies to confirm that it did happen,and that while it was a "horrific" night for the family,Zuma is doing fine now.We wish Gwen,Gavin and their family the very best,and hope that Zuma has a safe and speedy recovery.
It ranks among the scariest things you can experience as a parent — you turn around for a second and something happens.
That was Gwen Stefani and Gavin Rossdale's reality late Thursday after their 2½-year-old son Zuma accidentally took a tumble from a countertop in their home, breaking his right arm.
"It was one of the worst nights of our lives," the Bush frontman, 45, told PEOPLE Saturday before performing at Palazzo Las Vegas's Summer Soiree party.
"It was one of those freak events — he fell. A freak accident."
After rushing him to the hospital, Zuma is doing well, Rossdale shares, but admits the event was "horrific."
"He's fine now," says the rocker, who will appear as a villain on Burn Notice later this summer. "It's almost worse for us [as parents] … The kids are never alone and you turn your back — it takes a split second."
– Mark Gray

EDIT-Gavin also spoke to US Weekly:
Gavin Rossdale and Gwen Stefani got the scare of a lifetime Thursday when their 2 1/2-year-old son, Zuma, fell from a countertop at their home and broke his arm.
"It was probably one of the worst nights of our life," Rossdale, 45, told Us Weekly at Saturday's Simon G. Jewelry "Summer Soiree" party in Las Vegas. "It was a freak accident. He fell."
After a trip to the hospital with his panicked parents, Zuma is recovering well from his accidental injury.
"He's doing good now. Kids, they find a way," says Rossdale, also dad to 5-year-old Kingston. "You feel so much when something happens to [your] kids. It's the worst thing in the world."