Thanks to Nadia for sharing her story and photos of meeting Gwen and Gavin,along with other celebs,at the May 16 cocktail party for the film "Snow Flower and the Secret Fan" during the Cannes Film Festival.

From Missntertainment:
With all the running around and queuing and stressing, it can sometimes be easy to forget one is in one of the most beautiful places in the world, and that the point is to enjoy it, just as hard as you work. Yes, I can hear you say, ah but you're sipping champagne in Cannes, what's not to love? The glamour is there, don't get me wrong, but it can also be a stressful juggling game. Which is why I love when little moments like this happen.
I had been on a deadline and was running late for a cocktail party for a new film called Snow Flower and the Secret Fan, starring Bingbing Li and Hugh Jackman. I was a little out of breath when I got there and literally as I entered bumped straight into Rob Lowe. Great to see him closer up than I had at the Duran Duran party. As if that star power wasn't enough, in walked the Gwen Stefani. I don't often get starstruck, but with her and hubby Gavin Rossdale in the room, it was hard not to be.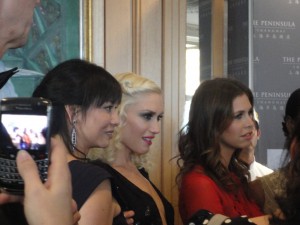 No Doubt and Bush were the bands that got me through my teen years. So I had to say hi. Gwen looked gorgeous in her L.A.M.B jumpsuit (EIT note:Gwen was actually wearing a Stella McCartney jumpsuit) but almost like a wax-works figure, as you'll see here.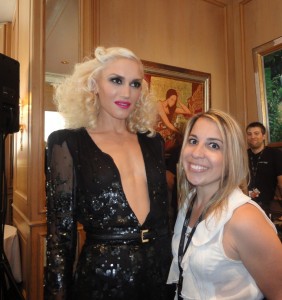 Told Gavin how I thoroughly enjoy his music and that I managed to catch the Bush show they did in Cape Town for Lucky Strike years ago. When I asked for the pic, he answered he would only do it if Rob joined in too. He really is Mr Pretty.