This is so cool-Tom just tweeted a link to the blog of his guitar-making company Hamer,which posted today about custom-building and shipping out to him an AWESOME new,hot-pink "Special K" guitar,which he loves!! Hope he enjoys rocking out with it on the next No Doubt tour!! And congrats to huge fan Hannah on Hamer posting the link to the youtube tribute video she made for Tom!
I'm in love with my new guitar; http://hamerworkshop.wordpress.com/2011/07/13/hot-pink-no-doubt/ -Tom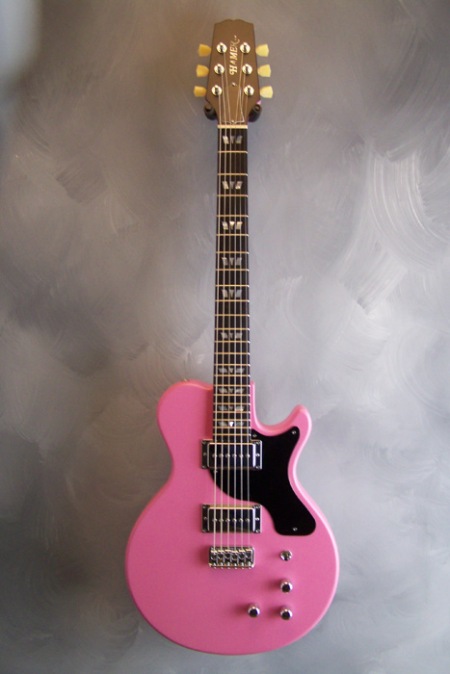 Hot Pink? No Doubt!
You're probably familiar with Tom Dumont's arsenal of Hamer guitars. His Vectors, Standards, Newports, and Specials have been seen by hundreds of thousands as he has toured worldwide with Grammy award winning No Doubt.
We thought that we would take you behind the scenes and show the latest Hamer to join his arsenal. We just shipped out this beauty. We're confident that you will see much more of it in the future. As Tom will tell you, he "like(s) playing Hamer guitars."
Tom's starting pont was the Special K model, only Tom wanted it built from mahogany, not korina. Here we're drilling for the electronics. Note the pencil marking lines on the guitar. All of the electronics were laid out and drilled or routed by hand. Tom asked that we relocate the toggle switch to position 1 (the normal volume location). The tone control was moved to where the 3-way toggle switch is normally found.
The "Special K" was offered with P-90 pickups. Tom requested Seymour Duncan Phat Cats, in effect single coil pickups in humbucking housings. This meant that the pickup routes also were hand routed.
The Special K usually is fitted with a wrap around bridge. Tom asked for the Hamer Sustain Block bridge. This entailed following the fingerboard taper to the bridge so that we could then determine the bridge center line.
Here we're routing a 3/8″ roundover around the back perimeter of the guitar.The famous Hamer neck joint that we take so much pride in
Tom's never been bashful with either his wardrobe or his guitars. We color matched a hot satin pink sample that Tom supplied.
This stage guitar definitely called for electronics shielding. Hand wired as always.The humbucker housings, in turn, dictated a custom made pickguard.
We continue to sequentially serialize our guitars. Nice Klusons.
The name says it all.
Cool.
Very Cool.
No Doubt.
EDIT-Tom also posted photos of his guitar and the link to the Hamer blog on his website:
OMG I love this guitar!
Tom
More photos and details about how the craftsmen at Hamer built my new "Special K":
Hot Pink? No Doubt!