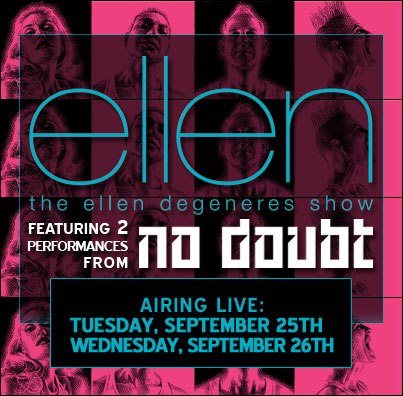 It looks like No Doubt will be taping their appearance on The Ellen Show tomorrow-a lucky fan who managed to get tickets to the taping (despite the fact that the show's site states that tomorrow's taping is fully booked) just tweeted Tom to say how excited she is to be going! Don't forget,No Doubt will be performing twice on the shows that will be airing next Tuesday,September 25,and next Wednesday,September 26. We hope the band and all the lucky fans at the taping tomorrow have fun!
@TomDumontND score! 🙂 "@kammykam: Holy shit! Can't believe I'll be seeing @nodoubt tomorrow for the @TheEllenShow!! So stoked!! ❤
UPDATE: Tom just tweeted a fan to confirm the band will indeed be taping The Ellen Show tomorrow-he also mentioned again that the band will be in the UK next week,but added that they hope to go to Paris,too!
@TomDumontND @ChenteDRamirez taping tomorrow. next week we will be in the UK & hopefully Paris
@TomDumontND

We do fittings… pic.twitter.com/GrQiIqen
Tom also tweeted late last night that he saw the final cut of Push and Shove video and that he hopes they can get it up soon! Curiously,he also replied to a fan's query about an announcement of a 2nd single,saying that it's coming soon,and that the band needs to make a video ASAP.
@TomDumontND FYI just saw final cut of push and shove video. So rad, hopefully we get that up soon
@TomDumontND @adam_jordan yep it's coming soon. Gotta make a video ASAP