@TomDumontND @nodoubt using an ebow on "Gravity". This seriously sounds so wicked!!! http://pic.twitter.com/fNg73WuM
@TomDumontND @TonyKanal @gwenstefani @AdrianYoungND First up today…Tom on "Gravity" http://twitter.com/nodoubt/status/190518984221790208/photo/1
Tom is replying to fans on Twitter,saying that the band is working on putting the finishing touches on "Gravity" and "Heaven" today. He said that "Gravity" used to be dark and stoney,but is now upbeat and anthemic-he hopes the old version eventually becomes a b-side! He also said that the album is 94% done,although Tony thinks it's actually 93.5% done,lol. Tom also shared that the band still hasn't cracked the code on "Push and Shove" and does not have an album release date yet,but that they really are SUPER close to being finished-exciting!! Thanks to Tom for taking the time to reply to the fans!!!
@nfisteus it used to be dark and stoney, now it's upbeat and anthemic. Eventually I hope the old version becomes a bside…:-)
@nodoubternate @tonykanal 94%
@nodoubter29 @tonykanal @gwenstefani @adrianyoungnd final touches on Gravity, then final touches on Heaven…
@HausOfHanHan 🙂 if we had a date we'd tweet it. Just finishing touches now -suuuuper close, but I know I've been saying that 4 ever haha
@nodoubternate @tonykanal not yet that's on the list. It's amazing though
@HausOfHanHan 🙂 wish I had the date. It IS happening and it will be this year
@AmazingxU ok do our best. I am French after all (kinda) haha
@AmazingxU "Dumont" is French, oui? 🙂
@TomDumontND @nodoubternate i think more like 93.5% but i appreciate your optimism tom
Congrats to our friend Edgar on the shout from Adrian to his awesome tumblr,where he's been sharing cool No Doubt photos,which we've been posting recently:
Hey Radley in LV that dances in the bedroom to the Smiths. Your site is rad. There are some unique pics of ND etc. http://radleyarego.tumblr.com/tagged/No+Doubt/page/11 AY
@tonykanal @AdrianYoungND @nodoubt someone likes juicing at the studio http://twitter.com/TonyKanal/status/190546959445139456/photo/1
@TomDumontND @HausOfHanHan We get lunch brought in from 1 of 3 places almost everyday- veggie grill, daily grill, or Tiato… Was that your question?
Tom shared with a fan that he can't reveal anything about No Doubt's tour plans until the band is ready to announce:
@TomDumontND @HolyFoolErik unfortunately I have to keep it all a secret until we announce…
Tony shared a GORGEOUS pic of Gwen singing "Gravity"!
@nodoubt @TonyKanal @TomDumontND @AdrianYoungND Gonna try to sing "undone" today – send me vibes gx
@TomDumontND "@GJ2Guitars: Arete http://t.co/tWJIHlEy" Grover Jackson hand-builds guitars in OC Ca…making a prototype for a new model for me now…
@gwenstefani@nodoubt laying down some harmonies on "gravity" http://pic.twitter.com/SyKtxrhY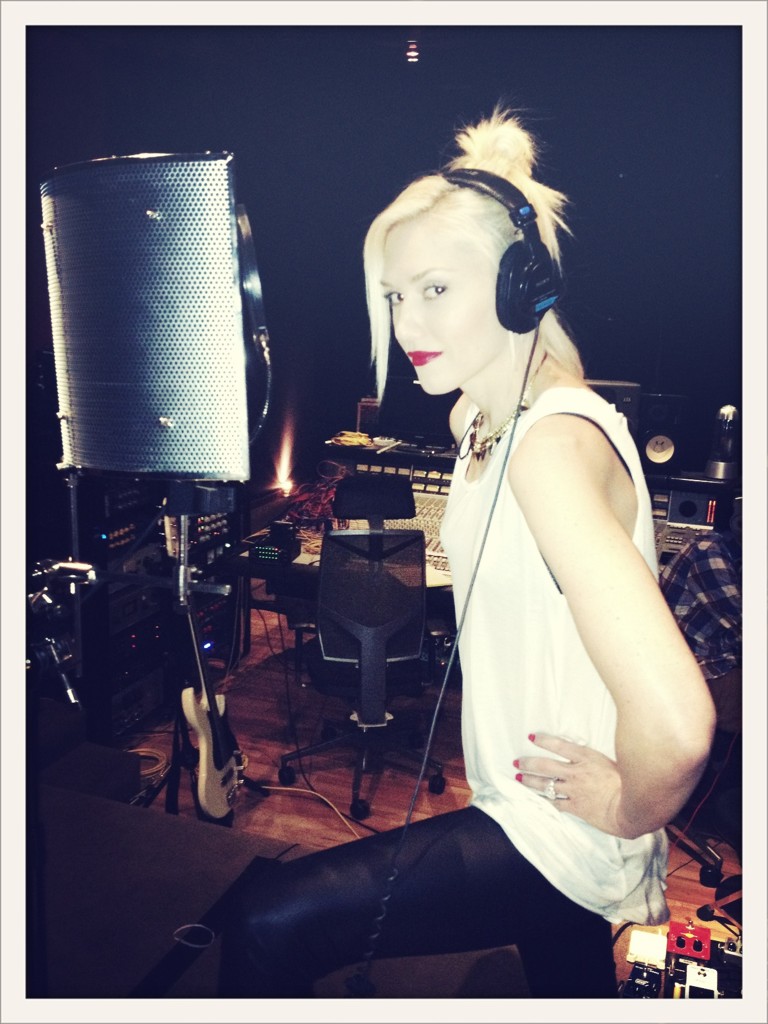 Tom keeps on replying to fans' questions!
@AmazingxU no, sadly

@GGNDRiRock maybe, but until it's for sure, it's a secret

@GGNDRiRock I only see the ones with @TomDumontND in them….:-)

@HausOfHanHan yep

@GGNDRiRock @hausofhanhan singing "Undone" now, gorge ballad
Tom describes "Heaven" as "upbeatish mid tempo":
@shaunlovesLgaga upbeatish mid tempo? I know that's kinda vague. It's a feel-good one
He also confirmed that No Doubt will be doing TV promo for the new album:
@HausOfHanHan yes
@nodoubter29 @tonykanal @adrianyoungnd @gwenstefani No, bizzy werkn 🙁 love #coachella, hate missing it
Lol,Tom shared that his guily pleasure song is "Sexy and I Know It" by LMFAO.
@GGNDRiRock sexy & I know it, haha
Today's pedal board http://pic.twitter.com/Z1Jrj0cg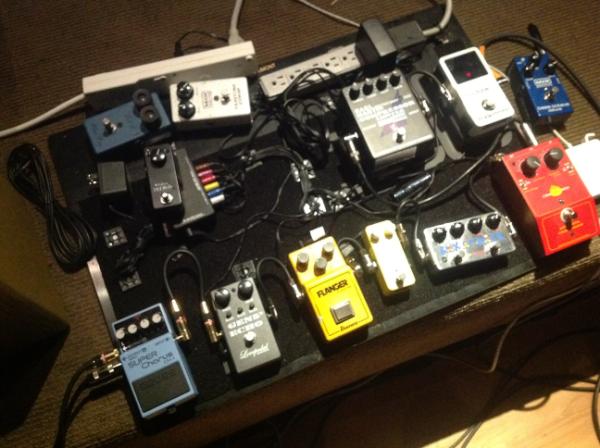 No Doubt posted this sweet photo of Gwen on their facebook:
Singing "Undone". Gonna try again tomorrow – gx
Aw,Gwen loved Maya Rudolph's impersonation of her on The Ellen Show today:
@TheEllenShow #MayaRudolph I love you both so much! Thanks for making me laugh – Gx http://idolator.com/6346252/maya-rudolph-gwen-stefani-impression-video @nodoubt