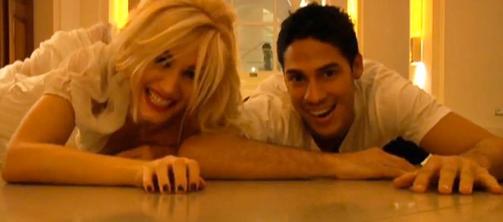 Gwen tweeted and No Doubt posted on the official site to let everyone know that Gwen's former backup dancer,Steelo Vasquez,is performing tonight on Dancing With the Stars,which airs on ABC at 9 PM EST. Steelo will be dancing with the Groovaloos on the show,following his remarkable and inspiring recovery from a life-threatening ruptured brain aneurysm last year,which required him to undergo intense rehabilitation. As we had mentioned,Gwen appears in the upcoming documentary "444" which chronicles Steelo's story. We will be tuning in to Dancing With the Stars tonight,and will be keeping Steelo and his family in our hearts,thoughts and prayers,as we hope everyone does.
Watch my friend @Steelo444 perform and hear his inspiring story tonight on Dancing With the Stars! #DWTS #444movie http://intersco.pe/Iw3apr
Steelo Vazquez will be performing tonight on Dancing with the Stars. Many fans remember Steelo as a talented dancer in Gwen Stefani's Early Winter video as well as a performer during her Sweet Escape Tour.
On June 19th, 2011, Steelo suffered a ruptured brain aneurysm and has since undergone emergency surgery and therapy to help him walk and speak again. In December 2011 the Los Angeles dance community held a fundraiser for Steelo and created a documentary called "444" which features a short interview with Gwen.
After months of recovery, Steelo is fighting his way back and will be performing with the Groovaloos tonight on Dancing With The Stars. Watch his inspiring story and performance tonight on ABC at 9/8c!

UPDATE: For anyone interested,here is a video of Steelo's appearance on Dancing With the Stars tonight; in the beginning of the segment,Steelo's wife and colleagues discuss his many accomplishments,including being one of Gwen's backup dancers,before his devastating brain injury. It's really amazing to see Steelo performing with the Groovaloos and how far he has come with his recovery-he is such an inspiration! It is so kind of Gwen to continue to be so supportive of Steelo and his family. 🙂