UPDATE: Tom shared that ND's longtime friend and guitar tech Donnie Spada remembers this photo being from the band's March 31,1995 show at Showcase Theater in Corona,CA,which was the first show at which they sold The Beacon Street Collection CDs-nice to know! Also,Tom was asked by a fan what his favorite riff is from a No Doubt song that he has written,and he replied, "New",along with "One More Summer" and "End It On This". Excellent choices!
@TomDumontND If @dtspada is correct, its from Showcase Theater – Corona CA, 3-31-95, that was the show we first sold BSC cd's FYI.

— Tom Dumont (@TomDumontND) December 10, 2013
@Timothy_AllenWV "New" I do like the gtr bit at the top of One More Summer … End it On This as well…

— Tom Dumont (@TomDumontND) December 10, 2013
Thanks to Tom for sharing another awesome old-school No Doubt concert shot from his recently-scanned collection! He recalls this one being from a club show in Riverside,CA circa 1994-95. We are loving these gems!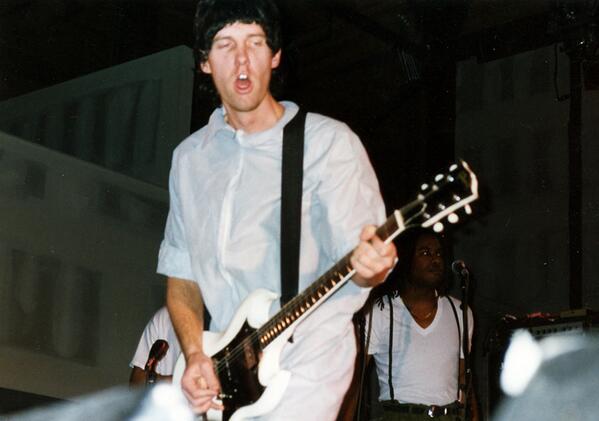 '94-'95? I vaguely remember playing a club in Riverside with unfinished walls. any guesses? pic.twitter.com/kewd1Rbv3i

— Tom Dumont (@TomDumontND) December 10, 2013
fyi yes i'm wearing a wig there here pic.twitter.com/kewd1Rbv3i

— Tom Dumont (@TomDumontND) December 10, 2013