UPDATE: Thanks to No Doubt for sharing another photo from Adrian's Guitar Center shoot on Instagram;in addition to being sent out to subscribers on Guitar Center's mailing list,the guide will be available at Guitar Center stores beginning this Sunday,September 1.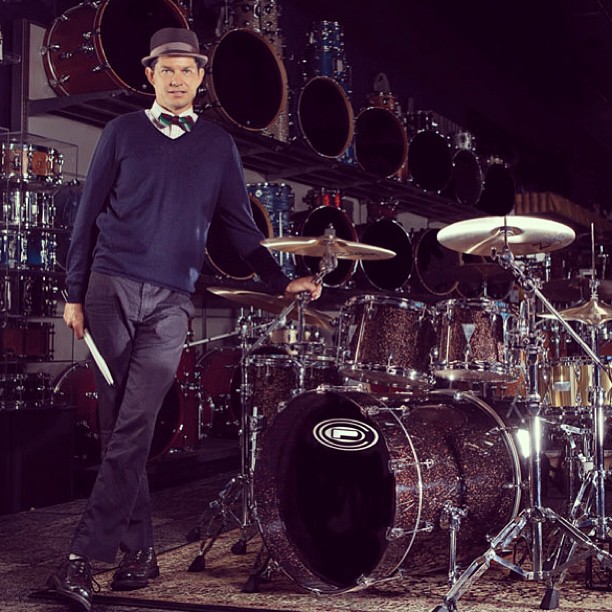 Thanks so much to Richard for sending into us,check out HQ scans and a full article transcription of Adrian's cover story in the September issue of Guitar Center's Drums September Buyer's Guide! (The guide is sent out to subscribers on Guitar Center's mailing list-click on the scans to see them in full size.) We love the new photos and interesting interview,in which Adrian discusses his 20-year relationship with Orange County Drum & Percussion (he became a partner in the brand in 1996),introduces the awesome new OCDP Newport Series drum kit,and describes his hopes for the brand's future. If you post the scans and transcription on your websites,please give EIT credit.
Adrian Young Introduces The New OCDP Newport Kit
Adrian Young is perhaps best known for his work with No Doubt-a Grammy Award-winning mega-group that arguably led the ska revival of the early '90s. And if that wasn't impressive enough credit on his resume,Young is now a co-owner of Orange County Drum & Percussion-a brand with which he's been cultivating a relationship for more than two decades.
''In 1993,[No Doubt was] playing with 311 up in San Francisco and at the time Chad Sexton was playing OCDP drums. And Daniel Jensen-one of the owners- was at that gig,and he came up to me afterwards and said,'I'd love to make you a snare drum,'" says Young,reminiscing in the drum shop at Guitar Center Hollywood. ''So when I got back to Orange County,I went down to the shop and we kind of designed a snare drum together-it happened to be a 7×12,6-ply with 10-ply reinforcement rings. And at the time,I didn't know anybody using a 12-inch snare drum as their main snare drum in the early '90s. Different than a piccolo [my snare] had a little bit more of a body sound to it,whereas a piccolo is more slappy. I had,like,my own sound-at least in my vain mind at that moment,'' he laughs.
That initial snare drum led to a relationship with OCDP that Young describes as quite different from the average endorsement. ''I would say the OCDP's endorsement's always been different before I became one of the owners,because it was more of a family feel. It was just a mom 'n'pop kind of shop,and they would just custom-make drums for drummers they liked,or drummers they wanted to be playing their product-and I just happened to be one of them. And I think with a larger company,it would've been a totally different vibe.''
Young became a partner of OCDP a short three years later in 1996. Though most every drummer is familiar with the OCDP brand nowadays, Young describes how,at that time,the company was a much smaller-scale operation. ''When I was an endorsee,there was a little mom 'n' pop shop-there was retail and a custom-building business in the back. The shop closed down when I became partner,and we were building drums out of Daniel Jensen's garage for years,'' says Young. ''And eventually,we got a larger facility and the company started to grow. And when Guitar Center got involved and started ordering larger-volume snare drum orders and drum set orders,we developed our own custom machinery that was built by my partner's brother. And we actually still have those machines to build those custom orders now. There's no B-version of those particular machines-they're our machines exclusively.''
And when it comes to designing new products-like OCDP's new Newport Series-Young is closely involved with the entire creative process. ''I've always been a fan of the extra-deep,double-wide hoop. I get 'em on all my kits now,so I was happy to see that that's a feature. This Newport kit comes with V-mounts-they're exclusive to the Orange County Newport kit-the toms have more tone from the suspension of the V-mounts. And additionally,the edges have a 45-degree counter-cut,so it's more like a point that touches the head,rather than a squared point. I've sat on kits in this price range where the edges were done shabbily-if that's a word,''he laughs,''and you lose tonality because you have these little gaps where the head touches the wood. I mean,that kit (indicating the new Newport),it [sings]. The notes [are] long-and if you don't want that,you can muffle it,you can work with it. But if you've got a kit that's too dead to begin with,you can't go backwards,you can't go the other way. It should start wide open.''
In addition to appointments such as bearing edge design,hoop construction and hardware,the way that a drum is finished has a serious impact on its sound. The new Newport Series' all-maple shell features a laquer finish that not only looks stunning,but also allows for more tone and resonance than the more common wrap finish. ''Laquer-painted drums to me always look way better,'' says Young. ''I used to have this kit from the year 2000-it was white laquer that had a sparkle finish that,when you walked around it,the sparkles would change colors. It was almost a rainbow effect. This kit,even though it's black,the sparkles do change colors as the lights hit it from different angles,and I really think that's cool. It just looks so much more pro and unique and high-end to me. [And] if it looks killer and sounds killer,I want it. I know these Newport kits sound killer,because I've played them.''
When asked what got him interested in partnering with OCDP in the first place,Young's answer is plain and simple,''It seemed like something that would be very fun. At the time,I was obsessed with drums and drumming,and I loved what OCDP was doing. We also developed a friendship,and so I really wanted to get involved,''he says. ''[Playing drums and building drums are] similar,because we're in the marketing business,and it can be an art form,building drums-at least it is for Orange County. I remember when we first started [building] vented snare drums,because we were the only ones doing it for a minute. And some people were like,'What the [heck] is that? Why would you do that?' And then we'd hit it,and they were like,'It's so loud!' And then the experimentation got fun,because I would throw a mic on the top and the bottom,and then I'd put one in the port,so there's three different sounds comin' out of this thing-and that's just one example of,'Well,what else what we can do?' And as many people know,we did a lot of [messed] up [stuff]. And there's a lot of companies in the Guitar Center drum showroom today that are doing those things that we came up with.''
Innovation has become a staple term when drummers talk about the OCDP brand. And that famous imaginative spirit is something that Young believes not only sets the company apart,but will carry OCDP into the future. ''Some of the design aspects have to come from the same people,''he says. ''There is a cutting-edge thought from myself and Daniel,and from the GC camp-it's not only one-sided. However,I still think that Daniel Jensen is the most obsessive,strangely knowledgeable drum-making guru that I've ever met. And when he comes up with an idea,it's pretty awesome. And I think if he continues to do so,which he plans to,we'll still be on the edge of making weird [stuff]. But not everybody wants weird [stuff],so we're gonna have our hands in both buckets-weird [and] innovative,and just solid,quality drums.''
And as OCDP moves forward,Young has a few ideas about where to take the brans in the future. ''I would like to see more custom snare drums perhaps,or designed snare drums by some of the artists that play 'em…,yself and Travis Barker…'cause snare drums have their own personality in a different way than drum sets do. And a new snare drum will never get old-I love getting new snare drums,you know? There's no such thing as too many snare drums in my mind. And also,I think I'd like to see some more custom kits out there that are unique and different-again,and kind of go back to where we were in the '90s when there was a lot of different stuff coming out and see if the other companies wanna copy us like they did in the '90s,''laughs Young. ''I don't want this to stop,I'd love to see it keep going and become something that,you know,as an old man I can go,'That's awesome. This is so cool that that vision out of the garage is a household brand.' I think that would be fantastic.''
Here again is the new Guitar Center video featuring Adrian that we posted earlier today.