UPDATE 2: Thanks again to Instagram's 1rocksis for sending in her photo,here is a partial scan and transcription of Adrian's new Guitar Center cover story,in which he discusses his history with OCDP. We hope to have HQ scans and a full article transcription up soon.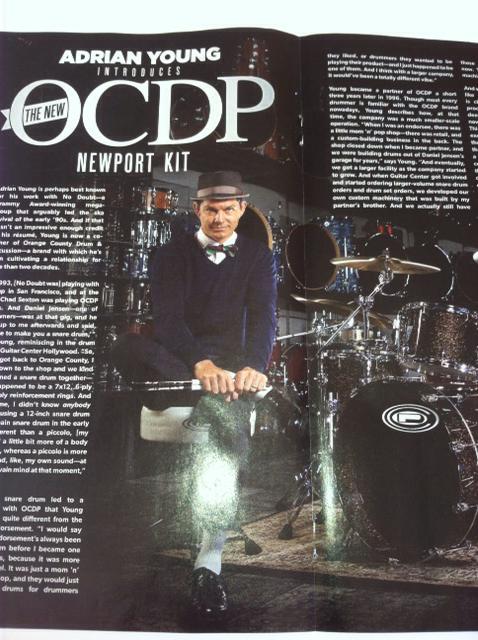 Adrian Young Introduces The New OCDP Newport Kit
Adrian Young is perhaps best known for his work with No Doubt-a Grammy Award-winning mega-group that arguably led the ska revival of the early 90's. And if that wasn't impressive enough credit on his resume,Young is now a co-owner of Orange County Drum & Percussion-a brand with which he's been cultivating a relationship for more than two decades.
''In 1993,(No Doubt was) playing with 311 up in San Francisco and at the time Chad Sexton was playing OCDP drums. And Daniel Jensen-one of the owners- was at that gig,and he came up to me afterwards and said,'I'd like to make you a snare drum,' " says Young,reminiscing in the drum room at Guitar Center Hollywood. ''So when we got back to Orange County,I went down to the shop and we kind of made a snare drum together-it happened to be a 7×12,6-ply…reinforcement rings. And to me,I didn't know anybody using a 12-inch snare drum…..snare drum in the early….than a piccolo [my..a little bit more of a body,whereas a piccolo is more…like,my own sound-at….mind at that moment.''
That snare drum led to a….with OCDP that Young says is quite different from an endorsement. ''I would say…endorsement's always been…before I became one…because it was more…. It was just a mom 'n'pop,and they would just….drums for drummers they liked,or drummers they wanted to be playing their products-and I just happened to be one of them. And I think with a larger company,it would've been a totally different vibe.''
Young became a partner of OCDP a short three years later in 1996. Though most every drummer is familiar with the OCDP brand nowadays, Young describes how,at that time,the company was a much smaller-scale operation. ''When I was an endorser,there was a little mom 'n' pop shop-there was retail and a custom-building…in the back. The shop closed down when I became partner,and we were building drums out of Daniel Jensen's garage for years,'' says Young. ''And eventually,we got a larger facility and the company started to grow. And when Guitar Center got involved and started ordering larger-volume snare drum orders and drum set orders,we developed our own custom machinery that was built by my partner's brother. And we actually still have those…..''
UPDATE: Guitar Center has uploaded a video of Adrian showing off the awesome Newport Series! This and other OCDP items are available now at Guitar Center stores and online.
We had mentioned back in June that Adrian had done a new photoshoot at Guitar Center in West Hollywood and now,thanks to Instagram's 1rocksis for the photo,we now know that he is featured on the cover of Guitar Center's September Drums zine! According to the cover,Adrian is introducing the new OCDP Newport drum kit,which can be seen here on OCDP's website. We hope to have full scans of the article soon.