This is interesting: Thanks to Raddest Queen from the official No Doubt forum and @nxdme for the info,entertainment cable channel E! is apparently airing a half-hour "No Doubt: Settle Down" special on July 16 at 8 PM EST. TV listings website Zap2It mentions that the special will have additional airings throughout the week. Will this be how the "Settle Down" video will premiere? If so,the special may include behind-the-scenes footage. We know that other artists have premiered their videos on E! but of course this has not been confirmed by the band,so we will have to wait and see.
E! Entertainment Specials : No Doubt: Settle Down
NEW
(First Aired: July 16, 2012)
Watch No Doubt: Settle Down on TV
Mon 7/16 8:00PM-8:30PM E!
Mon 7/16 8:30PM-9:00PM E!
Tue 7/17 2:30AM-3:00AM E!
Wed 7/18 1:00PM-1:30PM E!
Fri 7/20 6:00PM-6:30PM E!
Sat 7/21 5:00PM-5:30PM E!
Sun 7/22 9:30AM-10:00AM E!
UPDATE: Thanks to ThisShhIsBananas from the ND forum for sharing a screencap of the description of the special,which says that it will indeed include the premiere of the "Settle Down" music video and will also feature the band members discussing their music and their history together-sounds awesome!!! Again,we hope to have confirmation from the band about the special soon.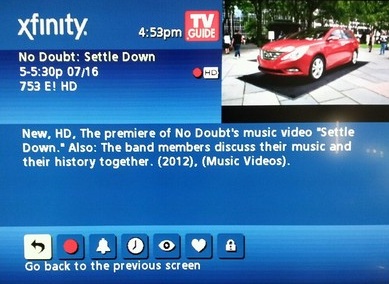 UPDATE: Yay,Ryan Seacrest just confirmed it on Twitter!!!!
@RyanSeacrest Spread the word. We're world premiering @NoDoubt's new video ‪#SettleDown‬ on 7/16, 8p, E! http://instagr.am/p/M6XpcxFWdY/