Thanks to GwenCouture for sharing on her blog scans of Gwen mentions in the November issue of Cosmopolitan Middle East;one is an article with older quotes from Gwen on what makes her happy,and the other features a photo of Gwen rocking her polka-dot jeans.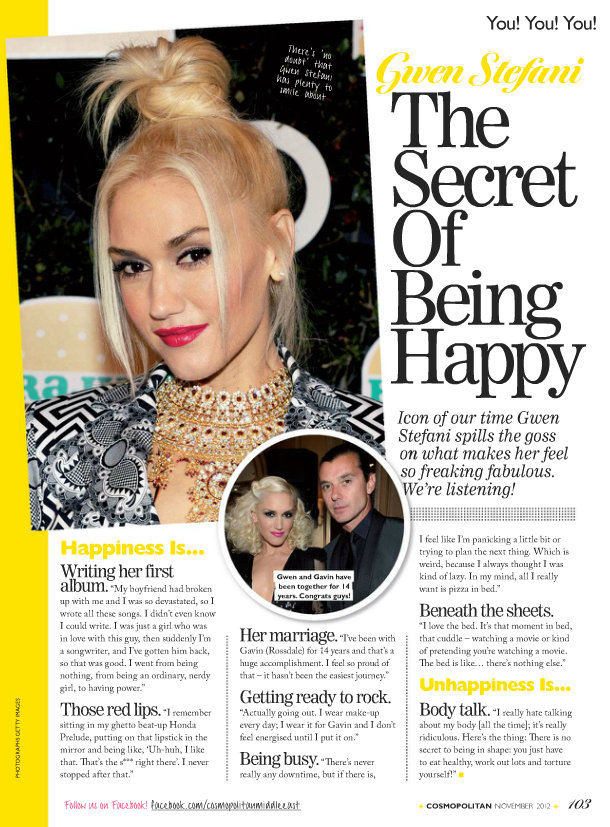 The Secret of Being Happy
Icon of our times Gwen Stefani spills the goss on what makes her feel so freaking fabulous. We're listening!
Happiness is….
Writing her first album: My boyfriend had broken up with me and I was so devastated,so I wrote all these songs. I didn't even know I could write. I just just a girl who was in love with this guy,then suddenly I'm a songwriter,and I've gotten him back,so that was good. I went from being nothing,from being an ordinary,nerdy girl,to having power.
Those red lips: I remember sitting in my ghetto,beat-up Honda Prelude,putting on that lipstick in the mirror,and being like,''Uh-oh,I like that. That's the shit right there.'' I never stopped after that.
Her marriage: I've been with Gavin for 14 years and that's a huge accomplishment. I feel so proud of that-it hasn't been the easiest journey.
Getting ready to rock: Actually going out,I wear makeup every day. I wear it for Gavin and I don't feel energized until I put it on.
Being busy: There's never really any downtime,but if there is,I feel like panicking a little bit or trying to plan the next thing. Which is weird,because I always thought I was kind of lazy. In my mind,all I really want is pizza in bed.
Beneath the sheets: I love the bed. It's that moment in bed,that cuddle-watching a movie or kind of pretending you're watching a movie. The bed is like….there's nothing else.
Unhappiness is…..
Body talk: I really hate talking about my body;it's really ridiculous. Here's the thing: There is no secret to being in shape;you just have to eat healthy,work out lots and torture yourself!