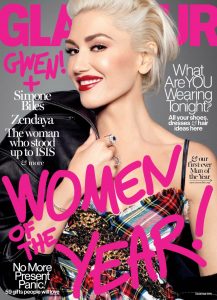 A lucky fan found this one while searching in Ebay. Gwen will be the cover girl for Glamour's december issue. The magazine lists Gwen as one of their "Women of the Year" and will feature a brand new photoshoot (and probably a interview/profile). Glamour did not officially announced their December issue, but they should be doing in the next days and the issue will hit the stands in a few weeks. We will post more details as they come.
@gwenstefani look what I got on eBay!😀 Had no idea you were on the cover of Glamour magazine for this December! Am so happy! #Queenofbeauty pic.twitter.com/LyKkX2wWiW

— Tiffany Story (@Love_Story1993) October 29, 2016
UPDATE!
Thanks to Nicole (@nicole21290), we have now the scans from the magazine in HQ, so you can read the interview in full! If you want to save and read in in PDF,  you can go HERE or read it on Glamour's website.
Our December cover star, the iconic @GwenStefani: https://t.co/l93Bhi07aD #GlamourWOTY #shattertheceiling pic.twitter.com/hkAPaevMXD

— Glamour (@glamourmag) November 1, 2016
Glamour named Gwen one of their Women of the Year, only fair after her extraordinary with a new album, tour, cartoon and so many more. They sat down for a new interview with her to talk about the highlights of 2016. She talks about her divorce, finding new love and how things are working out, fashion and touring. Take a look at the scans below. She is looking gorgeous and we are loving this new photoshoot, it's very "Gwen Stefani"