Gwen is on the cover of the January 2013 issue of Marie Claire UK,which is on newsstands now;the cover photo is from Gwen's May 2011 ELLE photoshoot-we hope to find out more about the article soon.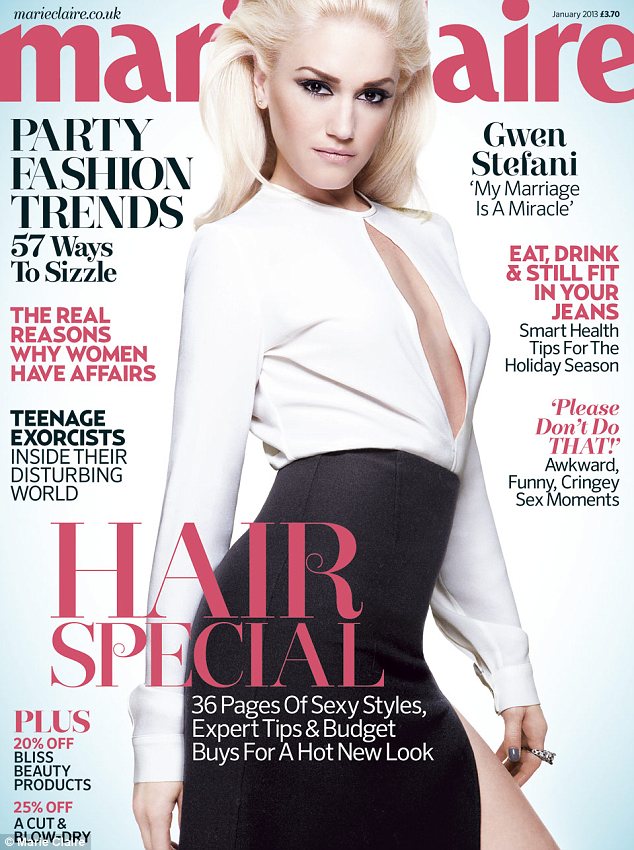 UPDATE: The Daily Mail has posted excerpts from Gwen's interview-it appears to be the same editorial as Gwen's October 2012 Marie Claire US cover story,and again the spread is from Gwen's May 2011 ELLE shoot.
She has been showing off her rock hard abs while promoting No Doubt's sixth studio album.
But fans of Gwen Stefani may be surprised to learn that she has given up working out at the, at least not as religiously as she used to.
In an interview with Marie Claire magazine the 49-year-old singer shows off her amazing age-defying shape in a stylish photoshoot while making the revelations in the accompanying interview.
She says: 'This past year, I kind of stopped working out. I think my body just needed a break. And so I did that and focused more on feeling good as opposed to beating myself up.'
Gwen was speaking about how she juggles being part of No Doubt along with the stresses and strains of being married and having children.
Whens he was recording Push And Shove with her band she was juggling a hectic home life and something had to give, the gym, something she felt she 'had to do' had to go.
She explains: 'I would be up all night because my second baby didn't sleep, and he had a lot of ear infections. Then I'd wake up in the morning and do my workout, which I always felt I had to do, and then meetings for my three clothing lines, and then hang out with my kids, take them to preschool – da, da, da.'
'At four o'clock, I'd be like, "All right, I'm out of here. I'm going to go to the studio and try to write a record." I'd sit on the couch [with my band mates] and be like, "Let's do this now, because I'm missing time with the kids. I could be having dinner with them and putting them to bed." It was really hard.'
Gwen, who last year admitted she was addicted to working out five times a week, might claim to have given up the gym but you definitely wouldn't know judging from her amazing shape.
The musician cuts a stylish and extremely trim and toned figure in the accompanying photo shoot to the magazine.
Gwen also speaks out about her marriage to rocker Gavin Rossdale, whom she wed in September 2002.
Speaking about their decade together as man and wife she describes it as 'a miracle' and says it is her 'biggest accomplishment' to date.
The couple have been through some tough times together, not least when it emerged that Gavin was Daisy Lowe's real father following a paternity test in 2004.
It shook their relationship but Gwen says she is now closer than ever to Rossdale who she describes as a 'amazing dad'.
To read the interview in full, see the January issue of Marie Claire out now.
No Doubt's new album, Push And Shove, is out now.
UPDATE 2: Marie Claire UK posted a video highlighting Gwen's best fashion moments.