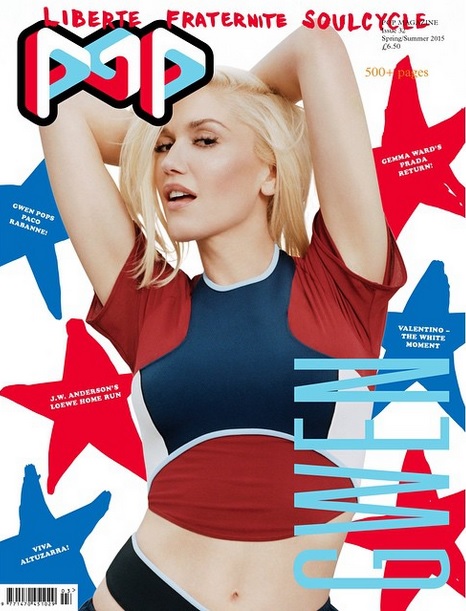 UPDATE: We just added the transcribed interview and some more pics from the photoshoot, courtesy of our friend Carly!
Brooklyn-based creatives might have their own fit permanent relocation to healthy and happening Los Angeles, but there is no uptaking the real deal, an authentic OC Girl.
Spark the Fire, Gwen Stefani's collaboration and duet with Pharrell is all over West Coast drivetime radio and OMG OMG OMG the former No Doubt frontwoman is looking toned and totally fabulous just a few months after the birth of her third son, Apollo. Currently fronting US television's The Voice and ???? to drop a feisty solo album in the spring, the original Los Angeles ladies all know it's a #HollabackGirlMoment. If you're just off the plane looking to jump that Raf/Hedi new LA dream, then put down your Moon Juice for 15 minutes and pay your respects. The original 'Juicy Girls', Pam Skaist-Levy and Gela Nash-Taylor, are hitting up Gwen Stefani on the most important issue for 2015: LIPSTICK.
Pam: Okay, so I'm recording.
Gwen: What did you press to start?
Pam: HOly shit the red button!
Gela: Okay
Gwen: ahahah, okay!
P&G: So, Gwen, you look insane. I mean… you have a one year old!
GS: Oh my God, thank you. Did you see how cute he is?
P&G: Oh my God it is off the chart.
GS: He is so rad. I love him.
P&G: He is so cute. That is our frist crazy question. How do you do it all?
GS: Honestly it's been… So there is ZUma. THis is just from a couple of weeks ago [Gwen is holding up her mobile]. He is big. He doesn't look as big in that picture…
P&G: He is gorgeous!
GS: But last year was full of surprises for me. I did not expect to get pregnant. It is just a miracle, a gift. Just before I had been trying to do the No Doubt record and to be a parent in a way that I needed to be at that point when things… you know, you go through different phases. At that particular time it was tough for me as Gavin was on tour. I really needed to focus on my kids. It was just a lot! It made the record a really drown of process which I think in some ways was frustrating for everyone. That record finally came out and it just didn't feel exactly like how we wanted it to, so we went back into the studio to write, and then I got pregnant. Then I was like, now this is what I'm going to do! I am going to let the record go for a minute and I am just going to do nothing but be pregnant. And I did that for the whole pregnancy, but meanwhile I was like, okay while I'm home, I'm just really going to work on my brands again, I had neglected them just because you can't do everything at once… Oh and this is Zuma kind of growing up now, but his hair has a filter on in that picture.
P&G: Gorgeous! Over this past Christmas we were talking about you and Zoe [Gel's daughter] was like "do you remember when Gwen signed my mirror up in the bedroom?!" Do you remember that?
GS: Yeah at that dinner you had.
P&G: And I wanted to as you this – because I remember at that dinner we were in the backyard and you said to me, "do you ever like pinch yourself and say we are the luckiest girls in the world How did we get so lucky?"
GS: Yeah well I was thinking about you guys because at that time I think I had just started my line and your thing [Juicy Couture] had become a blaze of fire all of a sudden it was everywhere. Anywhere you looked you would see the sweatpants. It was very of the moment. That was really intriguing to me. And I know it was very home-grown which also reminded me a lot of my band. Plus you were married to the Duran Duran heart-throb Gela – it's just crazy! It's all so many layers of coolness – but I do remember that! I constantly think about it. Just right now we are doing this interview and I'm like 'who am I? How does all this stuff happen all the time?' It is so incredible.

P&G: Amazing! And now you are everywhere… like The Voice. Just watching you on The Voice, sitting there with Pharrell. It is just like, you are the two cutest most lovable people on the planet Earth. Its like insane — and with the best style.
GS: Thank you!
P&G: So we wanted to talk to you about fashion. You have the best style, and crucially you have your own style. I wore my graphic black and white today in honour of you because thats kind of your thing…
GS: [Laughs] I like your outfit.
P&G: Did you have fashion or music idols growing up? Your look is so incredible.
GS: I think the biggest fashion influence of all for me was… well there are actually two that i remember. First, I got really into old movies. My dad was into Hitchcock, so I guess by watching those it led me to all the Old Hollywood movies. It was the first time I discovered Marilyn Monroe and that was it. My whole room was like…
P&G: Wow!
GS: That was probably the first thing… so I was very into vintage because of that. And then to be so close to Hollywood – I was just fascinated by the old movies. I was also really inspired by The Sound of Music and musicals like Evita and just the costumes and things like that. Then when I first discovered real music – meaning outside of musicals, I discovered The Specials and Selector and Madness where the fashion was very kind of retro also…
P&G: Amazing, right.
GS: I think my mom influenced me as well because my mom made all my clothes.
P&G: Oh my god, really?
GS: My mom's mom made all her clothes and she would come home, and her mom would be like "here is you prom dress!" My mom wouldn't have any say at all.
P&G: That's incredible. That's really amazing.
GS: And her mom would start sewing pajamas and quilts and things for everybody. Each year, the day after Christmas, she would start the next years sewing for everyone. So it was in my family. I remember in high school my mom was like, 'Okay we're going to the mall to get clothes' or whatever, and I would be like 'can I just have $100 and go to the thrift store!' I wanted to find treasures. I loved the way my mom dressed in the 60's. So I think it was very organic. When I was a little girl there would be a sewing project in our house every holiday. That had to have influenced me.
P&G: That's called fashion school. You went to fashion school.
GS: By high school – really when I heard that music, that ska music and that English thing I was like 'I just don't want to be like everybody else'.
P&G: You weren't. You were amazing. I was telling Pam, I remember your evolution because of my kids and because of John [Taylor], and I remember being in New York and Pam and I were both obsessed with this Dries [Van Noten] collection and the bindi. Do you remember that phase? And I saw you in New York, and I was like 'oh my god.' We only wore Indian clothes at the time! I was like, 'oh my god, she is so obsessed with this – and we are so obsessed with it.'
GS: That's so weird!
P&G: Every collection we tried to do Indian. For our first Juicy line we did Indian ball gown skirts and logo tees and cashmere sweaters – and they were in the window of Barney's. Do you remember that collection?
GS: Can I say something really crazy about that? Even though I had all of these influences I never knew anything about fashion. Like real fashion.
P&G: As in catwalk designers, But you know a lot about style.
GS: It's funny you mention the Dries thing… In the beginning when No Doubt was touring with Tragic Kingdom for two and a half years, I didn't have a stylist. I just had a make-up artist. No assistant, no trainer. I didn't have anything. I was driving the fucking van.
P&G: Read our book! We did that too!
GS: And then my manager at the time introduced me to this girl who would send me fabrics while I was away on tour, like paper and she would staple little things from downtown, like crap stuff, and I would send her back my notes, talk to her on the phone, and be like "I want these exact pants but I want this, this and this." And she would send them out to me, no fitting, just like that.
P&G: Don't you love that though?
GS: I do, but it could have been so much better if I had a little help. That was that, but the thing is, I came to New York for the Grammy;s – at the time when Don't Speak was big – and I was not looking good. I had been on tour forever and I was chunky. I didn't know what to wear. So my then-manager took me shopping and he was like, "you gotta see this new designer Dries Van Noten. Really cool." He took me and I couldn't believe my eyes – that is what I ended up wearing. I went to the store, had never heard of Dries Van Noten and I got this strange brown vest with the Indian thing which I literally just got rid of the other day. I thought, you know what it's time, Im never going to wear it again. So it's very strange that you bring that up today. The only reason why I was influenced by the Indian stuff was because of Tony [Kanal] – I met hime when I was 16 or 17 and he is Indian.
P&G: We used to go to Little India in Artesia.
GS: When I discovered that place I went crazy!
P&G: So crazy. We used to buy Indian bangles. Like we had boxes of bangles.
GS: Have you been to India?
P&G: No, we are dying to go.
GS: You would go crazy shopping…
P&G: Im a little afraid to go and lose my mind. We went to Morocco, I went crazy there with buying stuff.
GS: It is similar to that, but way better.
P&G: We want to talk a bit about LA I mean you are an OC girl, you are a true LA girl…A southern California girl. You are a hero to my daughter – who is a total LA girl – and her generation. But there is something happening here now. I mean why would Hedi Sliman move his atelier from Paris to downtown LA? That is a big deal. And all these edgy Brooklyn girls, the music and art business, everyone wants to be in LA all of a sudden. I mean, "Hello? The weather!" But what do you think it is about LA that's so appealing to everyone now?
GS: It is so weird to me. You never really think about where you're from. You start to think about it when you travel. Be fore I was 21 I had only been to San Francisco and that's it. Literally, nowhere else but up to San Francisco.
P&G: It's the California bubble.
GS: I guess that's why I lived here and never went anywhere else. I was lucky if I got to come up from Orange County to go shopping on Melrose.
P&G: Were you part of the whole surf culture in OC?
GS: I knew some kids who were surfers but we were more inland. For me it was all about the ska music scene. I was in a marching band because my brother was in a marching band – and I did that for one year with all the nerds. I was faking to play the piccolo – I never really learned how to play it.
P&G: The piccolo?
GS: Yeah, I did the flute and then the piccolo. I loved being in the band though, it was amazing. My parents were so strict so it was exciting when I got to go on the bus for away games.
P&G: Your parents were very strict?
GS: So, so strict!
P&G: Are you a strict parent?
GS: I've tried to be. I think that it's really hard to try to be anything like my parents were because they lived in different times.
P&G: So different. A different generation.
GS: I think that kids need the strictness to be safe, though.
P&G: Can you have it all?
GS: I was going to ask you because you have older children. I don't think you can. I think someone suffers everyday.
P&G: Something's gotta give.
GS: It's a journey and it just happens, it surprises you, and then it inspires you. The older I get, the more I enjoy not planning it and not trying to find the next thing is. Just letting it happen.
P&G: Organically.
GS: Yeah, because when you try so hard – it is so painful – It is always a disappointment. It never turns out how you dreamt it. You need to put the energy out there, like 'this is what I want' in a way. I don't know I just feel like I've been on such a crazy journey, especially these last few years. Just trying to be a mom. Was it hard, the teenager thing?
P&S: Hell beyond.
GS: Also coming from being a child of famous and successful people – I always wanted to know what that was like.
P&G: Yes that is really hard. I think it is a huge pressure. At the peak of Juicy, I remember Travis at school saying " Mom, give me some Juicy I'm going to put in my locker and sell it out of the locker at break," and I was like, "are you crazy?" People just wanted them – it was such a phenomenon at that age for them. Black market Juicy! But they are all different Gwen. I mean, Travis is so different from Zoe and Atlanta. They are all so different. That's who they are. Your kids are kids of Gwen and Gavin, and they will live a crazy lifestyle – but it is their normal! It is not the childhood you had or I had at all…
GS: There is no way to compete.
P&G: Also, I think being married for a long time – we've all been married for a long time, all three of us – so juggling work and kids ad marriage and everything, its true… I like what you said….somebody always gets hurt!
GS: You really need to be on top of it, priorities – and trying to figure out and plan the week and really look at it. It is so not who I am. I'm not an organized person or a planner. I am not any of the things that motherhood has forced me to be.
P&G: You have so much going on it is crazy! Okay this is my big question and I hope to ask you this… I am obsessed with red lipstick. Every year when it's fall I go and buy like five different red lipsticks – how do your lips stay…? I can't wear it – my lips are so dry! Your lips are totally perfect!
GS: Thank you! I am finally going to be doing my own make up line. But this is actually a proto-type that's I'm wearing, and it's interesting that it's not bleeding right?
P&G: No, not one bit! Not feathering! We have lispstick on our teeth!
GS: I was trying it today…
P&G: But look at you… It is moist but matte the same time!
GS: I love matt.
P&G: It is crazy perfection. It is the box colour. Good question!
GS: This isn't even a real lipstick – it is like a trial thing. Yes, good question!
P&G: The very last thing I want to mention is your Californian accent. It's something you have that my daughter Zoe has also. So Zoe was in Berlin for New Years and she was sitting with Swedish girl, and they were like, "Oh what language are you speaking?" and she was like, "I'm from California". And I remember the moment I first met you very clearly because when you started talking I was so entranced by your way of speaking. You have the best California accent ever!
GS: Everyone asks me if I'm Southern. As in from the South.
P&G: It's true, you do slightly!
GS: I'm like, "I'm from California, what's up!"
P&G: It's just California.
GS: That's so funny. When you are from somewhere you don't really know it.
P&G: I hear it, it's amazing. You are beyond!
Gwen graces the cover of UK's Pop Magazine, set to be out next Monday! We'll have more info once it's out. Here are a few more pictures from the magazine.