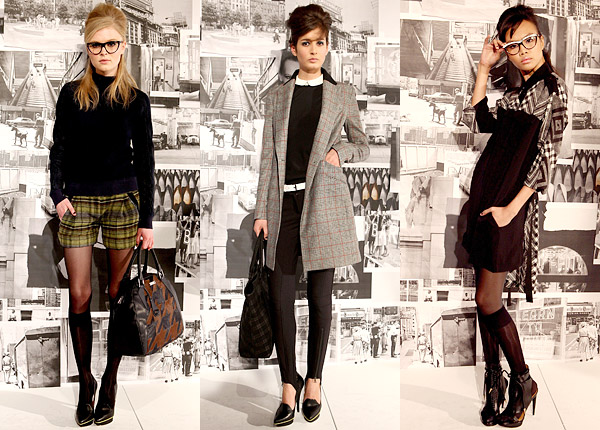 Check out a rave review of the Fall 2012 L.A.M.B. collection from Fashion Etc! Congrats to Gwen and her L.A.M.B. team on the much-deserved praise!
SHOW: L.A.M.B.
HAIR: Danilo at the Wall Group
MAKEUP: Charlotte Willer for Maybelline New York
ACCESSORIES: Jewelry by nOir by L.A.M.B., oversized bags for downtown—and uptown—girls on the go
OVERALL TAKEAWAY: Gwen Stefani sticks to what she does best, fusing '60s tailored chic with '90s slouchy patterns, giving her girls—the arbiters of cool—what they want.
If there was any doubt as to what was on Gwen Stefani's mind when she took to designing the L.A.M.B. Fall 2012 collection, look no further than the obvious signifiers at the presentation. Black and white snapshots of iconic New York (with noticeable repeats of Madison Avenue signs) coupled with close-ups of girls getting eye makeup applied topped a white backdrop where the models sauntered in front of oversized movie studio lights, while Nancy Sinatra tunes interspersed with rap jams kept the excitable audience's heads bobbing.
The singer-designer must be awaiting the Mad Men season premiere as much as we are but she can't seem to shake the '90s No Doubt heyday: houndstooth prints, pleated skirts, and sportwear-infused outerwear appeared among Peter Pan collars, cat-eye secretary glasses, and cropped jackets.
The mostly black and white numbers, with notes of grey, amplified the classic aesthetic already in place thanks to the models' demi-bouffants and Twiggy-inspired eyeliner. But lest you think Ms. Stefani—unfortunately a no-show—has surrendered her cheeky edge in favor of a buttoned-up refinery, take heart. Premillennial visual cues abounded as muted greens, reds, blues, and the occasional highlighter yellow broke up the otherwise two-toned looks while sheer knee-highs and short suits served as a cavalier nod toward one Cher Horowitz, teen queen of the L.A.M.B. target consumer.
UPDATE:

Another review and more photos from blog The Fashionista Stories,whose author attended the presentation tonight!
Tonight I attended the L.A.M.B. FALL/WINTER 2012 presentation and Gwen Stefani's personal style showed through as always. She played around with houndstooth, plaid, stripes and digital prints. Black and whites were mostly used but mixed together with pops of color like neon green and fuchsia. Reds and purple were also used. Beehives and cat eye glasses gave the collection a 60's vibe. My favorite pieces were the "Punk" sweater and the red motorcycle jacket. I am also loving the all black houndstooth bag. Overall, the collection had a masculine vibe but still a little edgy and girly.
And another from Yahoo Shine! We love what they say about Gwen's classic style and how it translates effortlessly into her collections.
In our continuing coverage of New York Fashion Week, we're rounding up the top five things that catch our eye each day. Follow us on Twitter and check back from now through Thursday, February 16 for our top Fashion Week picks and you won't miss a thing.
1. Classic Gwen Stefani at L.A.M.B. The singer/designer isn't reinventing the wheel, but we'd buy this funnel neck wool coat in a second. The oversized houndstooth print doctor bag is very Gwen, and we appreciate a designer who makes practical items they'll want to wear themselves.
From No One Waits For Time To Stand Still:
Tonight at the L.A.M.B show here in NYC there was a real fun fresh feel to fashion week. The show illustrated the best bits from the sixties, a remarkable combination of gaming graphics, black and white check and British style tweed. Flashes of neon made the collection playful and space invader graphics prints reminded the audience of vintage computer games. There was a real mix of styles. From loosely fitted checked shell suits to tweed miniskirts and finely tailored felt coats. The models were styled with big bouffants and secretarial style glasses. The girls rotated around the catwalk in a very organic style. It was a perfect way to showcase the collection. This is without a doubt the highlight of the show for me. I look forward to Fall/Winter 2012 and a new sixties style to hit the shops.
From FabSugar:
Inspired by the "1960s rogue girl with a Japanese street sensibility," Gwen Stefani chose to show off her latest L.A.M.B designs against a collage of black-and-white New York City street snaps and closeup shots of girls getting their eye makeup done, all while Nancy Sinatra's "These Boots Were Made For Walkin'" boomed overhead. Each look seemed to reflect a moment in Gwen's iconic style evolution. Case in point: her "Hey Baby" houndstooth print made a serious comeback, landing on everything from sporty totes to bomber jackets; her "Sweet Escape" moto-edged attire popped up in zippered jacquard jackets; and those Clueless-worthy platforms? That's just a classic Gwen staple. While the outerwear was athletic and tough, the attention to feminine details was also spot on. Look to the Peter Pan collars, sexy Morgenthal Frederics cat-eye glasses, impeccably pleated circle skirts, and sheer knee-high nylons for proof of Gwen's girlier side. No matter how you spin it, this is an ultra-wearable lineup of '90s-cool gear with a hint of retro and a pop of graphic-print modernity.
•Trends: Houndstooth print, pleated skirts, sportswear-inspired outerwear, and Peter Pan collars.
•Colors: A dark, cool palette — red, black, gray, and ecru — with surprise pops of neon yellow.
•Key Piece: The gray pleated circle skirt paired with a sweet collared top makes a sexy take on schoolgirl classics.
•Accessories: Sporty tote bags, cat-eye secretary glasses, knee-high nylons, and '90s-style chunky platforms.
•Who Would Wear It: The girl with a sportier fierce edge when it comes to dress, like Rihanna.
From Style.com:
With quirky statement sweaters securely in place as front-row staples and street-style bait, we're sure to be seeing more of them from designers with a sense of humor. Gwen Stefani's contribution to the genre was a taupe crewneck with houndstooth-print arms that had the word "punk" emblazoned across the chest in sulfur green and hot pink. It was Stefani herself distilled in one piece: A retro sweater girl with a rebellious streak, all dolled up in acid hues and a dash of black-and-white check.
Those elements appeared throughout the collection, which, over email, Stefani said had been influenced by the original rock 'n' roll girls of the early sixties. The models' sky-high beehives and demarcated Twiggy lashes took you back; the collection's bold hues and digital prints brought you up to date. As for the silhouette, a familiar polarity was at play: Narrow pants and printed jumpsuits had a boyish appeal, while flared miniskirts and cropped cocoon coats provided a girly edge. Whichever gender they called to mind, the pieces paired a welcome ease with a pert punch. Punk, but pretty.
From CatwalkQueen:
Day three of New York Fashion Week saw style icon Gwen Stefani, present her Fall 2012 collection for her fashion line L.A.M.B. "L.A.M.B. represents all things that I love. It's very much about my style and how I put things together. L.A.M.B. is a line that I want to wear every day," explains Gwen. Similarly to Charlotte Ronson who showed earlier this week, it appears the outspoken music star is feeling a little more grown up for Fall 2012. Lady like luxe with a touch of Gwen's trademark edge was the order of the day. It was clear to see that Stefani's style was never far from the catwalk, but there was a refined reference to 1950's femininity in the mix too. Hair was pulled back into retro style beehives with a messy edge, a style somewhat familiar to Stefani herself. There was a feeling of formal fashion-ability about the collection with matching checkerd two pieces, tailed suit trousers and pencil style mini skirts. Prints mainly stuck to the traditional feel with check, oversized dogtooth and tweed prevailing but an injection of pixelated modern patterns made everything feel modern. It was a similar story when it came to colour – the collection was mainly made up of dark hues of rust red, greys and dark greens but flashes of neon yellow brought the collection back to the now.Lady bags, button up collars and retro style glasses frames were threaded throughout the collection which delivered the message loud and clear whilst masculine tailoring on outerwear brought it back once again. Overall a super wearable collection which not only can we see Gwen, and other celebrity equivalents wearing next season, but heads in a direction we're liking.