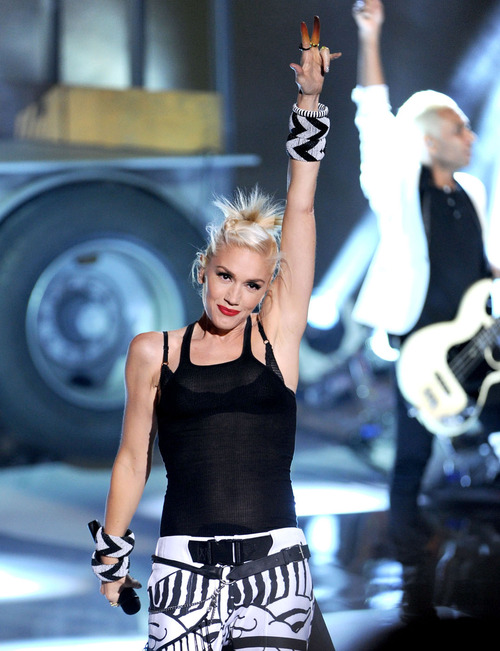 The UK's Daily Record has posted a candid new interview with Gwen,where she discusses the struggle of balancing career with family.
GWEN Stefani had to juggle looking after her two children, her clothing line and her successful solo career – and making a new album with her band No Doubt.
But the 42-year-old singer was determined to record the new album. Even a bout of writing block didn't deter the feisty Californian from achieving her goal, despite the tricky logistics of the band having eight children between them.
The first fruits were released this week with single Settle Down, the band's first new song in nine years. It will be followed by album Push and Shove, which will be their first since 2001's Rock Steady.
But Gwen, who has sons Kingston, six, and Zuma, four, with Scots musician husband Gavin Rossdale, admitted recording the new music took all the drive she could find.
She said: "We were only able to get together three days a week and, because I had the kids, there was only a limited amount of time. I was exhausted by the time I got there, so it was a struggle trying to weigh and balance everything out with the kids.
"But it was that fight that made the record so great, just really wanting it, and saying, 'No, and I don't care that Kingston is in school 'till 3pm, let's meet at 10am and write the record' – whatever it took. I don't know where that drive comes from."
The band had planned to record an album much earlier but, after two successful solo albums and two kids, Gwen admitted she was exhausted and "there was nothing left to say or do".
A 2009 tour with No Doubt helped her find her mojo and the band came up with a solution to help them organise their time around the brood of children.
They recorded in bassist Tony Kanal's house and Gwen's home to cut down on wasted time driving to a studio.
Family is important to Gwen. She married Bush frontman Rossdale in 2002. Their union has survived the revelation he is model Daisy Lowe's dad and allegations by rocker Courtney Love that they had an affair.
Gwen said: "I need that time, so I said, 'Come to my house', and it worked out."
No Doubt was formed by Gwen, initially as a backing singer, and her older brother Eric in 1986. When original lead singer John Spence committed suicide she took over vocals but their first two albums of ska-filled tunes failed to chart.
Eric left to become an animator with The Simpsons and it wasn't until third album Tragic Kingdom in 1995 that Gwen, London-born bassist and keyboardist Tony Kanal, guitarist Tom Dumont and drummer Adrian Young found success.
The album went to No1 in America and three in the UK, selling 16million copies worldwide.
The single Don't Speak went to number one on both sides of the Atlantic in 1996 and was followed by No2 hit Hey Baby and a cover of Talk Talk's It's My Life.
The last album the group released was 2001's Rock Steady before Gwen recorded solo albums Love. Angel. Music. Baby. in 2004 and The Sweet Escape in 2006, enjoying a string of UK top-five hits, What You Waiting For, Rich Girl, Wind it Up and The Sweet Escape.
Another single, Hollaback Girl, was the first American digital download to sell a million copies.
But the demands of going it alone as a pop star took its toll on Gwen and it seems for the moment she only wants to be in a band with no plans for another solo album.
She said of the prospect of going solo again: "No, I don't think so. I was always thinking of that as a moment in time and you can never say never.
"But these last couple of years have been overwhelming for me, with having so much going on, and my husband being on tour, and just trying to do it all, which is not possible.
"I guess right now I love to be in the moment. I just feel about a year from now my oldest kid is going to be seven. It just goes so quick, you know?"
Back with her old friends, including ex-boyfriend Tony, who she dated for seven years and who she wrote about in the song Don't Speak, there are now plans to go on a major world tour for Push and Shove.
And Gwen admitted, given the number of children the band have, the challenge of trying to travel the world is a big one.
She said: "We'll have to learn from Angelina and Brad."
Gwen toured in 2009 with No Doubt when her second son Zuma was a baby and Kingston was just three but, she said, it was a much easier experience than when she was a solo star touring with then baby Kingston.
"I went round the world with Kingston on my own and that was really hard.
"I was nursing him for 14 months so I would nurse, go on stage, and wake up through the night, and on the bus, and it was just like, 'What am I doing?' It was so hard, but it was amazing, too.
"So, he got to go around the world, but he doesn't remember."
When they released the video for Settle Down last week it caused a huge stir, showing that despite being away for more than a decade, there is still an appetite for No Doubt's brand of attitude-driven ska-pop.
But Gwen admits getting to the stage of releasing a comeback album has been a drawn-out process, not least because of the challenge of evolving their sound and writing big tunes.
Advice came from 80s star Prince, who knows a thing or two about a catchy tune.
She said: "Prince said to me, 'Have you ever tried to write, and actually just tried to write, a hit?' At the time we weren't doing that. We were writing whatever came out.
"So on this record we really did try to do that because, if you think about it, those hits are the songs that are the best songs.
"And that's the reason why they are a hit, because there is just something magic about them.
"It's really hard to create magic. And sometimes a song, everything looks as if on paper it's all there, but it doesn't have the magic, and you don't know why.
"And some songs, they just have it, and that's what's so exciting about writing.
"You sort of never know when it's going to work and when it's going to happen.
"But there was a lot of chemistry on the record and, I think, magical moments, rewarding moments, and it was hard. It was a struggle."
Push and Shove, when it is released in September, will be a hit nonetheless – of that there is No Doubt.