The Minneapolis Star Tribune has released a new interview with Gwen on August 6th. You can check it on their website (http://www.startribune.com/for-gwen-stefani-the-best-antidote-for-divorce-is-a-hit-album/389196691/) or read it here: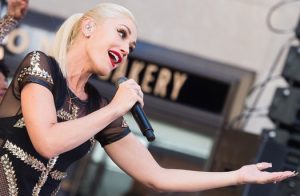 By Jon Bream
Star Tribune (Minneapolis)
Gwen Stefani oozed sunshine over the phone. Not Southern California sunshine. But I'm-happy-in-life sunshine.
Of course, it's not a simple explanation how she got there. Ask her a question and you get a long-winded, self-analytical and very revealing answer.
Never during the course of an hour-long conference with several journalists did she offer a short, straightforward answer.
The pop superstar's life of late has been complicated. Divorce from her rock-star husband of 13 years, Gavin Rossdale of the band Bush, shortly after their third son was born. Then new romance with country superstar Blake Shelton, her fellow, just-divorced coach on NBC's "The Voice." And suddenly a new album ("This Is What the Truth Feels Like") and then a tour to promote it.
"I wasn't making this record to talk to you about it. I wasn't making this record to go on tour. I wasn't making this record to share it," Stefani, 46, admitted before the tour started. "I was making it because it's all I could do, you know what I mean, to save my own life."
Her first solo album in 10 years and her first recording since No Doubt's modest-selling "Push and Shove" in 2012, it started as an arduous process and, eventually, came together quickly. Stefani recorded a solo album working with Ryan Tedder, Calvin Harris, Charli XCX and Sia and then scrapped it in 2014. She started over after filing for divorce from Rossdale, who reportedly was cheating on her with their children's nanny.
"These songs, I feel like God just handed them down to me as, like this kind of Band-Aid to kind of help me through this crazy time in my life," Stefani said.
She worked with producers J.R. Rotem, Mattman & Robin and Greg Kurstin and songwriters Justin Tranter (Fall Out Boy's "Centuries," DNCE's "Cake by the Ocean") and Julia Michaels (Justin Bieber's "Sorry," Nick Jonas' "Close").
"I didn't have a direction of style," the singer explained. "I just wanted the truth. I just wanted it to be my words, my feelings, what I was going through right then. It was all about the emotion."
Just trying to get through
Even though she was working with hit producers and co-writers, Stefani wasn't concerned about making commercial music.
"I wanted to be on the radio. I wanted to have a hit. Like, who doesn't? But this record wasn't really, certainly wasn't about that. It wasn't about trying to find a sound or please anybody or, 'Oh, the kids are going to like this.' There was none of that. It didn't even come into the picture because of what I was going through, and it's ridiculous to think that I would have, like, at that point, that I would even have time to think up that kind of stuff, you know? Just trying to save my life and get through something I never thought I'd have to get through."
Well, she did enjoy success. "Used to Love You," inspired by the end of her marriage, released last fall in advance of the album, went gold in terms of sales. And the album, issued in March, became her first No. 1 solo disc.
Two of the album's happy songs, "Make Me Like You" and "Misery" (it really is happy despite the title), were inspired by her new relationship with Shelton, which has been tabloid fodder but wasn't directly discussed in this telephone conference.
"I was writing two songs a day where I couldn't even write a song for years," Stefani explained. "The songs were coming so fast and a lot of the ideas were so simple. The best stuff is usually simple, if you think about it, but it's the hardest thing to do."
The pride of California's Orange County, Stefani joined the ska-flavored No Doubt, at her older brother's invitation, when she was in high school in 1986. Five years later, the band signed with Interscope and its third album, 1996's "Tragic Kingdom," became a blockbuster on the strength of the singles "I'm Just a Girl" and "Don't Speak." The record chronicled Stefani's split from No Doubt bassist Tony Kanal, her boyfriend since high school.
No Doubt's momentum continued until Stefani offered her debut solo album, the 4-million-selling "Love. Angel. Music. Baby" in 2004. It included her first No. 1 song, the hip-hop-flavored "Hollaback Girl," plus the hit duet with rapper Eve, "Rich Girl." That year Stefani also made her acting debut, playing Jean Harlow in Martin Scorsese's "The Aviator."
Stefani undertook her first solo tour in 2005 and did another one two years later to promote her second solo album, 2006's dance-oriented "The Sweet Escape." And then she returned to No Doubt, hitting the road in 2009. It was not an easy tour.
"I haven't toured in seven years because the last tour almost killed me, like after having those two babies and then going on tour and nursing," Stefani reflected. "And doing those No Doubt tours are superphysical."
Coaching on The Voice
When her third son arrived, Stefani took on another side gig four weeks later — coach on NBC's "The Voice."
"I hadn't thought about doing something like that," she recalled. "And I just kind of went, 'Yeah, let's go.' I didn't even know what I was getting myself into."
Stefani did two seasons as a coach in the fall of 2014 and '15. This spring, she returned as an adviser to Shelton's team. On "The Voice," the newly minted couple performed the duet "Go Ahead and Break My Heart," which became a modest country hit and appears on Shelton's current album. Stefani dropped her own album in the middle of "The Voice's" season.
That's not exactly how she would have scripted 2016.
"I never knew this year was going to happen. You couldn't have written it," Stefani gushed. "I feel just so excited to have a record coming out in real time."
Stefani's current tour is heavy on material from her three solo albums, with a handful of No Doubt favorites mixed in. True to her image, the woman with two of her own fashion lines (L.A.M.B. and Harajuku Lovers) is quite the fashionista in concert, donning a variety of stylish outfits, from tartan pants with cutouts to zippered jeans with sequins and mesh.
Regardless which outfit she's wearing, the pop superstar thinks the tour will be "super-emotional.
"I think there's going to be something quite, I don't know, like satisfying and healing, and it's going to be something that's going to make me feel super-empowered, and it's part of the journey of, like 'Wow.' I climbed all the way — not on top of the mountain, but like, I was underground buried.
"And so to be able to get up there on stage, and feel that love and give that love to them, receive it, it's going to be super-accomplished, and I know it's part of what I need to do and what I want to do."