Gwen is partnering with the American Red Cross to launch a limited-edition capsule for Harajuku Lovers: "Red Hot Collection!", products will be exclusively sold at People Shop and s20% of each purchase will be donated to the American Red Cross Home Fire program, that is directed to reduce death and injuries from home fires.
The collection features: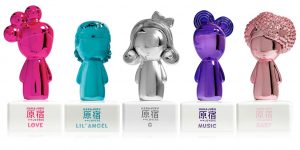 HL fragances Bubble Pop Eletric set at $125 or separate fragances at $40 each
HL Baggy bag with emoji like illustrations, available in pink and black at $32 each
Box of chocolates by Maggie Louise Confections with nine treats picked by Gwen at $38
Gwen says:
I'm really excited to be working with People Shop on this Harajuku Lovers Red Hot Collection to benefit The Red Cross. These beautiful Harajuku Lovers Fragrancesand special limited edition Harajuku Lovers collaborations with Maggie Louise Confections and Baggu make super kawaii gifts. It's the perfect way to do some early holiday shopping while at the same time supporting a really great cause.
It's nice to see Gwen involved in these kind of projects. Make sure you support the American Red Cross by shopping the new collection!