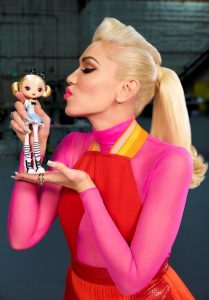 Since the cartoon has been announced last year, it was also confirmed that Gwen had signed a deal with Mattel for a line of toys based on the show. When the show was confirmed to debut on Nickelodeon, it was once again mentioned that there would be a line of products to be released on the near future.
It as been confirmed by People and PR Newswire that Mattel is set to launch Kuu Kuu Harajuku fashion dolls. They will hit the market in Spring 2017 and according to Gwen they "all have "unique, individual personalities". The sneak preview looks so cute. She also shares with People, the process of getting this new project released.
We are looking forward to see more from the products she will release for Kuu Kuu Harajuku!