Last night we mentioned on Facebook how we felt like giving away a random piece of No Doubt memorabilia, so here it is! This is a Hard Rock Hotel $5 poker chip. It features No Doubt from the Rock Steady Era. No Doubt played live at the Hard Rock Hotel in Las Vegas, Nevada on March 30, 2002. This chip is in great condition and a must have for any No Doubt collection. The contest runs starting today and ending December 4, 12am EST. We will pick and announce a winner soon after. The chip will be shipped out within 1 week. Open worldwide!
There are many ways to enter and only 1 is mandatory (in bold):
1. Leave a comment on this post telling us anything you'd like about No Doubt! (only 1 comment will be counted as an entry)
2. Follow EIT on Twitter (@eitnd Twitter)
3. "Like" EIT on Facebook (EIT Facebook)
4. Tweet about this giveaway (you can do this once a day, each day you do this it counts as an additional entry)
5. Send a screenshot of your mobile phone's background with our EIT Mobile Mondays wallpaper to: eit.nodoubt@gmail.com
6. Send a screenshot of your computer desktop with our EIT Wallpaper Wednesdays wallpaper to: eit.nodoubt@gmail.com
You must to use the widget below the pictures. It will ask for your email address, name and information for each entry. If you have any questions please email us at: eit.nodoubt@gmail.com.
(click image for detailed view)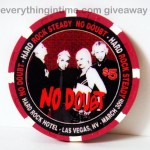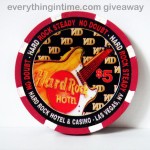 Tradução para o português:
Pessoal, estamos sorteando essa linda ficha de Pôquer do ND! Para participar é muito fácil. São várias maneiras (cada uma conta como uma chance). A única delas que é obrigatória é a que está em negrito.
1. Deixe um comentário nesse post nos dizendo qualquer coisa sobre o No Doubt (apenas 1 comentário será contado como uma "entrada")
2. Siga o EIT no Twitter (@eitnd no Twitter)
3. Curta nossa página no Facebook (Link)
4. Twitte sobre esse Sorteio (você poderá fazer isso todos os dias e cada vez que fizer será contato como mais uma "entrada")
5. Mande uma foto do seu celular usando o fundo de tela do nosso Mobile Mondays para: eit.nodoubt@gmail.com
6. Mande uma foto da tela do seu pc usando o fundo de tela do nosso Wallpaper Wednesday
Aceitaremos "entradas" até o dia 4 de Dezembro. Você deve usar o widget abaixo das fotos para validar suas "entradas". Ele irá pedir seu endereço de e-mail, nome e informações para cada "tarefa". Se tiver alguma dúvida, nos contate em eit.nodoubt@gmail.com ou me procure no Facebook (Fabio) que teremos o prazer em ajudar! 🙂