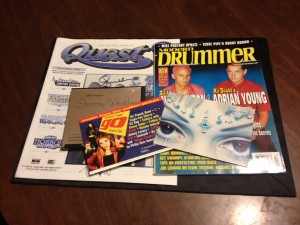 Brandon has gathered up some of his personal collection to give away in a prize pack! He posted last week as a little teaser to get everyone excited – and now it's time!
This giveaway starts today June 25, 2013 and ends Saturday July 20, 2013 at midnight EST and is open worldwide! The winner will be announced Sunday July 21, 2013. Brandon will ship out the prize pack within one week of announcing the winner. (We extended the deadline for this giveaway)
This is the first of many prize packs 🙂
INCLUDED:
– 1999 magazines Quest (an Orange County paper)
– Modern Drummer
– promo postcard from the "Go" movie
– an MTV promo postcard of Gwen
– Stormy Weather benefit CD (features Gwen singing the Elvis Costello song "Almost Blue").
Fill out the widget below to enter!
(any questions just e-mail us)