Setlist:
"Push & Shove"
"It's My Life"
"Hella Good"
"Underneath it All"
"Ex-girlfriend"
"Hey Baby"
"New"
"Hey You" (acoustic)
"Sparkle" (acoustic)
"Simple Kind Of Life" (acoustic)
"One More Summer" (acoustic)
"Sunday Morning"
"Happy Now"
"Settle Down"
"Don't Speak"
"Just A Girl"
ENCORE:
"Looking Hot"
"Total Hate"
"Spiderwebs"
Apparantly,the setlist that we shared earlier that was taped to the stage was fake-guess ND wanted to surprise the fans!!!
Video behind @nodoubt during "Sunday Morning" is the band members playing with their kids….

— drfunkenberry (@drfunkenberry) November 25, 2012
Waiting for this for years @nodoubt #NDnight1 twitter.com/kristina_sue/s…

— Kristina Roman (@kristina_sue) November 25, 2012
Mari just posted this amazing picture of Gwen!

'It's My Life' and now 'Hella Good' … keep the classics coming! Gwen has everyone jumping. #nodoubt twitter.com/CELEBUZZ/statu…

— CELEBUZZ (@CELEBUZZ) November 25, 2012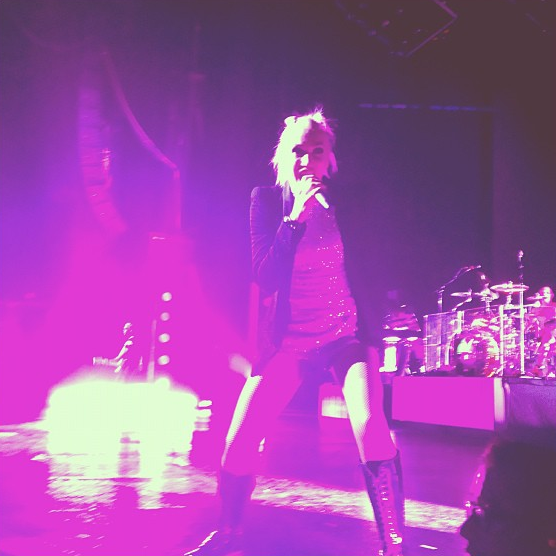 Thanks Frisky for this fabulous shot!
Thanks again,Mari!
Gwen changed into another gorgeous outfit for the encore!!!
#NDnight1!!!!! twitter.com/lakerville22/s…

— Kristy Glover (@lakerville22) November 25, 2012
Their 1st show in over 3 years, @nodoubt making the crowd feel hella good here @livenationla Gibson Ampitheatre. twitter.com/highvoltagemag…

— highvoltagemag (@highvoltagemag) November 25, 2012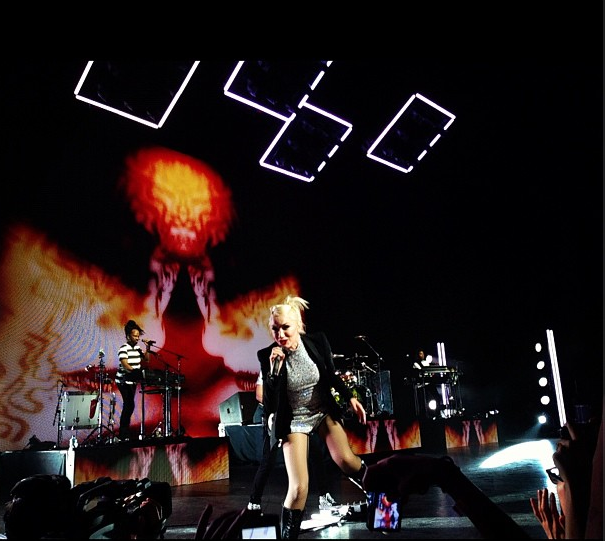 Thanks Ryan!
#ndnight1 @adrianyoungnd @nodoubt nearly naked adrian 🙂 twitter.com/jocelynerunck/…

— jocelyne (@jocelynerunck) November 25, 2012
#ndnight1 @gwenstefani @nodoubt we love you gwen! twitter.com/jocelynerunck/…

— jocelyne (@jocelynerunck) November 25, 2012
@nodoubt #ndnight1 twitter.com/jocelynerunck/…

— jocelyne (@jocelynerunck) November 25, 2012
@tonykanal @tomdumontnd @nodoubt #ndnight1 twitter.com/jocelynerunck/…

— jocelyne (@jocelynerunck) November 25, 2012
@nodoubt #sparkle #myfavorite #ndnight1 twitter.com/jocelynerunck/…

— jocelyne (@jocelynerunck) November 25, 2012
Photo I took of @gwenstefani from the pit! @nodoubt @eitnd @ndcforum #NDNight1 twitter.com/Imlilsteph/sta…

— Stephanie M. (@Imlilsteph) November 25, 2012
@nodoubt @gibsonampla @tonykanal #NDNight1 twitter.com/Imlilsteph/sta…

— Stephanie M. (@Imlilsteph) November 25, 2012
@nodoubt @gibsonampla @gwenstefani @gabrialmcnair @baxterbeezy #NDNight1 twitter.com/Imlilsteph/sta…

— Stephanie M. (@Imlilsteph) November 25, 2012