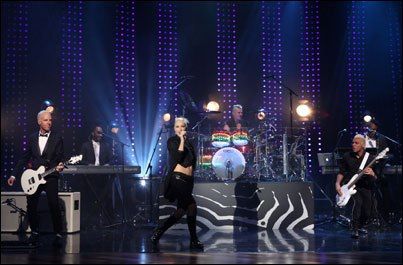 No Doubt just announced the exciting news that they will be performing "Looking Hot" on The X Factor UK on November 4!! The show will air on ITV at 8 PM!
No Doubt are pleased to be the first to announce that they will be appearing as musical guests on The X Factor UK next week! The band will take the stage on Sunday, November 4th to perform "Looking Hot" live during the show, which is currently in its ninth series. The performance will air at 8PM that evening on ITV.
UPDATE: UK fans,here is more info on obtaining free tickets to the November 4 show from ApplauseStore.com,which is the only official ticket unit to handle The X Factor studio audience tickets. Good luck to everyone requesting tickets!
We are booking from the previous RESERVE LIST ONLY, but please choose a date and request tickets! If we get any last minute availabilty we'll let you know straight away!
The X Factor is the true daddy of all talent competitions and we are really, REALLY excited to be able to offer you EXCLUSIVE FREE TICKETS to one of the live finals 2012!
You are invited to join the ALL THE JUDGES and the entire team to be in The X Factor audience for one of these spectacular Live Shows.
Stand-by tickets* are very limited and if you are lucky enough to be chosen** by one of our Audience Researchers, we will see you down at the studio very soon!
………………………………………………………………..
PLEASE NOTE: Applause Store is the ONLY OFFICIAL TICKET UNIT to handle The X Factor studio audience tickets which are always FREE. Please do not pay for or buy tickets via online auctions or 'days out' sites as these are counterfeit and will NOT gain you access into the studio. All of our tickets are security bar coded and checked upon arrival.
………………………………………………………………..
**Max 4 x stand-by tickets per person/booking.
* We only have Stand-by tickets for this years series. These do not guarantee entrance into the studio.
We are currently taking bookings for this show. Please note: if we do not have availability for your chosen date, then we will do our very best to offer you an alternative. If you do not hear from us within 10 days of your chosen show date, then your ticket application has not been successful.