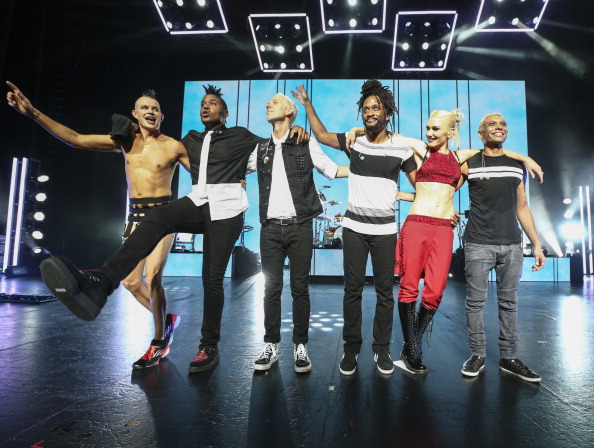 UPDATE: No Doubt has confirmed their performance!!! The band also said on facebook that ticket giveaways for the concert are coming soon!
JUST ANNOUNCED: @nodoubt will perform a mini concert on @jimmykimmellive on Tuesday, January 8, 2013 @ 11:35/10:35c on @abc!

— No Doubt (@nodoubt) December 18, 2012
Thanks to @nxdarchive for the info,No Doubt will be performing a mini outdoor concert on Jimmy Kimmel Live airing on ABC at 11:35 PM EST on January 8!!! We can't wait!!
UPDATE: Here is more info on requesting free tickets to the concert via 1iota:
Show:JKL No Doubt outdoor mini-concert
Date:Tuesday, January 08, 2013
Time:6:45 PM
Location:Los Angeles, CA
Age:16+
TICKET NOTES:
•You will be notified by e-mail if we can accommodate your ticket request. So, check your email frequently or login and click the "my etickets" tab to check the ticket request status.
•Tickets are only available for the dates listed on this site. We do not offer advanced bookings.
•Tickets can NOT be sold! Do not buy tickets from any source because they will not be valid. These tickets are FREE and non-transferable (unless otherwise noted).
TICKET HOLDERS:
•Outdoor Mini-Concerts: You will see the band/artist perform live on our OUTDOOR Pontiac Garage Stage but will NOT see the Jimmy Kimmel Live show in person. You will be able to watch the show on Plasmas while you wait. (age: 16+)
AGE:
•Outdoor Mini-Concerts: Everyone must be at least 16 years old and have a valid state/government issued ID or passport (with a visible date-of-birth) to attend a taping. High School ID's must have a visible birth date.
DRESS:
•Outdoor Mini-Concerts: Please dress as if you are going to a concert. Dress comfortably! Please do not wear elaborate patterns or large logos, as they are not camera-friendly.
PERSONAL ITEMS:
•Outdoor Mini-Concerts: No digital or video cameras, cell phones, pagers, books or food will be allowed in the outdoor stage. Please leave these items in your car. We do NOT check any items for outdoor mini-concerts. BACKPACKS OR LARGE PURSES WILL NOT BE ALLOWED!!
SPECIAL NEEDS:
Our outdoor stage can only accommodate two (2) wheelchairs due to space constraints and safety concerns. You MUST notify us if a guest in a wheelchair will be attending the show. If you, or someone in your party uses a wheelchair or requires assistance, please phone us at: (866) JIMMY-TIX (Tuesday through Friday from 1pm-4pm) after requesting your tickets! Any special accommodations are subject to availability and are at the discretion of the studio.
•1iota tickets are FREE, so we overbook slightly and cannot guarantee admission.
•1iota tickets cannot be sold. Do not buy tickets from any source because they will not be honored.
•1iota tickets are non-transferable. If approved, only you may use the tickets you are requesting.
•The ticket request process is not a contest; you cannot win tickets.
•Ticket requests are not always processed first-come, first-serve due to the needs of different events.
•Please request only the number of tickets you will actually use. Unused tickets can adversely affect future approvals.
•1iota members cannot request tickets for the same event using multiple accounts. Doing so will void all ticket requests.
•Please double-check the age requirement for this event, as it will be strictly enforced.