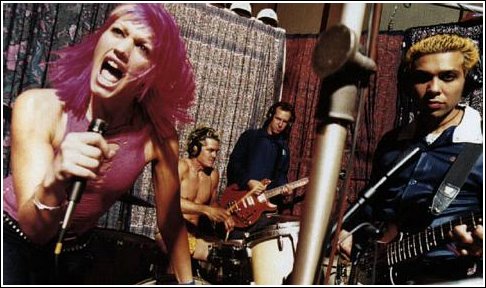 Today's tribute to No Doubt's upcoming 25th anniversary looks back at the Return of Saturn era. Following their grueling and exhausting two and half year worldwide Tragic Kingdom Tour,No Doubt took some much-needed time off in early 1998 before beginning the writing process for their much-anticipated followup album in a rented house in Hollywood Hills. Not wanting to try to merely live up to the high expectations set by the success of Tragic Kingdom,but rather desiring to improve as songwriters and experiment with different sounds,the band worked on 40 demos and searched for just the right producer,finally deciding on Glen Ballard. In the meantime,they released the song and music video "New" for the soundtrack for the movie Go;in addition,the band recorded the song "I Throw My Toys Around",written and produced by one of their musical heroes,Elvis Costello,for the soundtrack to The Rugrats Movie,and contributed a cover of "Hateful" to a tribute CD for The Clash. (Gwen completed some side projects as well during this time,including a duet with Brian Setzer of "You're the Boss" and with Prince on "So Far,So Pleased",and singing on Moby's song "Southside".)
The music on what would become the Return of Saturn album reflected No Doubt's exploration of their New Wave influences,while adding an alternative rock feel and maintaining some of the band's ska and reggae sounds;lyrically,the songs captured Gwen's feelings of confusion,confliction and insecurity regarding her desire for a family and her commitment to the band,all the while going through her "Saturn return",an astrological phenomenon referring to the 29 years it takes for Saturn to orbit the Earth-the time when Saturn returns to its position during a person's birth is believed to be a period of self-evaluation. Songs like "Simple Kind of Life","Marry Me" and "Magic's in the Makeup" reflected these feelings with poignant honesty and emotion.
After embarking on a West Coast club tour in the fall of 1999(during which Adrian proposed onstage to his girlfriend Nina,whom he married the following year),the band recorded a couple of more songs for the album,including "Ex-Girlfriend",performing the song for the first time during MTV's Millenium New Year's Eve celebation. Return of Saturn was finally released April 11,2000 to glowing reviews and a #2 debut on Billboard's Top 200 chart,eventually going platinum. No Doubt toured North America,Southeast Asia and Japan in support of the album,and memorably taped a Storytellers episode and took part in a Behind the Music retrospective for VH1. What are your favorite moments from the Return of Saturn era?