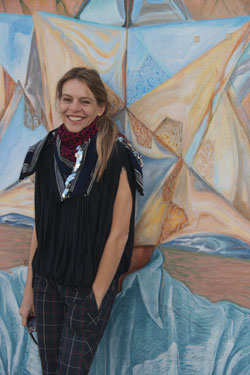 Caliber Magazine has posted a new interview with L.A.M.B. Design Director Paula Bradley,who acquired the position last year after working freelance with Gwen for the past eight years. In the article,Bradley,who is English,mentions that it was she and Gwen's mutual appreciation for tweeds,houndstooth print,and edgy black and white ensembles that drew them together and that she appreciates No Doubt's musical and stylistic connections to England (she styled and made the costumes for the "Settle Down" video),as well as how hands-on Gwen continues to be with the line. She reveals that the Spring 2013 collection found its stimulus in Japanese kimonos and that she uses European fashion magazines,Polyvore and Pinterest boards and people watching to help find inspiration for the next collections. As always,we wish Ms. Bradley,Gwen and the entire L.A.M.B. team the very best with future collections-we are especially excited for the September launch of L.A.M.B.'s outerwear collaboration with Burton Snowboards.
Imagine working hands on with Gwen Stefani, flying to Asia multiple times a year, and styling some of the biggest stars in the industry. Many people would find this life changing. For Paula Bradley, Design Director of L.A.M.B., it's just another day at work.
I was lucky enough to be able to interview the fashion mogul about her job and life in Los Angeles; read on to discover what it's like to live a day in the life of Paula Bradley.
Bradley landed the position of Design Director of Gwen Stefani's high-end retail line L.A.M.B. last year after working freelance with Stefani for the past eight years. Working for a global fashion company adds an element of surprise to Bradley's life. "Every day is different," said the English-born stylist, a now veteran in the industry after receiving her Master's in Fashion Design from London's Royal College of Art in 1990. As Design Director, Bradley must coordinate with each team to set the brand in a unique direction. Being that the licensed brand is based out of Canada, the job tends to rack up its Air Miles, requiring monthly flights to Montreal with Gwen Stefani herself. In addition, Bradley takes part in biannual trips to Europe and Asia to pick out fabrics.
In lieu of a typical office, Bradley lives and works out of her Silver Lake loft, a gem of a space built as a Mexican bakery in 1959. The loft spans 1500 square feet, with 25-foot high arched beams. One of the walls is composed solely of solid glass windows, providing the scenic view of Los Angeles as the backdrop for Bradley's daily phone calls, Skype conferences, and meetings with other departments.
Stylistically, Bradley has remained close to her English roots. A mutual appreciation for tweeds, houndstooth print, and edgy black and white ensembles is precisely what drew Stefani and Bradley together eight years ago. Stefani's band No Doubt is connected to England musically and stylistically, a marriage of themes that Bradley has always appreciated. Upon finishing college, Bradley made the bold decision to travel the world with UK-based band Depeche Mode to places as paradisiacal as the South of France. Working with Gwen is a treat for Paula since the singer enjoys being hands-on with the brand: "this work is very natural to Gwen," Bradley reported. Now that Stefani is touring with No Doubt, Bradley's work has doubled. In addition to sending designs to Stefani daily, Bradley has styled and made the costumes for the first video of the band's new album, "Push and Shove."
Like any fashion mogul, Bradley must keep up on the rest of the fashion world. The designer cites European fashion magazines as her daily indulgence. "England is much more individual, here everybody wants to look the same," she said, adding that she finds European magazines more adventurous and individualistic. In addition to her penchant for high-end foreign magazines, Bradley also looks to Polyvore and Pinterest as interactive inspiration boards for her work.
The daunting job of Design Director leaves little room for free time in Bradley's life, although she does maintain an appreciation for literature. After devoting her summer to the entire five-piece Game of Thrones book series – "It's addictive!" – Bradley has retired to her old pastime of people watching while sipping coffee in the hopes of finding inspiration for L.A.M.B's next line. The Spring 2013 line found its stimulus in Japanese kimonos. Consumers can expect to find a collection to travel around the world with – all pieces work cohesively to dress the wearer up in a casual way.
At fifty years old, Bradley retains a particular optimism uncommon among women of her age. "Creative ideas are only ten percent of [fashion]," she said. "There is no experience of application or how they work when you're twenty. I have lived through every style as it comes back, and I understand it more." Bradley is unaffected by the proliferation of youth in the fashion industry, citing Mac's 90-year-old spokeswoman Iris Apfel as her role model. She hopes to spread this middle-aged optimism to other women through L.A.M.B's clothing. "Styling comes from your heart," she said. "All beauty comes from the inside. It is great to work with women and help them figure out who they are through clothing."
"I love my job because I've always loved my job… I get to be creative, and it's a very magical world. It's a privilege to be able to work in it."