Hey guys! I'm back to Brazil and I finally had some time to sit down and write how was my Meet and Greet and On Stage experiences…
It was July 27th and I went to the Gibson Amphitheater with my group (Ben, Bec, Beli and Luke). I was a nervous wreck, felt waves of heat go thru my body. The thing that I was dreaming of for more than 12 years was about to happen.
We went to the will call booth and got our passes and called ND's manager so he could escort us to the place where the M&G was supposed to happen.
Arriving at the place we met him and he took us to a small room. I thought "ok, now we'll go to another room with more 15 people and wait for the band to come", cause that was how all the M&G happened before. But, I was mistaken.<br> He opened the door of the other room, I was the first on the line and when I looked inside, BAM! No Doubt was already there!!!
What I felt in that moment I'll never be able to describe. There are no words in the dictionary capable of doing that. I saw Tom and Gwen and my heart started to beat so fast and I started to shake a bit. They stood side by side, along with Adro and Tony. They introduced theirselves and I did the same. I told them that I was EIT.com's owner and they were all so thankful. I gave them the gifts I've made for them and they really liked them! (I made some personalized flip flops with the old ND logo with www.everythingintime.com written, a book with messages from brazilian fans and a gold pendant to Gwen).
It was just the 4 of us in there (me, Bec, Beli and Ben). It was a private meeting with them and we had like 10-15 minutes of talking, signing, taking pictures and enjoying every second of it.
It was much more than I've ever expected and I'm so thankful for them for being so awesome with the fans! I've always loved them so much, but now it seems it grew even more.
Then they all left and we couldn't believe it was real! We were screaming, jumping and smiling all the time!
This is very cliche, but, I LOVE YOU NO DOUBT! ehehehheh
I'd like to thank a certain person (dunno if I'm supposed to tell who) for giving me this opportunity. You are so incredibly amazing and I'll be forever thankful. It totally changed my life!!
Last but not least, on the following day, I made a sign to try to get on stage (you can see it below). And IT WORKED!
Gwen started to read it, pulled other girl on stage then looked at me and said "you too, come over here".
Before the show started I was thinking "how am I going to jump this barricade??It's high and there will be people all around…". Heheheh. Adrenaline is the key. When Gwen called me, I jumped it in a second and ran to the stage. I was amazed on how this trip to USA was being the most amazing thing ever and the best decision I've ever made!
Before that they played Dj's so the camera was on video mode (I was taping it lol). When she tried to take the first pic, I forgot about the video mode so it didn't work. I desperately took the cam, changed to pic mode and it finally worked! Gwen even said after we got off stage "seriously have your cameras ready at all time, you never know when you might get on stage" or something like that.
Sorry if that was too long guys, but I had share the most amazing facts of my life with all of you.
Everytime I look at the pics and at the videos, I still can't believe how lucky I was.
Again, thank you SO MUCH for everyone involved in this. I'm so happy that I had great people with me, sharing this moments.
Here are some pics.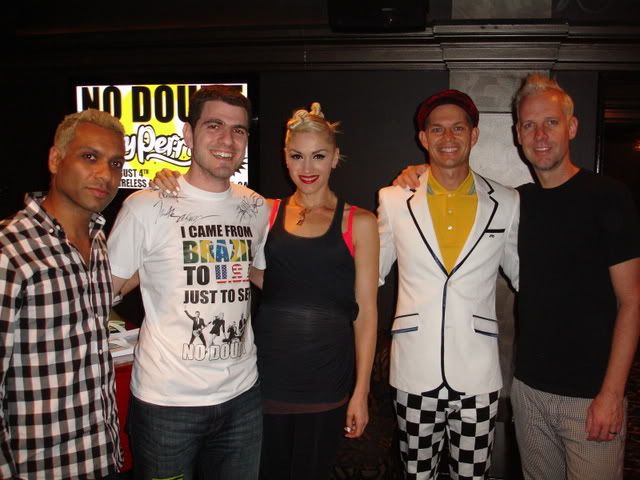 Me with the band during my Meet and Greet.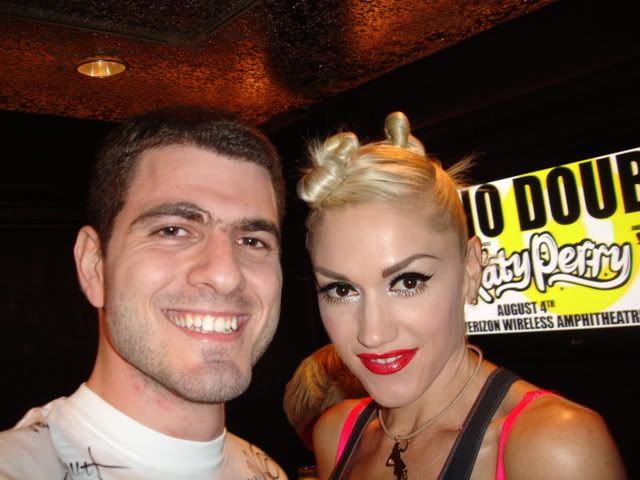 Me and Gwen during my Meet and Greet.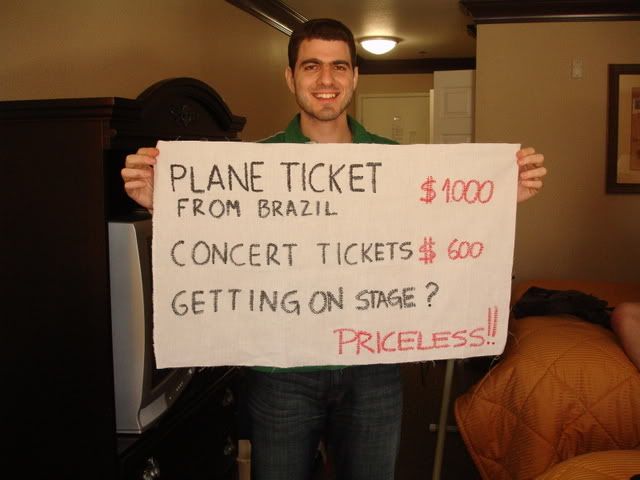 My sign used to get on stage!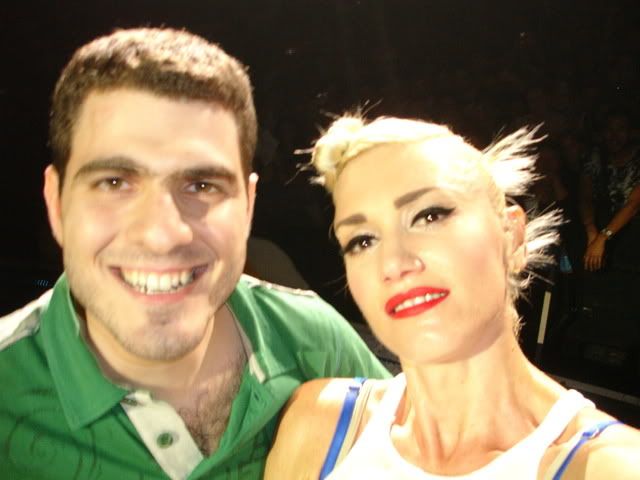 Me and Gwen, on stage!
THE DREAM CAME TRUE!!!!!!!! THANK YOU NO DOUBT FOR BEING THE BEST BAND ON THIS PLANET AND FOR BEING THE COOLEST PEOPLE ON EARTH! I LOVE YOU SO MUCH!