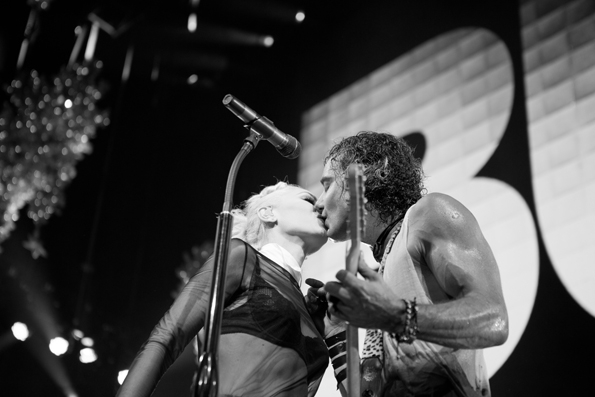 The media is buzzing over Gwen and Gavin's surprise duet of "Glycerine" during Bush's set at KROQ's Almost Acoustic Christmas last night!!
Bush frontman Gavin Rossdale and No Doubt singer Gwen Stefani met and fell in love when their bands toured together in the '90s.
On Saturday night, the married rockers reunited on stage to sing Bush's hit "Glycerine" for a surprised holiday-concert audience.
Rossdale, 47, usually performs the song by himself until the rest of Bush joins him toward the end, but at L.A. Radio station KROQ's 23rd Annual Almost Acoustic Christmas show at the Gibson Amphitheatre in Universal City, Calif., he was joined by an extra-special guest on the second verse: his wife.
"The place went crazy," an audience member told PEOPLE after the show. "They shared a quick kiss after the performance and Gwen exited the stage while Gavin and his band stayed to finish their set."
And the couple never looked better: Rossdale wore a sleeveless, and Stefani, 43, wore a black mesh top that showed off her great abs.
"Bush was playing tonight, Gwen's in town, and they haven't done it in at least a decade," says a source. "They thought it would be fun."
Fun and flashback worthy: Check out how Rossdale and Stefani looked when they first met at the same event 17 years ago when their respective bands performed at KROQ's annual holiday show in 1995.
Gavin told Rolling Stone that the duet was Gwen's idea!!
KROQ's Almost Acoustic Christmas is a sentimental occasion for Bush frontman Gavin Rossdale, since it's the show where he met wife Gwen Stefani 17 years ago. And when Rolling Stone spoke with Rossdale backstage at Almost Acoustic Christmas in 2011, he immediately got nostalgic, reminiscing about the dressing room where the two met.
So, last night, at the end of two years of touring, back at Almost Acoustic Christmas, the rock & roll husband and wife celebrated their history at the event by performing together. Rossdale, on stage with just a guitar, started in on "Glycerine," singing the song's first verse alone. Then an unannounced Stefani walked onstage to join in on the second verse, drawing an insane response from the crowd.
After the show, Rossdale told Rolling Stone that the initial idea for a duet was Stefani's, and it left a stunned Rossdale speechless. "She actually asked me about this and I was so surprised, I didn't say anything for two days," he said. "She said, 'Maybe we should do a song together.' And I couldn't answer her."
After Rossdale got over his shock, the two worked out the logistics and ultimately settled on "Glycerine" rather than Bush's "The Afterlife," which Rossdale said is Stefani's favorite song. Performing the song alone together was his idea. "I thought it would be so powerful, the two of us on stage like that, that's what we went for," he said. Rossdale was very pleased with the result; asked how "Glycerine" sounded with Stefani on the song, he laughed and said "So much better."
For Rossdale, it was the cap to a special evening. "This is the culmination of two years of work, and then to finish it off playing here, in this venue, this full circle thing, it was an incredible night."
Rave review from The Hollywood Reporter:
But the moment of the night belonged to 90s hitmakers Bush, who, at one point seemed like they'd have faded as grunge afterthoughts but have had a shockingly successful second run propelled by 2011's comeback single "The Sound of Winter." It was the now frighteningly classic-rock singalong "Glycerine," though, that elicited audience wails — thanks to a one-off duet between Bush singer Gavin Rossdale and a surprise appearance by his wife, No Doubt's Gwen Stefani. The duo looked gorgeous, sounded great, and clearly are still in love, with goofy looks (and a quick kiss!) exchanged onstage.
Rock trends may come and go (and from this night, it's not quite clear in which direction the genre is headed), but if that sweet moment is any indication, there's hope for all these kids, after all.