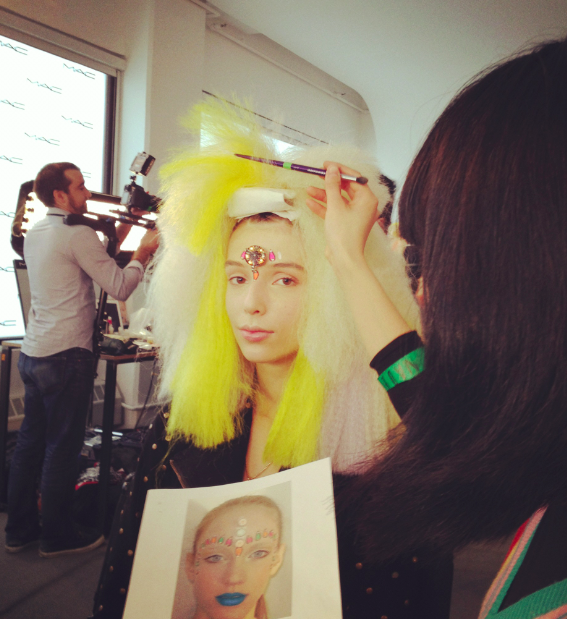 MAC makeup artist Kabuki has revealed to StyleSight that the makeup look for the models for the Fall 2012 New York Fashion Week show of designer Jeremy Scott was partially inspired by Gwen and No Doubt,with a combination of bindis,bright colors and a feeling of technology. We are definitely feeling the inspiration! Gwen of course has worn Scott's designs in the past and Scott attended Gwen's Harajuku Mini launch party last year.
"The makeup is inspired by Jeremy's collection. It's rave revisited, like 21st century rave. It's funny because I remember it from the first time around. It almost has to do with early computers as well, like the internet… kind of like the current generation who has the party online. Some of the prints in the collection were very pixelated, like old 90s computer screens, so I'm bringing that into the makeup like a circuit board. The makeup is a combination of Gwen Stefani and No Doubt. During the 90s at New York clubs, people used to wear bindis in an ironic way. So we're combining that with the feeling of technology.
We're doing a strong blue lip, for a shock value thing. It goes with the colorfulness of the collection. But the eyes and the skin are totally wearable. There's no top liner. It's all done with mascara and subtle shades of light reflective powder. There's a little gold eyeshadow in the crease and a brown eyeliner pencil that's bust up underneath the lash line. If you just looked at the eyes and the skin, it's wearable makeup for everyone. Maybe wear it with a bright pink lip.
I ordered the LED bindi on line, in keeping with the online experience theme. Me and my assistant made the other bindis by hand last night after finishing a show. There are two jewels on each one. Each girl is getting 19 bindis and they're applied with lash glue.
For lips, we're using MAC Lip Mix. We're mixing white lip mix with and cyan. We're putting a powder eyeshadow over it which sets the color and gives it a richer, deeper finish. It has an almost satin finish. I like the way it looks under the lights. It looks a bit more dimensional." – Kabuki