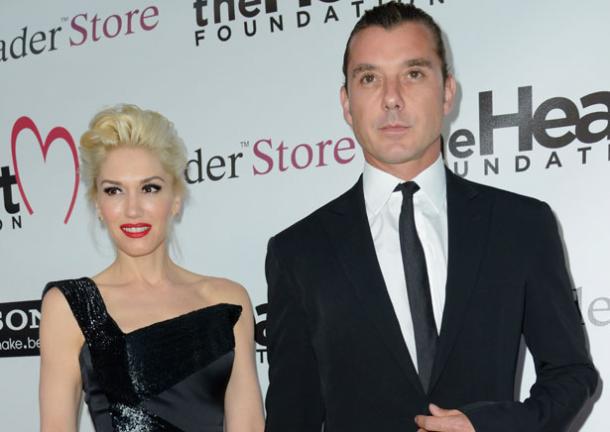 How sweet! Gwen and Gavin were asked by Hollyscoop on the red carpet last night at The Heart Foundation Gala their secret to a successful marriage (they will be celebrating their 10th wedding anniversary this year) and they replied that it's having a date night! Gwen was also asked about the upcoming release of the No Doubt album,to which she answered, "It's very exciting, I can't wait!" We can't wait,either!
Gwen Stefani and her hubby Gavin Rossdale are one of the few Hollywood couples that has done a great job keeping their private life very private.
The couple walked the red carpet hand in hand at last night's Heart Foundation Gala, an organization that raises money to help fund research and fight heart disease.
Gwen and Gavin were obviously a picture of true love as they waltzed down the carpet together. So how do these two keep their marriage alive after nearly 10 years!?
"Date Night", Gavin told Hollyscoop.
Gwen echoes her hubby's sentiment, "It's date night tonight, yeah."
Gwen and her band 'No Doubt' recently announced that the group would be releasing their first new album since 2001.
"We are incredibly excited to share the new music with you. Ear candy coming your way," the brand wrote on their website.
The new music is expected to drop on September 25, though the album has yet-to-be-titled. However, the band has begun uploading webisodes to their official site as they track the behind-the-scenes process of putting together the album.
It's rumored that their comeback single will be a track titled "Addicted to Love." (EIT Edit: This rumor is completely false-Hollyscoop obviously misunderstood Gwen's tweet the other day when she posted the photo of herself with a guitar and jokingly said that she was auditioning for the classic Robert Palmer video for "Addicted to Love",lol.)
Talking about her planned music comeback, Gwen tells us, "It's very exciting, I can't wait!"