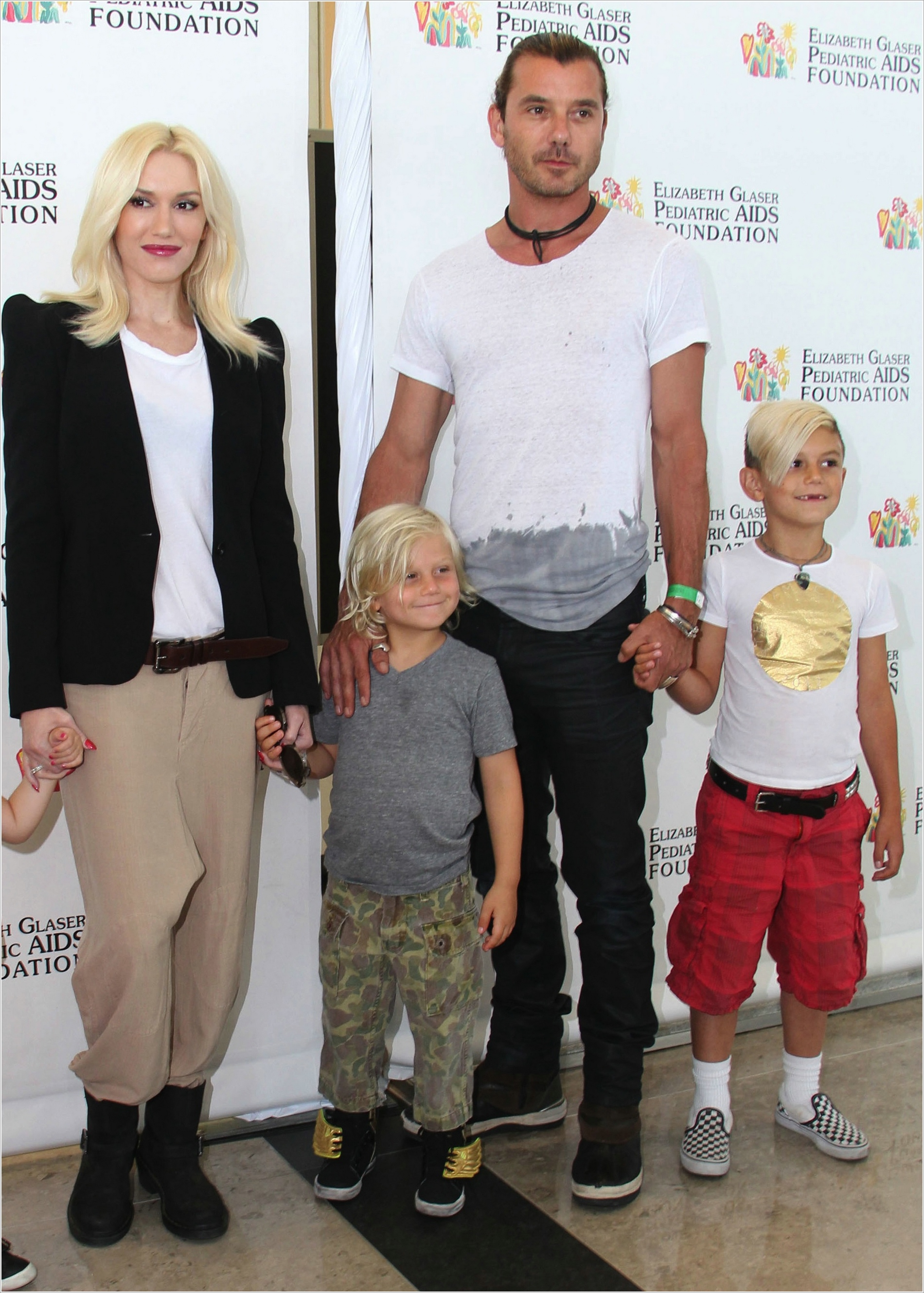 It's been announced that Gwen and Gavin, along with fellow celebrities such as Drew Barrymore, Kate Hudson, Mark Wahlberg and Sharon Stone, are supporting the Safe Kids Day 2014 campaign, which will feature coast-to-coast fund-raising events, including national ones April 5 at the Lot in Los Angeles and April 12 at the Highline Stages in New York City. Safe Kids Day aims to prevent and raise awareness of childhood injuries. For more information about the campaign, please visit safekids.org. We applaud Gwen, Gavin and everyone else involved in this life-saving campaign.
Numerous celebrities and athletes are joining efforts to save the lives of children as Safe Kids Day "Celebrity Heroes".
Sharon Stone, Kate Hudson, Kelsey Grammer, Drew Barrymore, Larry King, Gwen Stefani, Gavin Rossdale, Piers Morgan, Mark Wahlberg, Dick Wolf, and Bill & Giuliana Rancic are just some of the notables who will be participating in the 2nd Annual Safe Kids Day nationwide events to raise awareness and funds to prevent childhood injuries, the number one killer of kids in the United States.
Safe Kids Worldwide is a global organization dedicated to protecting kids from unintentional injuries. The official press release for Safe Kids Day states that each year a million families around the world lose a child to a preventable injury and millions more children are injured in ways that can affect them for a lifetime.
"Many people are surprised to learn that preventable injuries are the number one killer of kids in the United States," said Kate Carr, president and CEO of Safe Kids Worldwide. "We don't want any parent to have to endure the loss of a child. We're honored to be supported by our celebrity heroes and sponsors, who are so dedicated to helping us reach our goal of preventing injuries and saving lives."
Safe Kids works with an extensive network of more than 600 coalitions in the United States and in 23 countries. The organization provides resources and valuable information to families and communities to protect children from accidents such as car crashes, drowning, fires, burns, poisonings and more. Since 1988, Safe Kids has helped reduce the U.S. childhood death rate from unintentional injury by 55 percent.
Two national Safe Kids Day fundraising events will be held on Saturday, April 5 at The Lot in Los Angeles and on Saturday, April 12 at the Highline Stages in New York City, in addition to local events held in more than 100 communities across the country.
The 2014 Safe Kids Day campaign fundraising goal is $1 million. Proceeds from Safe Kids Day support local, state and national injury prevention efforts of Safe Kids Worldwide. For more information and for a complete list of the 2014 Safe Kids Day Celebrity Heroes, visit safekids.org.