And here it is!! No Doubt has shared the first in-studio webisode produced by Todd Stefani!!!! It features footage of the band in the studio working on "Push & Shove",which sounds absolutely AMAZING just from the snippets we are lucky enough to hear!!!! From what we can hear of the chorus,Gwen sings, "You push and shove/I take the bait/It's a risky business/Gonna play it anyway". No Doubt revealed on the official site that the song,produced by Major Lazer and featuring dancehall artist Busy Signal,is the only collaboration of its kind on the album! The band also shared that in addition to more webisodes coming soon,they are planning video shoots, photo shoots, TV performances and much more that they will be sharing-exciting!! Thanks SO very much to No Doubt for sharing-we literally cannot wait to see the rest of the webisodes!!
From NoDoubt.com:
No Doubt premieres their first webisode today!
Over the past few months, Gwen, Tony, Tom and Adrian have been recording together and filming the process at producer Spike Stent's studio in Santa Monica, California. With 12 songs in the works and new artwork themes and video ideas being thrown around, it was tough to decide what to feature in the first webisode.
The band has decided to kick things off with the recording of the track "Push & Shove" which is a collaboration between No Doubt, producers Major Lazer and Jamaican artist Busy Signal. Of all the songs on the album, this is the only collaboration of it's kind. Enjoy!
There will be plenty more webisodes to follow as we approach September 25 so keep checking back for updates. The band is planning video shoots, photo shoots, tv performances and much more that they want to share with you. Be sure to follow @nodoubt on Twitter as well as @gwenstefani, @AdrianYoungND, @TomDumontND and @tonykanal. Like No Doubt on Facebook to get the big announcements as they happen.
From this screencap of the lyrics sheet for "Push & Shove",it looks like a few additional lyrics can be deciphered: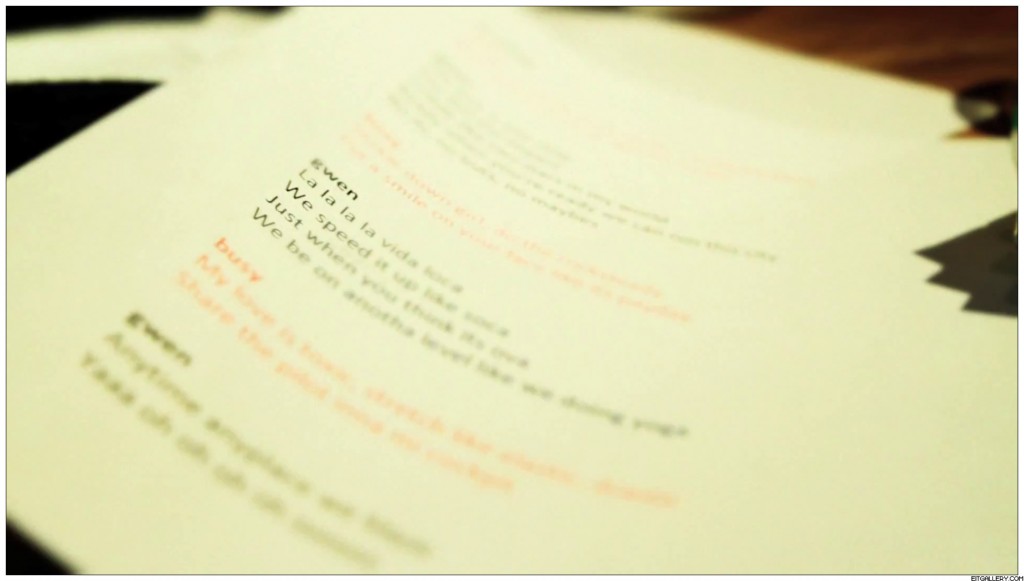 Gwen: La la la la vida loca
We speed it up like ?
Just when you think it's ova
We be on anotha level like we're doing yoga
Busy Signal: My love is…
Share the….
Gwen:
Anytime, anyplace……
Yeah oh oh oh
We can't wait to read the CD booklet to find out all the lyrics! 😉