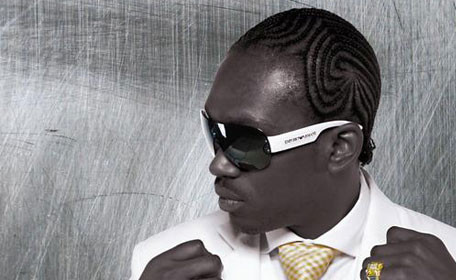 In a new interview with Jamaica Star,dancehall artist Busy Signal again discusses his collaboration with No Doubt and Major Lazer on the song "Push & Shove". He describes the experience as "glorious" and his manager reveals that the collaboration came about after Gwen heard a song that Busy Signal had done with Diplo of Major Lazer and liked it. While the article mentions that "Push & Shove" will be the lead single off of the new ND album,we stress that this has NOT been confirmed by the band,though Tom said late last week that the band needed to decide "ASAP" what the first single will be.
Busy Signal has followed in the footsteps of dancehall queen Lady Saw and his musical mentor Bounty Killer with his recent collaboration with Grammy winning group No Doubt.
The song titled Push and Shove, is to be the lead single on the American group's upcoming album.
Busy Signal's manager Shane Brown told The STAR how the collaboration came about, saying that Busy Signal had done a song for Diplo of Major Lazer and Gwen Stefani (lead vocalist for the group) heard it and liked it. They later met up in studio and did the track.
The STAR caught up with Busy Signal at the Penthouse studios in Kingston and he shared his experience working with No Doubt.
"Sometimes you can't really explain the vibe to how it just glorious in terms of the music and the ideas and the creativity. When everybody just a come up with their different parts and different ideas and we just sharing them. It's definitely a good thing to look out for. Busy Signal, No Doubt, Gwen Stefani – it's just great," said Busy Signal.
He added, "I'm just here giving thanks for the blessings and just a continue to do the work that I'm doing because it's showing that the people outside of Jamaica who really know the real thing, them come and them choose who they think is qualified to even be in studio collaborating with them."
Busy Signal also has other recent collaborations with top international acts. His recent Reggae Music Again album has been doing well, landing the number five spot on the coveted Billboard chart in the reggae category.
Of No Doubt's 10 Grammy nominations, they have won two which were collaborations with dancehall acts. Hey Baby with Bounty Killer and Underneath It All with Lady Saw were awarded 'Best Performance by a Duo or Group' in 2001 and 2004, respectively.