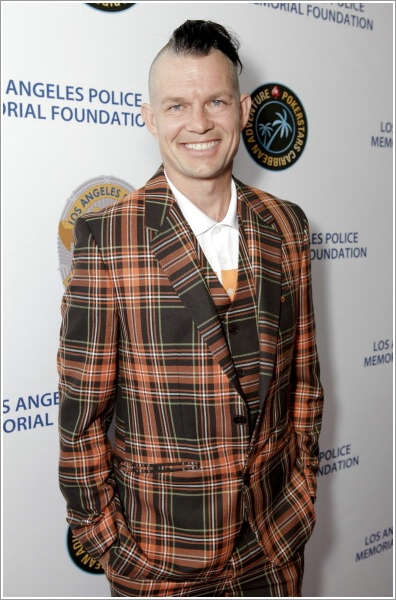 Adrian tweeted today to announce that he will be taking part in the annual MDA Telethon airing this Sunday,September 1,at 9 PM EST on ABC. The telethon benefits the Muscular Dystrophy Association,a cause very close to Adrian's heart. For more information,please visit the MDA Show of Strength website,which mentions that Adrian's son Mason will be joining him at the telethon. Thanks to Adrian for letting everyone know about his participation-we hope everyone watches the telethon and that it raises a lot of funds for MDA.
I'm honored to take part in the MDA telethon this SUN at 9/8c on @ABC. This is a cause that is close to my heart so please tune in. – Adrian

— No Doubt (@nodoubt) August 30, 2013
Ways to Give to MDA:
Become a Muscle Maker with your monthly donation of just $19 a month.
To make a one-time gift, click here.
Call 1-800-Fight-MD (1-800-344-4863)
Text MDA to 50555 to give $10
UPDATE: According to this MDA press release,Adrian and his son Mason will be presenters at the telethon. The celebrity presenters will join one-of-a-kind show performances to engage viewers with powerful "stories of strength" and moving calls-to-action to help families affected by muscle diseases. We look forward to seeing Adrian and Mason on the telethon.
The Muscular Dystrophy Association has announced a star-studded celebrity lineup that will appear on its 48th annual telethon this Labor Day weekend, Sunday, Sept. 1, 9/8c, on ABC television stations across the country.
Called the MDA Show of Strength, the telethon will feature: Ryan Seacrest; Backstreet Boys; country stars Luke Bryan, Darius Rucker and Lee Ann Womack; "Glee" star Matthew Morrison; Enrique Iglesias; Paula Abdul; teenage pop sensation Austin Mahone; hip-hop dance crew Jabbawockeez; "American Idol" runner-up Jessica Sanchez; Kenny Loggins with the Blue Sky Riders; American blues rock band Vintage Trouble; and Universal recording artist and star from the "The Voice" Chris Mann.
Additional presenters for the 2013 show include: ABC's Dr. Richard Besser; "Dancing with the Stars" contestant and "Brady Bunch" mom Florence Henderson; Emmy award-winning journalist Jann Carl; Olympic gold medal gymnasts Nadia Comaneci and Bart Conner; and No Doubt drummer Adrian Young and his son, Mason Young.
This year's lineup will deliver one-of-a-kind show performances as they join celebrity presenters to engage viewers with powerful "stories of strength" and moving calls-to-action to help families affected by muscle diseases.
"The MDA telethon is an American tradition, powered by celebrities, national sponsors and, most of all, generous individuals who watch and donate," said MDA President and CEO Steven M. Derks. "This year, we'll tell a powerful story of the progress we're making and breaking developments under way in the fight against muscle disease. We want to share our vision of hope that new lifesaving treatments are on the horizon as told through the eyes of courageous people fighting various neuromuscular diseases."
"On behalf of the tens of thousands of families we serve, MDA is remarkably hopeful and enormously grateful to all our supporters who make this progress possible. We think this year's show will be our best ever, truly a moving and entertaining two-hour experience."
R.A. (RAC) Clark, longtime executive producer of the Academy of Country Music Awards, will return this year as MDA telethon executive producer. The week before the broadcast, MDA is planning kickoff parties in communities in every state in the nation to rally interest and engage new supporters. A public service campaign is being launched this week to promote the show.
While the telethon has consistently enjoyed robust support from some of the biggest celebrities in show business, MDA says the real stars on the broadcast are the individuals and families served by MDA, including six families who will tell their stories of survival and hope during the 2013 broadcast.
The complete list of profiles includes:
•Cooper Somers, a vivacious Houston toddler battling spinal muscular atrophy (SMA) who tragically lost his dad in a car accident in the past year;
•Reagan Imhoff, a lovable and driven 8-year-old from suburban Milwaukee, also diagnosed as having SMA with big dreams of becoming a professional dancer;
•11-year-old identical twins Nolan and Jack Willis from Fayetteville, N.Y., who have Duchenne muscular dystrophy and are taking part in a promising clinical trial;
•India Peters, 21, an adventurous young lady from Oxon Hill, M.D., learning to transition into adulthood while dealing with facioscapulohumeral muscular dystrophy (FSHD);
•Juan Morales, 28, from Pembroke Pines, Fla., who is fighting SMA and has a master's degree in psychology from Florida International University; and
•Ben Thomas, 32, from St. George, Utah, who is battling amyotrophic lateral sclerosis (ALS) with help from his loving wife, Jena, and 3-year-old daughter, Emmerson.