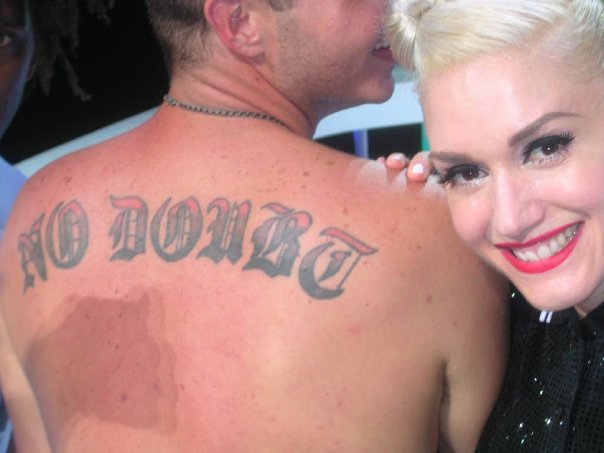 This month's featured fan is Devin! Check out his little interview! Wanna be a featured fan? E-Mail us at eit.nodoubt@gmail.com with the subject "Fan Of The Month" and we'll tell you what to do!
Tell us a little bit about yourself.
Well where do I begin?!?! My Name is Devin, 30 years old! I have a beautiful Neice Jayden and she is my world! I could my blessings with her cause without her I would not be able to buy Harajuku mini! LOL! Also in my life is my  most wonderful man John! without these 2 in my life I would have no clue what to do!
How did you become a fan?
In middle school riding the bus to school one morning I heard spriderwebs on the radio and thought to myself "whoa what is this?' I looked into it and it was No Doubt! been a fan ever since!!! about 17 years as of now!
Do you have a Favorite No Doubt Memory?
Well nothing really can compare to the night of June 2, 2009 here in Tampa FL when Gwen spotted my No Doubt tattoo on my back and pulled me on stage during Just A Girl and again that same night to do the bow with the band! It was crazy i couldnt believe what was going on! The next day I went to the show in west palm beach FL and gwen spotted me again and then signed the picture that I got of us the night before!
What about your Favorite Era?
No real favorite era! I just love watching it all evolve and hearing it too!
If you had to choose Your Favorite No Doubt Song, what would it be?
That list is quite long but newest to the list is "Dreaming The Same Dream"!
What is your most prized No Doubt possession?
Autographed picture of Gwen and I!
What is one thing that you want to achieve during this new No Doubt Era, a No Doubt Dream if you will?
Well that already came true! I wanted to see ND in their hometown! and this past december I got to go to LA and see then for 2 of their 7 night stand dec 4th and dec 6th! AMAZING shows by the way!
Two more questions. If there was something that you wanted No Doubt to do during this tour, what would that be?
Just keep rockin!
Last question. Is there anything you would like to say to the band, you know if they happen to read this?
To Gwen, Thank You for all your lyrics that at some point in my life was the only thing that would put a smile on my face or make me keep on moving! To The boys Tom, Tony, Adrain, Thank you for being the men that you are! truely my role models on how to be a great father figure to my neice! Jayden says thank you to the whole band too!!! She loves you guys! and on the next tour it will be her first Concert!!!!!
Check out the other pictures he sent us!