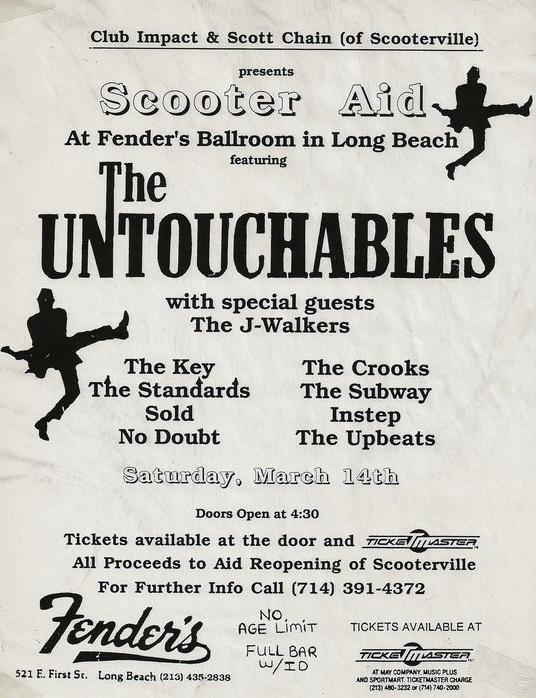 How sweet! OC Weekly has celebrated the 25th anniversary of No Doubt's first show today with an awesome article detailing the history of other bands that also performed at that now-famous gig at Fender's Ballroom and the venue itself. Ska Parade founder and friend of EIT Tazy Phyllipz contributed to the article. We again wish No Doubt a VERY Happy 25th Anniversary and thank them for all they have given the fans,including the amazing photos and video they tweeted today!!!
Twenty five years ago today, No Doubt played their first show at Fender's Ballroom in Long Beach, opening for ska legends the Untouchables. (They played second among 14 bands.)
According to the No Doubt fansite Beacon Street Online,the band's official site mentions the gig in their history:
March 14, 1987: After several raucous party performances, No Doubt play their first "official" gig at Fender's Ballroom in Long Beach, California; the band was second on a bill of 14 with The Untouchables headlining. Tony, a high-school junior, was one of several hundred people watching. Shortly thereafter, he tries out. Band accepts him even though he's never been in a band, has long hair and is wearing Mexican sandals. By the summer, Tony, an organized perfectionist, becomes the band's unofficial manager.
So we know that No Doubt ended up being superstars, but what about everyone else from this lineup? Ska Parade founder Tazy Phyllipz fills us in (with a little help from Wikipedia!).
​
The Untouchables are one of original 3rd Wave Ska pioneering bands, along with Fishbone and The Toasters. Formed in 1981, the band has gone through many lineup changes since. As of 2006, only vocalist Jerry Miller remains from the original lineup, but according to Phillipz, they still play!
Fender's International Grand Ballroom was a legendary punk rock club in Long Beach's historic Laffeyette Hotel at 521 E. 1st St.. It opened in 1984, and saw the Violent Femes, Fishbone, Youth Brigade, Bad Religion, The Knitters, Sisters of Mercy, Red Hot Chili Peppers, Social Distortion, The Dickies, Minutemen, TSOL, Meat Puppets, Iggy Pop, Jane's Addiction and the Beastie Boys play there. The club went out of business in 1989, when it was declared a public nuisance by its neighbors who complained of noise, drunks, gun shots, drug use and sales. There was also a mini-riot and a fire. According to the LA Times, the owner of the downtown nightspot, John Fender, was convicted of helping steal more than $141,000 from Farmers & Merchants Bank in 1987.
Scooterville All proceeds of this show went to Scooterville, one of the oldest bike shops in Anaheim that sold Vespas, Lambrettas and all other sorts of scooters. They also held various scooter rallies. The old Scooterville on Anaheim Blvd. burned down in 1986 or so, which may explain the benefit. Anaheim City Hall now sits on its old location.
The Upbeats A member of Santa Barbara's The Upbeats is one of the studio players on Tim Armstrong-produced Jimmy Cliff EP, Sacred Fire.
The Crooks James Gray of The Crooks is Fishbone's current drummer.
Kevin Lyman According to Phillipz says Lyman, the creator of Van's Warped Tour, used to book at Fender's Grand Ballroom. "But I do not know if he booked No Doubt's first show," he adds.
​By the way, if you wanted to know what No Doubt is doing to celebrate, here's what Gwen Stefani posted on Facebook today: "How will we celebrate the 25th Anniversary? I know how I'm gonna celebrate. By making music today with Tony, Tom and Adrian. Gx."
What else did No Doubt do to celebrate? They launched official Twitter accounts for everybody! Hence, aside from @nodoubt there's @gwenstefani, @tomdumontND, @tonykanal and @adrianyoungND.Thanks for two decades and a half of music, No Doubt! Time to tweet at you!