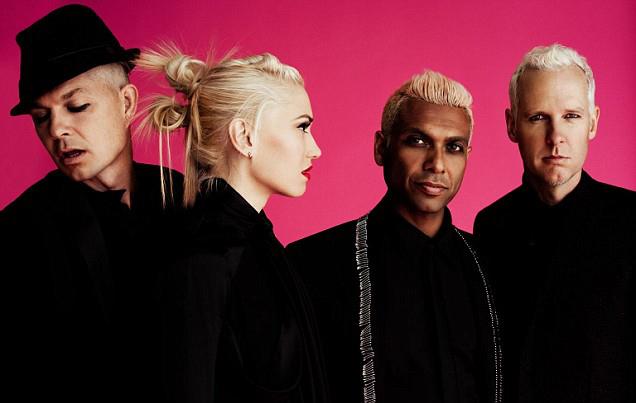 Thanks so much to Hannah for sharing with us scans of a new No Doubt article in the UK's Metro newspaper. We transcribed it below.
Most music comebacks beg the same question: 'Has it really been that long?' Yet it's genuinely hard to believe that 11 years have passed since US quartet No Doubt last released a studio album, not least because their ska fusion hits "Hey Baby" and "Hella Good" still sound zingy-fresh. Strictly speaking, these high school pals (now fourtysomethings) never stopped hanging out or playing the occasional show.
It's also undeniable that ultra-glam front-woman Gwen Stefani has spent much of the past decade as a solo megastar following the release of her multi-platinum 2004 debut, Love.Angel.Music.Baby.
The band's roots run unusually deep, though, and Stefani's official reunion with Tony Kanal (bass), Tom Dumont (guitar) and Adrian Young (drums) is hailed by the party clamour of No Doubt's new single, "Settle Down" — and their vibrant sixth LP, Push and Shove.
"Even some family members believed No Doubt had broken up but we were very specific with each other", admits Dumont, on a break from rehearsals. "I missed the band's camaraderie, shared passion and purpose. We've let go of petty things that used to be issues."
The boys in the band may not have seized the the solo spotlight like Stefani but each had musical success (including songwriting for Pink in Kanal's case).
Stefani seems elegantly settled back into the group dynamic — but then, she's a pop icon whose breezy multi-tasking has included touring while pregnant and launching a fashion brand, L.A.M.B. as "something creative" to do while she had children.
"There are so many amazing creative opportunities, I just can't say no," murmurs Stefani. "Everything I do is like a series of mistakes — my solo work was like a dance music fantasy that spiralled out of control. I don't think too hard about it; I don't have time. I'm a wife [Stefani is famously married to British rocker Gavin Rossdale], a mother, I have a clothing line and I'm still in a band. There was a lot of 'push and shove' to get to this point."
I'm concerened about the fate of Stefani's Harajuku Girls backing crew: has she dumped them now? "They're all good; one of them, Baby, is in the 'Settle Down' video", she replies, reassuringly.
No Doubt definitely seem like a quartet in cahoots; there is shared heritage and guarded privacy. Kanal describes their 2009 US tour as "the spark we needed to ignite new material," and points out: "We've been together for 26 years. You can't manufacture that history, perspiration and labor of love. This feels like home."
Still the most irreverent member and sporting a mohican, Young describes their return to the studio as a surreal retreat. "It's this dark, otherworldly place, almost like a strip club," he says. He joined No Doubt while they were still a high school band. "Their hybrid of styles attracted me; I also had lots of energy," he recalls.
No Doubt's emergence in the early 1990s was linked with the Orange County ska punk scene but they developed their own style, from jokey riffs to savvy US-Jamaican mash-ups (especially on their 2001 album Rock Steady, which included production by Sly & Robbie). Push and Shove's title track is another smart collaboration, featuring Major Lazer and dancehall vocalist Busy Signal.
"We've always has a hard time focusing," laughs Dumont. "We grew up on the exciting, exotic, great music played by an LA radio station called KROQ; it featured Madness, The Selecter, Talk Talk. Our discovery of Jamaican music came through the British interpretation of it."
Stefani recalls she was in eighth grade when she first heard ska music. "It's all about unity", she says. "It made us feel we were something good."
The band's comeback seems simple compared to their early challenges, from the death to original frontman John Spence in 1987 to more everyday heartache of Stefani and Kanal's young romance, the latter inspiring 1996 breakthrough single "Don't Speak".
"We've navigated really difficult things," says Kanal. "When you're a teen in those situations, carrying on feels like the biggest decision in the world."
Dumont argues that No Doubt's turning point was when Stefani started writing lyrics. "The musical landscape keeps changing but the songs are honest reflections of her life", he says.
The candour persists on Push and Shove, although Dumont says some things have changed. "Everything used to happen at night. Now we all have to put our children to bed."
"It feels comfortable to get together and act like kids again", enthuses Young. "Everybody starts farting — maybe not Gwen," he backtracks.
It's up to No Doubt's singer to restore decorum: "The new album sounds like everything we've ever been — but more so," says Stefani. "I'm proud that it's uplifting, but doesn't sound cheesy."
Young, though, strikes the typically punchy final note: "Our goal", he says, "is to try our best to blow people's minds."